Uluru/ Ayers Rock


Uluru (English pronunciation: /ˌuːləˈruː/), also known as Ayers Rock /ˌɛərz ˈrɒk/ and officially gazetted as Uluru / Ayers Rock, is a large sandstone rock formation in the southern part of the Northern Territory in central Australia. It lies 335 km south west of the nearest large town, Alice Springs, 450 km by road.

Kata Tjuta and Uluru are the two major features of the Uluṟu-Kata Tjuṯa National Park. Uluru is sacred to the Anangu, the Aboriginal people of the area. The area around the formation is home to an abundance of springs,
waterholes, rock caves, and ancient paintings. Uluru is listed as a UNESCO World Heritage Site.

The local Anangu, the Pitjantjatjara people, call the landmark Uluṟu (Aboriginal pronunciation: [uluɻu]). This word is a proper noun, with no further particular meaning in the Pitjantjatjara dialect, although it is used as a local family name by the senior Traditional Owners of Uluru.

On 19 July 1873, the surveyor William Gosse sighted the landmark and named it Ayers Rock in honour of the then Chief Secretary of South Australia, Sir Henry Ayers. Since then, both names have been used.

In 1993, a dual naming policy was adopted that allowed official names that consist of both the traditional Aboriginal name and the English name. On 15 December 1993, it was renamed "Ayers Rock / Uluru" and became the first official dual-named feature in the Northern Territory. The order of the dual names was officially reversed to "Uluru / Ayers Rock" on 6 November 2002 following a request from the Regional Tourism Association in Alice Springs.

Uluru is one of Australia's most recognisable natural landmarks. The sandstone formation stands 348 m high, rising 863 m above sea level with most of its bulk lying underground, and has a total circumference of 9.4 km. Both Uluru and the nearby Kata Tjuta formation have great cultural significance for the Aṉangu people, the traditional inhabitants of the area, who lead walking tours to inform visitors about the local flora and fauna, bush foods and the Aboriginal dreamtime stories of the area.

Uluru is notable for appearing to change colour at different times of the day and year, most notably when it glows red at dawn and sunset.

Kata Tjuta, also called Mount Olga or The Olgas, lies 25 km west of Uluru. Special viewing areas with road access and parking have been constructed to give tourists the best views of both sites at dawn and dusk.




The local Aṉangu do not climb Uluru because of its great spiritual significance. They request that visitors do not climb the rock, partly due to the path crossing a sacred traditional Dreamtime track, and also due to a
sense of responsibility for the safety of visitors. The visitors guide says "the climb is not prohibited, but we prefer that, as a guest on Aṉangu land, you will choose to respect our law and culture by not climbing"

Despite being discouraged by its traditional owners, some visitors still climb Uluru. A chain handhold added in 1964 and extended in 1976 makes the hour-long climb easier, but it is still a steep, 800 m hike to the top, where it can be quite windy. It is recommended individuals drink plenty of water while climbing, and those who are unfit, suffer from
vertigo or medical conditions restricting exercise, do not attempt it.

Climbing Uluru is generally closed to the public when high winds are present at the top. There have been at least 35 deaths relating to recreational climbing since such incidents began being recorded.

On 11 December 1983, the Prime Minister of Australia, Bob Hawke, promised to hand back the land title to the Aṉangu traditional custodians and caretakers and agreed to the community's 10-point plan which included forbidding the climbing of Uluru.

The government, however, set access to climb Uluru and a 99-year lease, instead of the previously agreed upon 50-year lease, as conditions before the title was officially given back to the Aṉangu.

The Aboriginal traditional owners of Uluṟu–Kata Tjuṯa National Park (Nguraritja) and the Federal Government's National Parks share decision-making on the management of Uluṟu–Kata Tjuṯa National Park. Under their joint Uluṟu–Kata Tjuṯa National Park Management Plan 2010-20, issued by the Director of National Parks under the Environment Protection and Biodiversity Conservation Act 1999, clause 6.3.3 provides that the Director and the Uluṟu–Kata Tjuṯa Board of Management work towards closure of the climb and, additionally, provides that it will close upon any of three conditions being met: there are "adequate new visitor experiences", less than 20 per cent of visitors make the climb or the "critical factors" in decisions to visit are "cultural and natural experiences". Despite cogent evidence the second condition was met by July 2013, the climb remains open.

Several controversial incidents on top of Uluru in 2010, including a striptease, golfing and nudity, led to renewed calls for banning the climb.

From Wikipedia, the free encyclopedia
SEIT Uluru Highlights


As you travel towards Uluru, its vast shape rises from the sand dunes in the early dawn light highlighting its presence in this country.

Your guide will take you to a special location to watch the sun rise over this amazing monolith. You will learn the Creation stories of Liru (poisonous snake) and Kuniya (python) and hear about the Mala people.

After breakfast you will visit Mutijulu Waterhole and then drive around the base of the Uluru before returning to the resort.
Thursday 28th of July 2016 and my alarm went off at 5 and I was back in bed after having turned off the alarm when the phone rang. Darn, it is early! When will I have the time for a real good
night's sleep next time. I cannot even remember when I could sleep until waking up by myself.

I had my smoked salmon and a diet drink before my shower and I was outside the hotel 10 minutes after 6 o'clock in the morning and pick up time is 06:15



There were a few big coaches from AAT King and a few vans from SEIT. But none of the SEIT vans were going for the Uluru Highlights Tour. But I was told that the van would be here any
minute. Yeah, the sooner the
better, it is darn cold and I was freezing like a dog.

There were 5 other passengers for the Uluru Highlights tour and we were looking for our van.

The van arrived and there were already 2 passengers on board so we will be 8 passengers plus one Guide, a girl from Italy.

We were soon on our way and we will have breakfast while watching the sun coming up lightning up
Uluru. The Italian girl told us that she had been up all night baking bread for us. My bullshitto meter went straight to red, full reading.


And a few minutes later I opened the window to jettison the bullshitto meter as the darn thing broke down when she told us that we would go to a "special" place just for us.

Never mind, I was not here to eat breakfast, I was full of smoked salmon. And I really didn't care if there was a special place for us. We entered the park, no need to pay anything as I paid 25$ yesterday and that fee is valid for 3 days.


We can see that we're not alone on our "special" place
We can see Kata Tjuta
Our Guide preparing breakfast
Pictures has to be taken


We looked at Uluru, I looked for a few minutes before I was back in the van. It was darn cold and I was better off in the van. Our Guide prepared the breakfast, but I was still full of smoked salmon. The sun came up and we continued in the car towards Uluru.

We were going for a short walk to a water hole at Uluru and then we will drive around Uluru before going back to Ayers Rock Resort. It was nice to get back in to the front seat of the van
and the heating on FULL BLAST. Our Guide suggested that I should have brought a jacket and I replied.
- It is Australia fer ducks sake!
But I told her that I had brought a jacket, but this was for my whale watching. And I never told her that I had to go to "Porky & Flabby" to find a jacket to fit me.

We reached the parking lot and we got out to walk up to the Mutijulu Waterhole. My group and Guide stopped everywhere but I walked straight to the water hole. But here it was not possible to walk alone as there was a lot of people.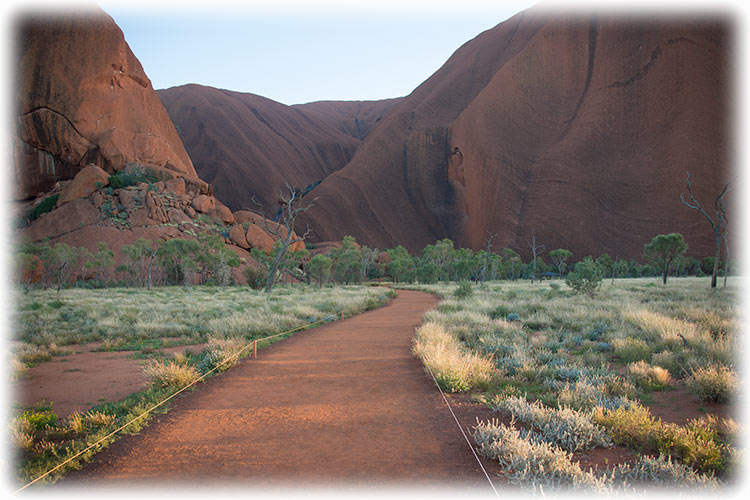 Walk path to the Mutijulu Waterhole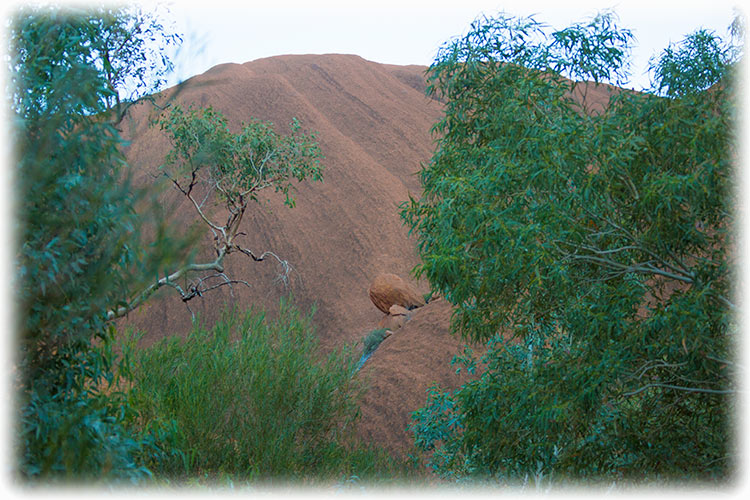 I reach the Mutijulu Waterhole


It was a beautiful "oasis" on the south side of the Uluru, I heard the birds but there were too much people. And when I reached the platform at the Mutijulu Waterhole there were so much people that I could not get out on the platform.

It was a bus load of Japanese tourists and the Gide were taking pictures of them. Two old Japanese ladies pointed at me and looked at the Guide. Yeah, no need to translate or ask. I went to them and I put my arms around them. OH, it was warm and nice, go ahead, take millions of pictures. Well, it was a beautiful area but I was in a hurry to get back out in the sunshine.

I walked back to the van and I walked around in the sunshine waiting for my group to be ready.


I start to walk back to the van
I'm back out in the sunshine
The Japanese tour group have problems with the bus
We are driving back home again
We are driving back home again
There is a chain for them that want to climb Ayers Rock
And no, I never climbed the rock
There is a chain for them that want to climb Ayers Rock
And no, I never climbed the rock
We see Kata Tjuta on the way back to Ayers Rock Resort


I took out the electric radiator when I came back to my room. Darn, it was really cold. I wrapped myself in a blanket and it was still cold. I went to bed under blankets and comforters and I was
soon asleep
and I slept for two hours.

I went for an afternoon birding in the afternoon and I was only seeing the Yellow-throated Miner. And I saw a lot of them and I could hear them all over the place, the sound like squeaky shoes, at least I think so.

Otherwise there wasn't much to see in the desert, not even any snakes. But I kept on going and I turned around and I
started to walk back around 5 o'clock. Now I had the sun in my back so it was easier to see if there was any birds.

But nothing, here was not even any of the Yellow-throated Miner. Disappointment? No, not
really, it was kind of nice to walk around in the desert looking around.

I also looked out for the
lizard looking like a twig, that would be a nice one to see, our French Guide told us that they are usually lying on the roads as they are hot. So this is the place to be if you want to see any of these lizard. I think they are called Devil
something. But I saw a butterfly














I also saw one of the mushrooms we had seen at Uluru this morning. At first I thought it was some kind of eggs coming out from the ground. They looked exactly like eggs and I called our Guide.

She told me it was mushrooms. Well, anyway, that was the most exciting I saw during my birding tour around Ayers Rock Resort. I went to buy some bread and to check if they had got any smoked salmon at the supermarket. I bought all their smoked salmon yesterday.

I had decided to buy my own breakfast even though I have time for breakfast at the restaurant tomorrow. The airport shuttle won't leave until 08:40. But I feel much better since I started with the smoked salmon and rye bread in my room so I decided to continue with that even though breakfast is included in my room.

I passed a park on my way home from the supermarket and I heard a new bird and I went to check it out. I put my bag of groceries on the lawn and I was soon discovering a White-plumed honeyeater in the park. Yet another bird that I had never seen before.


White-plumed honeyeater (Ptilotula penicillatus)
White-plumed honeyeater (Ptilotula penicillatus)
White-plumed honeyeater (Ptilotula penicillatus)
White-plumed honeyeater (Ptilotula penicillatus)
White-plumed honeyeater (Ptilotula penicillatus)
White-plumed honeyeater (Ptilotula penicillatus)


It was too dark in the park to get any nice pictures, the sun was to low and I had to crank up the ISO speed. I took a few pictures and the battery ran out. I changed the battery and then I had
to go look for the bird again. I found the bird and I took a few more pictures before I went back home.

I loaded the laundry machine first thing when I was back
in my room. It is actually quite good with these apartments, laundry and a fully equipped kitchen.

I had come up with an idea at the supermarket. If I feel so good after starting with the rye bread and smoked salmon, how would I feel if I swapped the diet drinks for tea? Most probably very good! Brown harsh in this part of the world are like sponges full of grease,
and the bacon.

He**, I don't even want to call it bacon. It is more like fried ham. I have not had any good hotel breakfast since I arrived to Australia.

OK, it have not been having many hotel breakfasts because of my early wake up times every day.

I looked for a beer mug, but the only thing I could find was a plastic mug, actually they were sold as medium soup mug containing 656ml. I bought one of those, a pack of milk and Earl Grey tea. Or what I call a "party pack"

The laundry machine is running and I'm enjoying my tea. Bus departs at 08:40 tomorrow, but I will put my alarm to go off at 6 or I might run in to trouble falling asleep on Kangaroo Island in the evening. Anyway, tomorrow will be a real adventure, flying to Adelaide and then taxi to Cape Jervis and the ferry to Kangaroo Island. Click HERE to find out if I will make it.


OK, it has come to my knowledge that we have senior citizens visiting my web page. How hard can it
be? So it's not very easy for them to see the blue coloured links to the next page.

Jiffy (also jiff)


noun [in SING.] informal a moment: we'll be back in a jiffy.

ORIGIN late 18th cent.: of unknown origin.

So as you understand, in a jiff pretty much depends on your internet.

So I put a "Next" button here and I hope that there isn't any problem to understand how to use that one. So just CLICK the "Next" button on your left hand side and you will be on the next page in a jiff!
Marunong ka mag-tagalog? Walang problema! Magpunta sa kabilang pahina pindutin ang "NEXT" button sa itaas


Faites vous parlez le français? Pas de problème! Pour arriver à la page suivante faites s'il vous plaît un déclic le bouton "Next" ci-dessus!


Haga usted dice el español? No hay problema! Ver la siguiente página sólo hacer clic el botón "Next" encima!


Farla parla l'italiano? Non problemi! Per vedere la prossima pagina lo scatto per favore giusto Il bottone "Next" sopra


Sprechen sie Deutsch! Kein problem! Wenn Sie die folgende Seite sehen wollen gerade klicken der Knopf "Next" oben!


คุณพูดภาษาไทยได้ไหม ไม่มีปัญหา ถ้าคุณต้องการไปหน้าถัดไป ให้กดปุ่ม "Next" ข้างบนนี้


Вы говорите по-русски? NJET PROBLEMA! Просто нажмите синюю кнопку "Next" с левой стороны и Вы моментально переместитесь на следующую страницу!


E ni Svenskar och inte förstår Engelska så ska ni skämmas. J och Björn, med det menar jag inte att alla mina stavfel ska ältas varje gång vi träffas.


Well, the flag of Skåne, just a BONUS flag.
You are visitor no.
To www.aladdin.st since December 2005
Visitors from different countries since 26th of September 2011