The brahminy myna or brahminy starling (Sturnia pagodarum) is a member of the starling family of birds. It is usually seen in pairs or small flocks in open habitats on the plains of the Indian subcontinent.

Distribution and habitat
It is a resident breeder in Nepal and India, a winter visitor to Sri Lanka and a summer visitor in parts of the western Himalayas and northeastern Himalayas. They are spotted in plains of Pakistan as well. They have musical call notes that are long made up of a series of slurred notes that ends abruptly.

Although mainly seen on the plains there are a few records from above 3000m mainly from Ladakh.

This passerine is typically found in dry forest, scrub jungle and cultivation and is often found close to human habitations. They especially favour areas with waterlogged or marshy lands.



Range map from www.oiseaux.net - Ornithological Portal Oiseaux.net

www.oiseaux.net is one of those MUST visit pages if you're in to bird watching. You can find just about everything there


Description
This myna is pale buff creamy with a black cap and a loose crest. The bill is yellow with a bluish base. The iris is pale and there is a bluish patch of skin around the eye. The outer tail feathers have white and the black primaries of the wings do not have any white patches. The adult male has a more prominent crest than the female and also has longer neck hackles. Juveniles are duller and the cap is browner.

The species name pagodarum is thought to be based on occurrence of the species on buildings and temple pagodas in southern India.

Behaviour and ecology
Like most starlings, the brahminy starling is omnivorous, eating fruit and insects. They have been known to feed on the fruits of Thevetia peruviana which are toxic to many vertebrates. These birds are not as arboreal as the grey-headed mynas and they form small flocks that mix with other mynas on grass covered ground.

The sometimes forage beside grazing cattle. They also visit flowers for nectar, particularly Salmalia, Butea monosperma and Erythrina. They roost communally in large numbers in leafy trees, often in the company of parakeets and other mynas.

It builds its nest in tree holes or artificial cavities. The breeding season is March to September but varies with location, being earlier in southern India. Both sexes take part in nest building. The nest is lined with grass, feathers and rags. The normal clutch is 3-4 eggs which are pale bluish green. The eggs hatch in about 12 to 14 days. Two or three broods may be raised in succession.

Taxonomy and systematics
The starling genera were found to be polyphyletic on the basis of molecular phylogeny and this has led to changes in the genus placements. This species has been traditionally placed in the genus Sturnus and Temenuchus, but a 2008 study confidently placed it within the genus Sturnia (Zuccon et al. 2008).



Listen to the Brahminy starling




Remarks from the Recordist


Same individual as on XC165865, XC165866.





Conservation status

IUCN Red List
of Threatened Species. Version 2012.2. International Union for Conservation of Nature. Retrieved 3 June 2013.
From Wikipedia, the free encyclopedia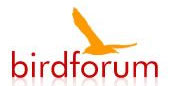 Sighted: (Date of first photo that I could use) 7th of January 2016
Location: Hiran River - Sasan Gir, India

Among others I have used Peter Ericsson's web page Birds of Thailand These galleries contain 668 species of the Birds of Thailand and have been of a great help to identify some of the birds as the birds in Thailand and India are, well, many of them are the same.

I have had most help from my friend, the bird pal I met at Suan Rot Fai. Sending pictures of birds I have not been able to identify to him via Line. 3 minutes later he and he have managed to identify most of the birds I have had problems with. THANKS! Visit his web page m☥lever for his beautiful pictures.

PLEASE! As I'm a first time birdwatcher bear in mind that some of the bird can be wrongly named. I have bought book and I confirm on the internet to get the right identity on the birds I take pictures off. But there can still be mistakes.


Brahminy starling - 7th of January 2016 - Sasan Gir
Brahminy starling - 7th of January 2016 - Sasan Gir




PLEASE! If I have made any mistakes identifying any bird, PLEASE let me know on my guestbook



You are visitor no.
To www.aladdin.st since December 2005
Visitors from different countries since 26th of September 2011