The Himalayan Bulbul (Pycnonotus leucogenys), or White-cheeked Bulbul, is a species of songbird in the bulbul family found in central Asia.



Songbird


A songbird is a bird belonging to the clade Passeri of the perching birds (Passeriformes). Another name that is sometimes seen as a scientific or vernacular name is Oscines, from Latin oscen, "a songbird". This group contains 5,000 or so species found all over the world, in which the vocal organ typically is developed in such a way as to produce a diverse and elaborate bird song.

Songbirds form one of the two major lineages of extant perching birds, the other being the Tyranni which are most diverse in the Neotropics and absent from many parts of the world. The Tyranni have a simpler syrinx musculature, and while their vocalizations are often just as complex and striking as those of songbirds, they are altogether more mechanical sounding. There is a third perching bird lineage, the Acanthisitti from New Zealand, of which only two species remain alive today.

Some evidence suggests that songbirds evolved 50 million years ago in the part of Gondwana that later became India, Sri Lanka, Australia, New Zealand, New Guinea and Antarctica, before spreading around the world.


Distribution and habitat
The species occurs in the northern regions of the Indian subcontinent and some adjoining areas. It is found in and near the Himalayas.

The Himalayan bulbul frequents forests and shrubland and also comes into gardens and parks.



Range map from www.oiseaux.net - Ornithological Portal Oiseaux.net

www.oiseaux.net is one of those MUST visit pages if you're in to bird watching. You can find just about everything there


Taxonomy and systematics
The Himalayan bulbul is considered to belong to a superspecies along with the white-eared bulbul, white-spectacled bulbul, African red-eyed bulbul, Cape bulbul, and common bulbul. The alternate name, white-cheeked bulbul, is also used by the white-eared bulbul.

Description
The Himalayan bulbul is about 18 cm in length, with a wingspan of 25.5–28 cm and an average weight of 30 g. Its head, throat, and crest are black and white. The back, side, and lengthy tail are brown, the underside is pale yellow. Sexes have similar plumage. The song is a beautiful 4-piece whistle, which resembles an accelerated oriole whistle



Listen to the Himalayan Bulbul


Behaviour and ecology The Himalayan bulbul feeds on insects and other small invertebrates, as well as berries, fruits, seeds, buds and nectar.

Nests are usually built in bushes or low branches, are cup-shaped, and made of stems, roots and twigs. The female usually lays three eggs, which are incubated for 12 days. The chicks leave the nest when they are 9–11 days old. There may be up to three broods raised per year. During breeding, adults become very territorial.



Conservation status

The
IUCN Red List
of Threatened Species. IUCN. 2016:
e.T22712690A94343238. doi:10.2305/IUCN.UK.2016-3.RLTS.T22712690A94343238.en. Retrieved 14 January 2018.
From Wikipedia, the free encyclopedia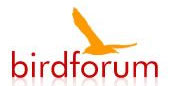 Sighted: (Date of first photo that I could use) 8 April 2018
Location: Shivapuri Nagarjun National Park, Nepal


Himalayan Bulbul - जुल्फे जुरेली
8 April 2018 - Shivapuri Nagarjun National Park, Nepal
Himalayan Bulbul - जुल्फे जुरेली
8 April 2018 - Shivapuri Nagarjun National Park, Nepal




PLEASE! If I have made any mistakes identifying any bird, PLEASE let me know on my guestbook



You are visitor no.
To www.aladdin.st since December 2005
Visitors from different countries since 26th of September 2011