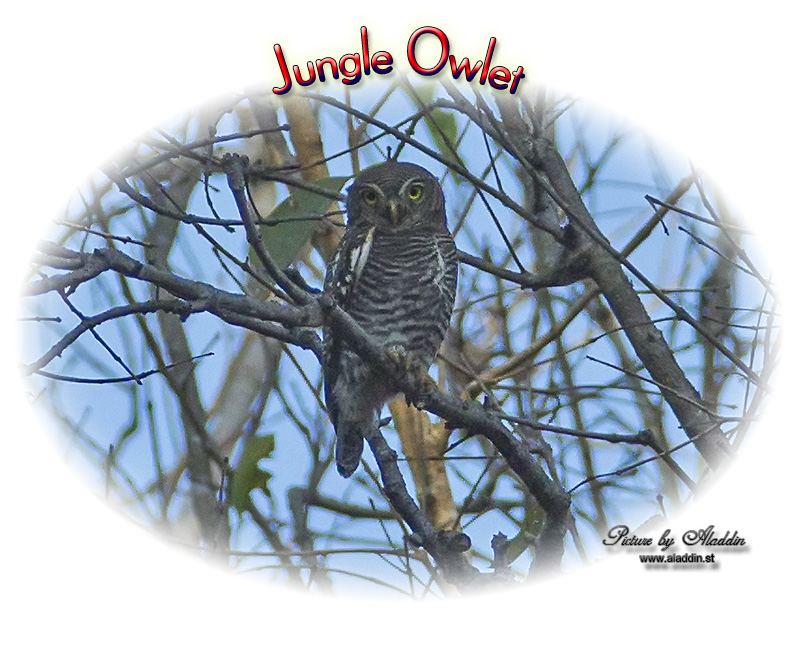 The Jungle Owlet, or Barred Jungle Owlet, (Glaucidium radiatum) is found in the Indian Subcontinent. The species is often found singly, in pairs or small groups and are usually detected by their calls at dawn and dusk. There are two subspecies with the form found in the Western Ghats sometimes considered a full species.

Habitat and distribution
They are found in habitats ranging from scrub forest to deciduous and moist deciduous forests. They are found south of the Himalayas but found in some parts of the Himalayas to about 2000 m. Extends from Dalhousie in the west east to Bhutan.



Range map from www.oiseaux.net - Ornithological Portal Oiseaux.net

www.oiseaux.net is one of those MUST visit pages if you're in to bird watching. You can find just about everything there


Description
This small owlet has a rounded head and is finely barred all over. There is no clear facial disk and the wings are brownish and the tail is narrowly barred in white. There are two subspecies, the nominate form is found in the plains of India and Sri Lanka while malabaricum of the Western Ghats is shorter tailed and shows more brown on the head. It has been suggested that this may warrant full species status.

The plumage on the upper parts is dark black brown barred with white. The wing coverts have white and rufous patches. The primaries and secondaries are dark brown and barred with pale chestnut. The lower side is whitish or pale rufous barred with black. There is a whitish patch on the chin, upper breast and centre of the abdomen. The iris is yellow, the bill and tarsi are greenish with black claws.

In Sri Lanka, chestnut-backed owlet (Glaucidium castanonotum) was once included as a subspecies but this is elevated to full species. It is found in the wet zone whereas G. radiatum is found in drier forests



Listen to the Jungle Owlet





Behaviour and ecology
This owlet is mainly active at dawn and dusk, but is known to call and fly during the daytime as well. The call is distinctive and consists of a rapid series of prao..prao.prao-prao-prao that increases and then fades in volume before ending abruptly. At their daytime roosts, they may be mobbed by drongos, treepies and sunbirds. During the day, young nestlings produce tick calls not unlike that of a pale-billed flowerpecker.

They roost inside tree cavities and when disturbed they freeze and appear like a dead tree stump. They sometimes perch prominently on wires or bask in the morning sun before retiring to their roost. They have been known to capture small Phylloscopus warblers during the day, although their peak foraging hours are an hour before sunrise and after sunset. Their diet consists of insects, small birds, reptiles, and rodents.

The breeding season in India is March to May and they nest in the hollow of a tree at a height of 3 to 5 metres. The typical clutch consists of four eggs (three eggs in malabaricum).



Conservation status

IUCN Red List
of Threatened Species. Version 2013.2.
International Union for Conservation of Nature. Retrieved 26 November 2013.
From Wikipedia, the free encyclopedia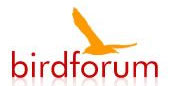 Sighted: (Date of first photo that I could use) 25 January 2016
Location: Tala Zone, Bandhavgarh Tiger Reserve, India

PLEASE! As I'm a first time birdwatcher bear in mind that some of the bird can be wrongly named. I have bought books and I confirm on the internet to get the right identity on the birds I take pictures off. But there can still be mistakes.

I have had most help from my friend, the bird pal I met at Suan Rot Fai. Sending pictures of birds I have not been able to identify to him via Line. 3 minutes later he and he have managed to identify most of the birds I have had problems with. THANKS! Visit his web page m☥lever for his beautiful pictures.

And my new aid, maybe, and I say maybe the best aid. I brought my mobile phone as my SIM card have stopped working and I tried to get it to work again so I can use the internet. Thus I had my phone in my pocket on my first game drive in Jim Corbett National Park.

We saw a bird and I asked my Guide and the driver if they had a pen and a paper as I had forgot my pen and paper in my room. I remembered my LG phone and I recorded the name. And thus I will always bring my phone. Writing the name in the car and I have found more than once that it can be hard to read what I had wrote when I'm back in my room.

So now I always have my mobile in my pocket and it has been a great help. And from November 2018 I use eBird. Bird watching in U.A.E and Oman and my guide in Dubai recommended eBird and I have used the app since then and I note every bird I can identify in my eBird app.


Jungle Owlet - 25 January 2016 - Tala Zone, Bandhavgarh Tiger Reserve, India
Jungle Owlet - 31 January 2016 - Kanha Tiger Reserve, India
Jungle Owlet - 25 January 2016 - Tala Zone, Bandhavgarh Tiger Reserve, India
Jungle Owlet - 26 March 2018 - Bardiya/ Bardia National Park, Nepal
Jungle Owlet - 26 March 2018 - Bardiya/ Bardia National Park, Nepal
Jungle Owlet - 2 April 2018 - Chitwan National Park, Nepal
Jungle Owlet - 2 April 2018 - Chitwan National Park, Nepal




PLEASE! If I have made any mistakes identifying any bird, PLEASE let me know on my guestbook



You are visitor no.
To www.aladdin.st since December 2005
Visitors from different countries since 26th of September 2011