The Red Junglefowl (Gallus) is a tropical member of the Phasianidae family.

It is thought to be ancestral to the domestic chicken, with some hybridization with the grey junglefowl. The red junglefowl was first domesticated at least five thousand years ago in Asia, then taken around the world, and the domestic form is kept globally as a very productive food source of both meat and eggs.

Range
The range of the wild form stretches from Tamil Nadu, South India (where it has almost certainly been diluted with cross breeding from domestic breeds), eastwards across southern China and into Malaysia, Singapore, Philippines and Indonesia. Junglefowl are established on several of the Hawaiian Islands, including Kauai, but these are feral descendants of domestic chickens. They can also be found on Christmas Island, Vanuatu, and the Mariana Islands.

Each of these various regions had its own subspecies of Gallus, including:

• Gallus gallus – from Indochina
• Gallus bankiva – from Java
• Gallus jabouillei – from Vietnam
• Gallus murghi – from India
• Gallus spadiceus – from Burma
• Gallus domesticus – (domestic chicken)

• And the beautiful Sri Lankan Junglefowl (Gallus lafayettii) that I spotted on Sri Lanka.


Red junglefowl range


Sexual dimorphism
The male's tail is composed of long, arching feathers that initially look black but shimmer with blue, purple and green in good light. The female's plumage is typical of this family of birds in being cryptic and adapted for camouflage. She alone looks after the eggs and chicks. She also has no fleshy wattles, and a very small comb on the head.

During their mating season, the male birds announce their presence with the well known "cock-a-doodle-doo" call or crowing. Male red junglefowl have a shorter crowing sound than domestic roosters; the call cuts off abruptly at the end. This serves both to attract potential mates and to make other male birds in the area aware of the risk of fighting a breeding competitor.

A spur on the lower leg just behind and above the foot serves in such fighting. Their call structure is complex and they have distinctive alarm calls for aerial and ground predators to which others react appropriately.



Listen to the Red Junglefowl






Remarks from the Recordist


Flock with with small chicks making alarm calls due to nearby Shikra (Accipiter badius). The chicks and some members of the flock remained completely frozen still while this calling was taking place.








Behaviour
Males make a food-related display called "tidbitting", performed upon finding food in the presence of a female. The display is composed of coaxing, cluck-like calls and eye-catching bobbing and twitching motions of the head and neck. During the performance, the male repeatedly picks up and drops the food item with his beak. The display usually ends when the hen takes the food item either from the ground or directly from the male's beak. Breeding then occurs. Males that produce anti-predator alarm calls appear to be preferred by females.

They are omnivorous and feed on insects, seeds and fruits, including those that are cultivated such as those of the oil palm.

Red junglefowl regularly bathe in dust to keep just the right balance in their plumage. The dust absorbs extra oil and subsequently falls off.

Flight in these birds is almost purely confined to reaching their roosting areas at sunset in trees or any other high and relatively safe places free from ground predators, and for escape from immediate danger through the day.

Domestication
In 2012, a study was published that examined mitochondrial DNA recovered from ancient bones from Europe, Thailand, the Pacific and Chile, and from Spanish colonial sites in Florida and the Dominican Republic, in directly dated samples originating in Europe at 1,000 B.P. and in the Pacific at 3,000 B.P. The study showed that chickens were most likely domesticated from wild red junglefowl, though some have suggested possible genetic contributions from other junglefowl species.

Domestication occurred at least 7,400 years ago from a common ancestor flock in the bird's natural range, then proceeded in waves both east and west. The paper also states that the earliest undisputed domestic chicken remains are bones associated with a date of approximately 5,400 BC from the Chishan site, in the Hebei province of China.

In the Ganges region of India, red junglefowl were being used by humans as early as 7,000 years ago. No domestic chicken remains older than 4,000 years have been identified in the Indus Valley, and the antiquity of chickens recovered from excavations at Mohenjodaro is still debated.

Hybridisation
The other three members of the genus — Sri Lanka junglefowl (Gallus lafayetii), grey junglefowl (Gallus sonneratii), and the green junglefowl (Gallus varius) — do not usually produce fertile hybrids with the red junglefowl, suggesting that it is the sole ancestor of the domestic chicken. However, recent research has revealed the absence of the yellow skin gene in the wild red junglefowl found in domestic birds, which suggests hybridisation with the grey junglefowl during the domestication of the species.

A culturally significant hybrid between the red junglefowl and the green junglefowl in Indonesia is known as the bekisar.

Purebred red junglefowl are thought to be facing a serious threat of extinction because of hybridisation at the edge of forests where domesticated free ranging chickens are common.



Conservation status

IUCN Red List
of Threatened Species. Version 2013.2.
International Union for Conservation of Nature. Retrieved 26 November 2013.
From Wikipedia, the free encyclopedia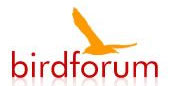 PLEASE! As I'm a first time birdwatcher bear in mind that some of the bird can be wrongly named. I have bought books and I confirm on the internet to get the right identity on the birds I take pictures off. But there can still be mistakes.

I have had most help from my friend, the bird pal I met at Suan Rot Fai. Sending pictures of birds I have not been able to identify to him via Line. 3 minutes later he and he have managed to identify most of the birds I have had problems with. THANKS! Visit his web page m☥lever for his beautiful pictures.

And my new aid, maybe, and I say maybe the best aid. I brought my mobile phone as my SIM card have stopped working and I tried to get it to work again so I can use the internet. Thus I had my phone in my pocket on my first game drive in Jim Corbett National Park.

We saw a bird and I asked my Guide and the driver if they had a pen and a paper as I had forgot my pen and paper in my room. I remembered my LG phone and I recorded the name. And thus I will always bring my phone. Writing the name in the car and I have found more than once that it can be hard to read what I had wrote when I'm back in my room.

So now I always have my mobile in my pocket and it has been a great help. And from November 2018 I use eBird. Bird watching in U.A.E and Oman and my guide in Dubai recommended eBird and I have used the app since then and I note every bird I can identify in my eBird app.

Sighted: (Date of first photo that I could use) 25 January 2016
Location: Tala Zone, Bandhavgarh Tiger Reserve


Red Junglefow - 25 January 2016 - Tala Zone, Bandhavgarh Tiger Reserve




PLEASE! If I have made any mistakes identifying any bird, PLEASE let me know on my guestbook



You are visitor no.
To www.aladdin.st since December 2005
Visitors from different countries since 26th of September 2011