Tuesday 3rd of July 2018 and it is time to take off to thick off yet another item on my list of things to do before I'm too old Well, I will
hopefully be able to thick of two items from the list. Bicycle along the Kiel Canal and to see wild bears and wolfs.

• To experience a hangover

• African safari

• To see Polar bears and icebergs

• Whale sharks "Failed"
• Tiger safari

• Whale sharks
(second try)
• Koala and Kangaroo adventure in Australia

• Antarctica
• The Amazon in Brazil
• Swimming with Humpback whales

• Kiel - Brunsbüttel - Bicycling along the Kiel Canal
• Wildlife tour in Sweden and the Carpathian Mountains (Poland and Romania)
Carpathian Mountains and they recommend me to go in March and then it is very cold.
So changed to a summer trip in Finland and Sweden where I can see all the animals in the summer

I had booked an Audi A6 with SIXT but they could not guarantee an AUDI and as I don't want to drive a BMW or Benz I booked a Volvo V90. I will drive from Helsingborg to the northern most
point in Sweden, well, I will have to drive through Finland the last stretch.

I will stay two nights in Kilpisjarvihave, Finland. I will have to walk to the Three-Country Cairn and walking around the stone and I will have
walked in three countries, Finland, Norway and Sweden. There is no road to the Three-Country Cairn, but there is a boat, M/S Malla.

But I have decided to trek the 11km to the Three-Country Cairn and I might take to boat back to Kilpisjärvi.

And if there is a lot of birds and other excitements I will walk the 11km back to Kilpisjärvi again. Of course, depending on the weather as well. It will be chilli even though it is in the middle of the summer.



Three-Country Cairn


Three-Country Cairn (Finnish: Kolmen valtakunnan rajapyykki, Northern Sami: Golmma riikka urna, Norwegian: Treriksrøysa, Swedish: Treriksröset) is the point at which the international borders of Sweden, Norway and Finland meet, and the name of the monument that marks the point. It is an example of a geographical feature known as a tripoint.

A monument of stones was erected on the site in 1897 by the governments of Norway and Russia (which was administering Finland at the time). The Swedish could not agree on a boundary commission with the Norwegians and did not contribute their stone until 1901. This is Sweden's most northerly point and it is the westernmost point of the Finnish mainland (the most westerly point of Finland is on the island Märket).




The current tripoint monument was built in 1926 and is a beige, conical frustum made of concrete, located about 10 metres out in Lake Goldajärvi (also known as Lake Koltajauri). It is located at 489 metres above sea level. The size is about 14 square metres with diameter of about 4 metres. As an artificial island, it is sometimes mentioned as the world's smallest island divided by a border. This is a matter of definition. For example, in Haparanda/Tornio there are poles in water marking the border.

It may be reached by walking 11 kilometres from Kilpisjärvi in Finland along a hiking trail in the Malla Strict Nature Reserve. In summertime, it can be reached by boat from Kilpisjärvi plus a 3-kilometre walk.

From Wikipedia, the free encyclopedia




On the way north I will stop two nights in Fagersta to have a moose night safari and one beaver night safari. And of course, I will
hopefully see a lot of birds.

On the way north I will stop at several places to look for birds, of course I will also stop at Dundret to look for birds. And if I'm lucky I will see Reindeers, bears, moose etc.



Dundret


Dundret (in Lule Sami language: Váhtjerduottar) is a fell (823m above sea level), located just outside the town Gällivare in Sweden. Standing east of the main chain of the Scandinavian Mountains Dundret is an inselberg.

Dundret has a ski resort with nine pistes as well as a ramp for ski jumping and trails for cross country skiing. The skiing season at Dundret usually starts at the beginning of November and ends in late April. For this reason many national skiing teams start their seasonal training there. Through the years many international contests have been held at Dundret and in 1983 a downhill World cup competition took place here.

The peak of Dundret can be reached by car. From the western peak one eleventh of the area of Sweden can be seen in clear weather. The midnight sun is also clearly visible from the beginning of June to the middle of July.

The entire fell is a nature preserve, protected since 1970. The name Dundret comes from the Finnish word tunturi (fell), which in turn comes from the Sami word tuoddar (low fell).

From Wikipedia, the free encyclopedia




On the way south from the Three-Country Cairn I will stay overnight in Haparanda, a border town on the border between Finland and Sweden. From there it will be straight to the hides in Finland
close to the Russian border.

First three nights with Wild Brown Bear and then three nights
with Wildlife Safaris Finland. 6 nights in the forest and I really hope I get to see the bears and wolfs. I have given up hopes to see any Lynx, but there is a slim chance to see Wolverines.

Leaving Finland driving back to Skåne and a few days of birding on Kullaberg before taking the train to Kiel and my cycle holiday along the Kiel Canal. Train back
to Helsingborg and then flying to Manchester for a few days of bird watching before flying back home to Bangkok.

Alarm was set to go off at 4 o'clock and the third alarm was set 04:20 and I got out of bed. Tea and oatmeal before going down to the waiting car at 6 o'clock,


The car is here
Approaching Suvarnabhumi International
Security and immigration next
Suvarnabhumi International
Miracle Lounge at Suvarnabhumi International


I was in Thai Airways lounge less than one hour after leaving home. Air India use the Miracle Lounge but that was for sure not an impressive lounge and I went to Thai Airways lounge around the corner from the Miracle Lounge.

Thai Airways lounges are for sure not impressive so that says a lot of the Miracle Lounge. I had a soda water and as they didn't had the spinach quiche (BIG DISAPOINTMENT) I had to have some mini sandwiches, not bad, but not like the spinach quiche. Time turned quick and it was soon time to leave for Gate F5 and Air India's flight AI 333 to New Delhi where I will change to flight AI 157


Thai Airways Lounge at concourse F, Suvarnabhumi International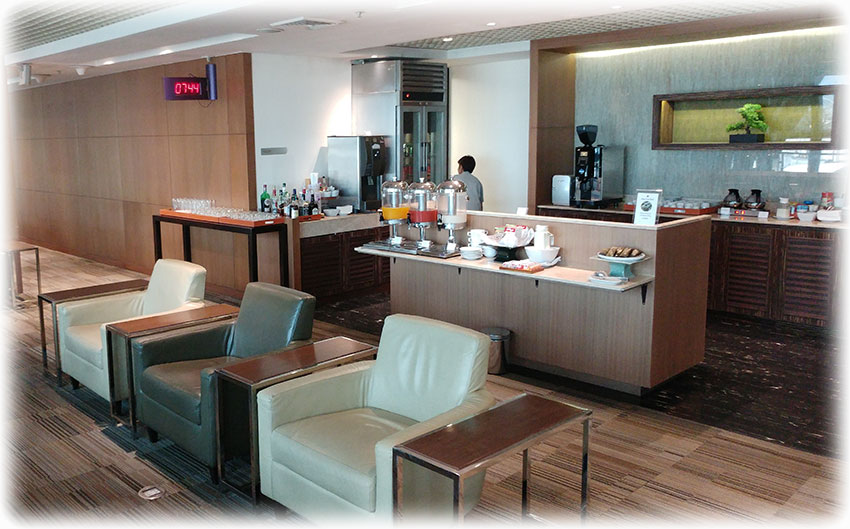 Thai Airways Lounge at concourse F, Suvarnabhumi International
Our plane
Boarding the flight
Finding my seat was easy
BRING IT ON!!!!!!!
We're TAXI to the runway

According to the boarding pass, boarding at 07:50, in reality, yeah you know. Boarding at 08:30. I had made sure to get my own 2 seats at check in. The seat next to me 3J was occupied and the moved me to seat 1H. Alone and I can enjoy the first leg, and
hopefully, I will have my own seat on the next leg as well.

I put my arse in the spacy seat and there were ample room, so at least it will be a comfortable flight. TAXI out to the runway and we were already late when we took off leaving Suvarnabhumi International behind and below us while I was puffin' away on my e-cig. They had asked a few question about my e-cig at the security at the gate and I had to take it apart.

But now it was put back together and I enjoyed every minute of it. They came and asked if I wanted something to drink and as my Ganesha had had a shower in real water from Ganges I took the chance.
- Diet Pepsi
- Just a sec!

- YIPPEE !!!!! MY GANESHA HAS ALREADY PAID OFF!!


My second fizz drink
Breakfast and Earl Grey tea
My third fizz drink


I had the Diet Pepsis coming my way all the way to Delhi, time turned quick and we were soon approaching New Delhi International. Diet Pepsi and I won't be surprised if Air India grow to be
my favourite airline.

Power for my laptop, and yes I hear you. All planes have power sockets for laptop now a days. But many airplanes don't have enough
power to run a "POWER" laptop and I have to use it with the battery.

Thanks to the Ganesha or not, but I can run my laptop and I can charge the whole machine park at the same time.

We arrived at 11 twenty five something and the first thing I notices when I got in to the terminal was all the Pepsi machines all over the terminal. It is a huge terminal and I'm trotting and trotting, but I was lucky, as so many other times on airports in India. I was offered a lift and I was whiskered all the way down to the security check for the transfer.


Delhi International Airport
Delhi International Airport
Delhi International Airport
But they have Diet Pepsi in the lounge


Security check was done in a few minutes, I was alone but they wanted to check my new airport commuter backpack for camera equipment. I have sound recorders, lenses and all kind of stuff they wanted to have a look at.

I was soon in Air India's lounge, what a disappointment that was. Must have been the worst airline lounge I have ever visited. I asked for the work area with desks so I could sit down to work.
- In the buffet area
- Thanks!

The buffet area, I could smell something burning on my way over there and it was burnt toast. The buffet area was a table with 7 Eleven styled "crossiants" some potato fingers and, well, it was nothing I felt peckish for. Nowhere to sit down so you had a table for your computer.

WIFI, a pass word so long so it was like writing a book to fill up the online form to get the free 500MB. I was here two years ago, the domestic terminal and the lounge had been excellent. And I'm pretty sure it was Air India, Star Alliance and in the domestic terminal

Anyway, it was only 90 minutes until boarding of flight AI 157 and the time passed by quite quickly. I left a little early to go look for a USB cable as I had forgot the cable for the USB C at home. A must have item for the phone in the rented car.


Our plane
On board Air India flight AI 157
No thanks, Diet Pepsi
Thanks, but next time, please bring a can
2 planes waiting for their turn to get up on the runway
Leaving the terminal
Leaving the terminal
No cans on board and I get the better sized 500ml bottle


We got good food and I was starting to watch an episode of a TV series on my computer. We were flying over Afghanistan and there was nothing more than sand, rocks and stones from Pakistan until we reached the Caspian Sea. Hours of flying over, well, nothing.

It is 7 hours ++ to Copenhagen and, well, it is a long flight and I don't want to sleep as I have planned to sleep when I reach the hotel tonight. And I will hopefully be out of bed 4 o'clock tomorrow morning to be ready to go look for birds in Sweden for the first time in my life.


Sand, rocks and stones only for long as you can see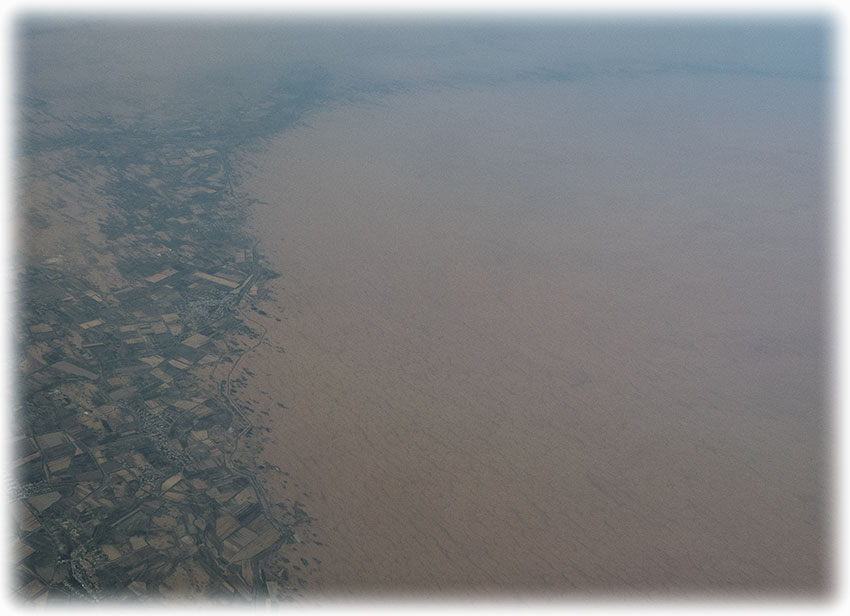 Sand, rocks and stones only for long as you can see
And I'm enjoying myself 10 000 meter above it


Well, I was suffering from a slight "restless leg" syndrome, not to bad. I liked the seat, same as on Turkish Airlines and it is OK as long as there is no one sitting in the seat next to me. The food was OK and they had Diet Pepsi so I might use Air India again.

Around 6 o'clock and I can see Skåne below us. We're flying over the south part of Skåne, crossing Öresund just south of the bridge and we make a U-turn and we lad in Copenhagen coming in from West.

18 thirty and the sun is still high up in the sky, summer time and 24 hour day light, at least up in the north. It will soon be dark again, but I hope we will have day light during my stay in the forests in Finland while I'm there to look for bears and wolfs.


Österlen, Skåne
The bridge between Skåne and Denmark
Copenhagen International Airport - Train station
The station was full of diesel smoke from the trains


I'm at Øresundtåg's vending machine for the train tickets at 7 o'clock, next train to Helsingborg
departs at 19:42. This was a disappointment as I had expected the train to depart at least 2 times per hour.

I had been hoping for me to be in my room at 8 o'clock, but now the clock was 9 o'clock when I checked in at Marina Plaza in Helsingborg.

So, well, why changing a winning concept? We're already used to clicking the links in the "adventure itineraries" so just click any date below:

July
3: Arriving Helsingborg - Overnight at Marina Plaza Hotel
4: Train to Bjuv: Bird watching and BBQ - Overnight at Marina Plaza Hotel
5: Leave Helsingborg, drive to Fagersta
5: Beaver Safari – Night at Hotel in Fagersta - Best Western Fagersta Brukshotell
6: Moose Safari – Night at Hotel in Fagersta - Best Western Fagersta Brukshotell
7: Drive to Östersund - Best Western Hotel Gamla Teatern - Bird watching around Ändsjön
8: Drive to Arvidsjaur - Hotell Laponia- Bird watching at Lamburträsket
9: Drive to Kiruna - Best Western Hotel Arctic Eden – Stop at Dundret , Gällevare to look for birds - Kebnekaise
10: Abisko National Park – Bird watching
10: Drive to Kilpisjarvi, Finland – Overnight at Tundrea
11: Trekking to Treriksröset – Overnight at Tundrea
12: Drive to Haparanda – Overnight at River MOTELL – Bird watching along the river outside the hotel
13: Drive to Wild Brown Bear Centre - Bear Hide - Wild Brown Bear
14: Bear Hide - Wild Brown Bear
15: Bear Hide - Wild Brown Bear
16: Bear Hide - Wildlife Safaris Finland
17: Bear Hide - Wildlife Safaris Finland
18: Bear Hide - Wildlife Safaris Finland
19: Leave Finland - Stormyrbergets Lantgård – Live on a farm – Bird watching
20: Overnight at Tynderö Gård – Live on a farm – Bird watching
21: Bird watching in Söråker
21: Drive to Skultuna - Bäver safari in the evening –Overnight at Skultuna Brukshotell
22: Bäver safari in the morning – Overnight at Gyllene Uttern - Västanå Naturreservat bird watching
23: Drive to Helsingborg – Watching the White Storks - Overnight at Marina Plaza Hotel
24: Bird watching Kullaberg – Overnight at Marina Plaza Hotel
25: High Chaparral – Overnight at Marina Plaza Hotel
26: Bird watching Kullaberg – Overnight at Marina Plaza Hotel
27: Bird watching Kullaberg – Overnight at Marina Plaza Hotel
Bicycle holiday along the Kiel Canal
28: Train to Kiel, Arriving at 17:15
29: Kiel - Rendsburg, ca. 52 km
30: Rendsburg - Friedrichstadt, ca. 60 km
31: Extra night in Friedrichstadt
August
1: Friedrichstadt - Tönning - Büsum, ca. 50 km
2: Extra night Büsum – Bird watching
3: Büsum - Brunsbüttel, ca. 54 km
4: Brunsbüttel - Albersdorf, ca. 40 km
5: Albersdorf – Rendsburg, ca. 35-40 km
6: Rendsburg - Kiel, ca. 52 km
7: Train to Helsingborg - Overnight at Marina Plaza Hotel, Helsingborg
8: Drive to Jönköping - Overnight at Marina Plaza Hotel, Helsingborg
9: Bird watching in Skåne - Overnight at Marina Plaza Hotel, Helsingborg
10: BIRD WATCHING TRIP REPORT - Liverpool Area, UK
10: Flying to Manchester
11: Group outing with the Royal Society for the Protection of Birds in Liverpool
12: Bird watching - Hen Harrier day at Parkgate
13: Bird watching - RSPB Leighton Moss Nature Reserve
14: Bird watching - Sefton Park and RSPB Marshside
15: Bird watching - Wallasey Embankment
16: Bird watching - RSBP South Stack
17: Flying back home via Copenhagen


OK, it has come to my knowledge that we have senior citizens visiting my web page. How hard can it
be? So it's not very easy for them to see the blue coloured links to the next page.

Jiffy (also jiff)


noun [in SING.] informal a moment: we'll be back in a jiffy.

ORIGIN late 18th cent.: of unknown origin.

So as you understand, in a jiff pretty much depends on your internet.

So I put a "Next" button here and I hope that there isn't any problem to understand how to use that one. So just CLICK the "Next" button on your left hand side and you will be on the next page in a jiff!
Marunong ka mag-tagalog? Walang problema! Magpunta sa kabilang pahina pindutin ang "NEXT" button sa itaas


Faites vous parlez le français? Pas de problème! Pour arriver à la page suivante faites s'il vous plaît un déclic le bouton "Next" ci-dessus!


Haga usted dice el español? No hay problema! Ver la siguiente página sólo hacer clic el botón "Next" encima!


Farla parla l'italiano? Non problemi! Per vedere la prossima pagina lo scatto per favore giusto Il bottone "Next" sopra


Sprechen sie Deutsch! Kein problem! Wenn Sie die folgende Seite sehen wollen gerade klicken der Knopf "Next" oben!


คุณพูดภาษาไทยได้ไหม ไม่มีปัญหา ถ้าคุณต้องการไปหน้าถัดไป ให้กดปุ่ม "Next" ข้างบนนี้


Вы говорите по-русски? Просто нажмите синюю кнопку "Next" с левой стороны и Вы моментально переместитесь на следующую страницу!


E ni Svenskar och inte förstår Engelska så ska ni skämmas. J och Björn, med det menar jag inte att alla mina stavfel ska ältas varje gång vi träffas.


Well, the flag of Skåne, just a BONUS flag.
You are visitor no.
To www.aladdin.st since December 2005
Visitors from different countries since 26th of September 2011