Monday 10th of May 2021 and I send my passport to Visaservice in Go:teborg to apply for a tourist visa to Thailand. They needed copies of the ticket so I bought a ticket with Singapore Airlines leaving Copenhagen on the 22 May 2021. And they require a outbound ticket so I bought a ticket to Singapore leaving Bangkok 5 July 2021.

There is a lot of documents I need to obtain before I can leave:

• Tourist visa - You can go to Thailand without visa as I get 45 days on arrival. Previously it was 30 days but as I need 14 days quarantine they give 15 days' extra.
• Ticket
• CoE Certificate of Entry
• Travel Insurance covering at least 100 000 US Dollar
• ASQ Hotel booking (Quarantine hotel)
• T-8 form
• Negative PCR Corvis-19 test
• The ThailandPlus app on your phone

Buy the ticket and you have to fill up the visa application form. Send it to the Thai Embassy/ Consulate/ Visa Service company with two passport photos. When this is done you have to apply for the CoE online. Click HERE to apply.

Fill up the online form, name and upload a copy of your passport. Save and await for approval. I got my approval in just a couple of hours. Leave this until the rest of the documents are ready.

When you have the visa you can book the ASQ hotel in Thailand. There are a couple of online sites with ASQ information. I booked my hotel at https://asqstay.com/ and then I bought my travel insurance covering Covid with 100 000 US Dollars.

When you have your visa, ASQ booking and insurance covering 100 000 US Dollar for Covid go back to my CoE application and I attached the rest of the documents. They say 3 days to get approved but it took 24 hours and I had my CoE. And now, take the Covid-19 test before going to the airport. Send copy of the CoE and negative PCR test to your booked ASQ hotel in Thailand.

So I sent my passport and visa application and I was unlucky this week, the Thai consulate was only open Monday and Wednesday this week. But I was impressed, I sent it on Monday 10 May and I had the visa on Monday 17 May.

Visa service sent me a copy of the visa and I booked ASQ Hotel. ASQ booking confirmed and I had my CoE 18th of May.



+++++++++++++++

Thursday 20th of May 2021 and the only thing I miss now is my Covid test. I also received the last parcel with my online purchases. 39 old caps for the snus box. Back in the days they were made of steel, much better than today's plastic caps.

So I will go to the Covid test place next to the hotel to make the 30 minutes PCR test on the way to the post office. Do the test and pick it up the result coming back to the hotel.

But there was a small queue when I arrived and the first one on the line had a foreign passport and it was obviously not too easy for them. So I left to go to pick up my parcel.


Caps for my snus cans, ugly plastic on right hand side


I picked up my parcel with 39 caps and now I have 41 caps as I picked up two a few days ago. I was in a good mood when I stepped in at Myrorna a few doors away from the post office. I found the cutlery and a plate. They are not allowed to serve the food on real plates at the ASQ hotels.

To eat from plastic plates using plastic cutlery is the worst thing, but now I have the real thing during my 14 days in quarantine arriving to Bangkok. And the whole thing set me back with 4 US Dollars so it is almost the same as nothing.


I buy a plate and cutlery
I stop to buy tea
I have one kg of tea to bring back home


I leave Myrorna and I stop to buy tea a few doors up the road. The shop keeper recognised me from when I was here back in February to buy my tea cup. I bought another kilo of tea and now I have 3 kg tea to bring to Bangkok.

I have also 8kg of Swedish honey in my bags so there will be a little to carry.

I have already decided to take a taxi to Kastrup instead of going by train. I can bring 70 kg and I have planned to bring 10 kg of Falusausage but the expiry date is very short so they will expiry before I reach home. So I will only buy 4 kg or something like that.

Back to make the Covid test and they tell me that their machine is broken and a new machine is on the way.

I went back to my room and as I already knew. Sweden is a 3rd world country, quick test 8 hours and 130 Dollars. But I managed to find one test centre in Malmö, 20 minutes and it will set me back by 200 US Dollars.

I made a quick decision and I left my room and I was soon on the train going to Malmö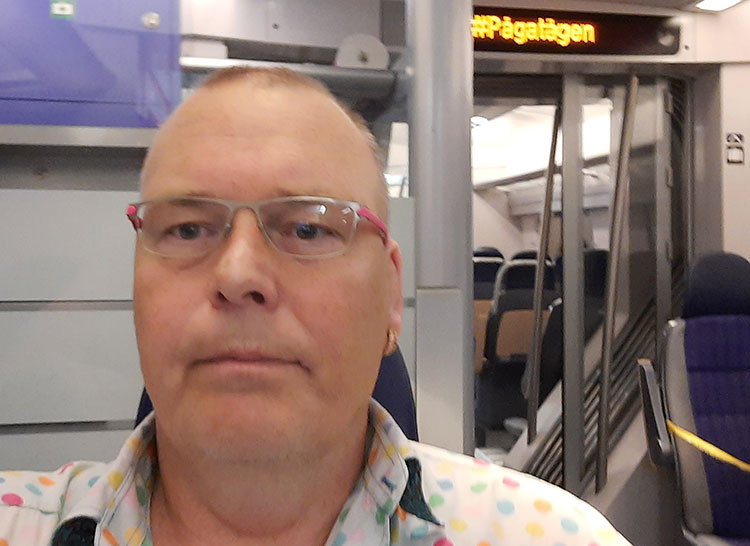 Going to Malmö to make a Covid test
Going to Malmö to make a Covid test


Took just a little more than an hour to reach Malmö / Hyllie and the Covid test centre as a minute walk from the station. There was one lady outside the door. You have to pay and do all the paper work outside the door. Only allowed inside to take the test.

My turn and I try to confirm that I have the result in 20 minutes, but they tell me it is 20-80 minutes. I tell them that they have to get the result in 20 as it is stated 20 minutes on their web page. I go in to do the test and I ask if they do it in the throat or in the nose.
- We do it in both the nose and throat.

I ask why it is necessary to push the cotton but all the way up the brain to see if I have Covid-19. They never let us forget to keep the distance so why the long cotton bud? I have a hard time to believe that the Covid is not in the nose, only in the brain until you come close to other people when the brain release the Covid-19.

• Why is there no one to call you racist when you say the UK virus, Brazilian virus, Indian or the South African virus? Say China virus and all hell breaks loose!

• Why do we have to keep the distance? Every second chair blocked on airports etc.? But on the airplane the passengers are rubbing shoulders with each others. Same on the busses and trains.

• Need to wear mask except when eating!!! 40 cm from the mouth of the passenger in the seat next to you while slurping down the airplane food.



Hot tip



If you don't like the mask, just keep a cup of tea in front of you and no one will bother you about the mask!!!


And again, why do they stick a pin in to your brain to see if you have Covid-19


I tell them that I go for a cup of tea and I will be back in 20 to collect my Covid-19 test result.

Well, they tell me that they won't give any result, it will come via SMS and e-mail. I told them that I would go for tea to wait for the result and if it is positive I come back to make a new test.

I went next door to have a tea, I discovered that they had hamburgers. So I ordered a hamburger and a soda water. And as they had milkshakes I ordered a chocolate milk shake. The Waitress gave me the full song and dance on how they topped the shake with whipped cream.

She brought my milkshake and she told me that the whipped cream was finished, Sweden 2021!


No whipped cream
The burger was OK


I got my Covid-19 result via SMS and e-mail, negative and I left the restaurant walking to the train station. I was lucky and the train arrived when I was walking down the stairs and I was soon on my way back to Marina Plaza Hotel in Helsingborg.

All my documents was ready and the only thing to do now is to pack my bags and to wait until Saturday to get to Copenhagen International Airport "Kastrup"



+++++++++++++++

Friday 21st of May 2021 and I was in a good mood waking up to my last day in Sweden. I will take a tour with the Forsea ferry to Denmark to have a lunch buffet, or as we say in Denmark "Dansk frukost" And I brought my shopping bag as I will buy some sausages when I am back in Helsingborg.

I leave my room to reach the departure at 13:00. Aurora leave Helsingborg every hour but they serve buffet at 11:00 + 12:00 + 13:00.


ForSea Ferries


ForSea Ferries is a ferry company serving the route between Helsingborg, Sweden and Helsingør, Denmark. Until 2018 the company was called HH-Ferries Group, and the trading name Scandlines was used.

The Helsingør–Helsingborg ferry route crosses the narrowest part of the Øresund, taking about 20 minutes to traverse the 4km strait. The company owns five vessels, including the sister ships Tycho Brahe, Aurora af Helsingborg and Hamlet each of which has a capacity of 240 cars and 1250 passengers.

In 2018 the ferries Tycho Brahe and Aurora af Helsingborg were converted to battery power. They are completely emission-free when in battery mode, reducing their total CO2 emissions by as much as 65 %. OF COURSE, UNLESS THEY DON'T HAVE TO IMPORT DIRTY COAL/ OIL POWER AS THEY HAVE CLOSED THE NUCLEAR POWER PLANTS IN SWEDEN.

In 2020 ForSea Ferries experienced a reduction of 80% in passenger numbers due to the Covid-19 pandemic. The number of departures was reduced and seventy staff were made redundant.

From Wikipedia
"Aurora av Helsingborg" leaving Helsingborg


I went for a buffet tour last week and the food was very good and as I was full I never got to try the "Flæskesteg" So I decided to go again and today is my last chance for real Danish Flæskesteg.

Takes me 2 minutes to walk to the ferry terminal and I buy one ticket. Ticket plus lunch set you back by about 16 US Dollars.

You can buy a ticket for a couple of Dollars without the lunch included and you do not need to leave the ferry. You can stay in the restaurant or to sit in the bar and just go back and forth between Sweden and Denmark on board the ferry.



Flæskesteg


Flæskesteg, ['flɛːskə.stɐ̯j] the Danish version of roast pork, is considered to be one of Denmark's principal national dishes. Always prepared with crackling, it is also a favourite for the Danish Christmas dinner served as the evening meal on 24 December or Christmas Eve.

History
Pork has been a Danish favourite for centuries but it was after the Industrial Revolution in the 1860s when wood-fired ovens were introduced for use in the home that, in addition to sausages and hams, roast pork became a popular dish.

From the beginning, joints were always cooked together with the rind in order to provide crackling. Ever since, this has remained a prerequisite for the dish.

Traditional recipe
The traditional method of preparation is to roast a joint of pork from the breast or neck without removing the rind. So as to obtain crispy crackling, a sharp knife should be used to cut the skin through to the meat in narrow strips. The skin is rubbed with salt, pepper is added, while bay leaves and optionally cloves are inserted into the cuts.

The joint is then roasted in a hot oven. The dish is accompanied by both boiled potatoes and caramelized potatoes (brunede kartofler). These are specially prepared by melting sugar in a frying pan over strong heat, adding a clump of butter, and allowing a portion of small round peeled potatoes (available in cans) to bathe in the mixture until they become richly browned or caramelized.

Red cabbage (rødkål), which can be bought in a jar or a can, is always included too. If the cabbage is prepared from scratch, sliced apples are often added.

Many Danes consider the traditional recipe to be the one described by Frk. Jensen in her 1901 cookbook.

Sandwiches
Flæskesteg med rødkål (roast pork with red cabbage) is also served cold on dark Danish rye bread as an open sandwich, known in Denmark as smørrebrød. The thin slice(s) of pork should, of course, be served with their crispy crackling. The sandwich may be decorated with red cabbage, prunes, a slice of orange and pickled cucumber.

Hot Flæskestegssandwichs in a burger bun are available from many Danish hot dog stands and other fast food providers.

From Wikipedia


I get on board and as I have booked a table they take me straight to my place. I don't lose any time and I go straight for the Flæskesteg with red cabbage. And it was as good as I had expected and I could not help myself so I had a second plate.

I enjoyed my food with a soda water and two bottles of choco milk.


Ferry terminal in Helsingborg
Lunch buffet
Lunch buffet
Flæskesteg
Lunch buffet

I finish two plates of Flæskesteg and I am full. But having roast beef and remoulade in the buffet and you must have at least one plate even though you are full. I had finished the buffet before we reached Denmark and I was full. The food is really excellent and I was in a good mood, maybe mostly because I did not eat too much.

3 small helpings, but a fourth would have made me stuffed and full of agony.


Roast with remoulade
Approaching Denmark
At the terminal in Denmark
At the terminal in Denmark
At the terminal in Denmark


I was enjoying the trip back to Sweden and I spent the 20 minutes in the restaurant without eating anything at all. It take 20 minutes to cross Öresund + 10 minutes in port so the ferry is back in Sweden 50 minutes after departure.

So the ferry departs from Sweden every full hour. There are 3 ferries so there is a departure every 20 minutes to Denmark, but Aurora is the only ferry with buffet.

Getting off the ferry and there are two police guys checking the passengers getting off the ferry. FIRST TIME EVER FOR ME!!! About 20 years since we joined EU and the Swedish Government have claimed that they are enforcing border control.

I have passed the bridge with train and bus several times. I have taken the ferry between Sweden and Denmark but never seen any border control before.

And that is even though the government have claimed to have a strict border control. Sweden is flooded with people and no one knows their ID or age so they put this "strict" border control to please the opposition.

The borders to Sweden is full open with no control over who or what passing the border.

I go to the supermarket to buy Falusausage, the last thing I need to buy to bring with me to Bangkok. Back at the room and I pack all my luggage and I am ready to leave.


Falukorv, the last ting I need before leaving




+++++++++++++++

Saturday 22nd of May 2021 and I have tea and my "Sea salt and Rosemary" knäckebröd for breakfast in my room. I have not been in the restaurant for breakfast for a long time now. Breakfast is for free, but I tend to eat a wee bit too much.

I booked a taxi yesterday and it will be here to pick me up at 8 o'clock. I brought down one of my bags to the luggage room yesterday evening so no need to bring this bag down today. Taxi arrives at 8 and I am soon on my way towards Copenhagen International Airport.


Leaving Helsingborg
Reaching the bridge to Denmark
Crossing the bridge to Denmark


It is a gorgeous morning and I enjoy the landscape of Skåne going down the highway towards Malmö and the bridge to Denmark. Reaching the bridge and we encounter light traffic and we haul arse across the bridge.

One lane is closed when we reach the Danish side. Signs saying CONTROL and road blocks in one of the two lines. So we had to slow down while passing the control area. No one bothered with us and we just passed.

They had stopped one car but the rest of us just passed and no signs of any police, just the one talking to the driver in the stopped car.


Control area at the Dansih border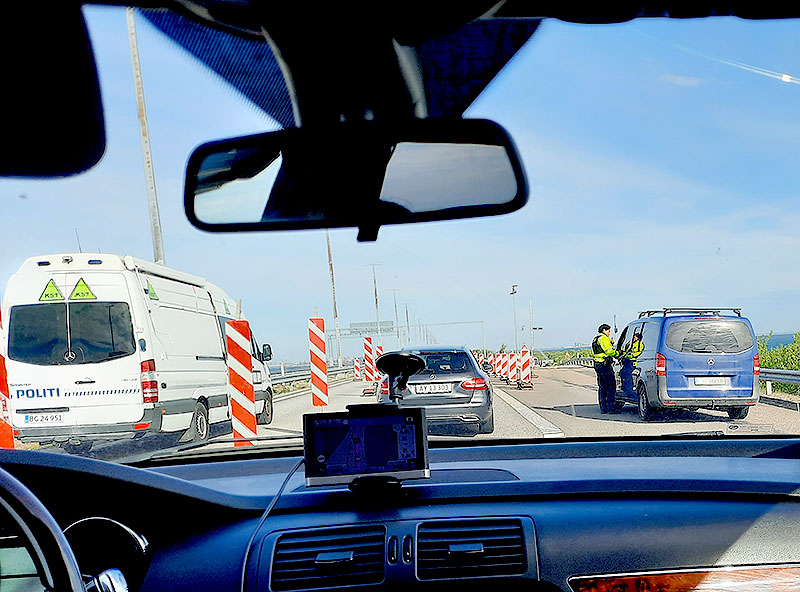 Control area at the Dansih border
Reaching the tunnel


We stop at the taxi station for Swedish Taxis outside terminal 3. My bags is put on the trolley and I step inside just to discover an empty terminal. I also discover that Singapore Airlines check-in is the first check-in counters.

I was told that they would not open until 9 thirty, 20 minutes to go and I had time to go buy a bottle of water that I enjoyed while waiting for Singapore Airlines to open the check-in for flight SQ351 to Singapore.

There was a couple of people lining up to check-in and when there were some action at the desks I went over to check-in. 76 kg of checked luggage, well, the honey is very heavy.


Kastrup airport empty
Not many people at Singapore Airlines check-in

Kastrup is almost empty so it was a quick affair to pass the security. I went to the Star Alliance lounge and there was only a very few passengers. I had about one hour to wait before boarding time and I had two glass of soda water while waiting.

It is actually quite nice to be traveling during the Covid. No people on the airports and at the check-in I found out that my flight to Singapore have 9 passengers so it will not be crowded.


No people in the lounge
No people in the lounge
My plane at gate C33
Boarding by stair


Leaving the lounge and immigration was empty so it took about 5 seconds to pass immigration. Reaching gate C33 and it was the same girl working in the gate that had checked me in.

The first thing she said was of course "Aladdin!" and then she told me that the bridge did not work. So we had to walk down to the tarmac and then up the stairs to board the plane.

She took my temperature but the thermometer showed error and she told me to sit down and she would be back in a second. She tried several times with no success so we checked the temp on the wrist. We boarded the flight via the tarmac and it was so nice when I was finally in my seat drinking water. I will spend the next 11 hours in this seat, not so nice.


In my seat
Dinner
Trying to sleep
Trying to sleep


Take off - drink tea - dinner - sleep - try to sleep - watch one movie - sit and do nothing - breakfast - sit and do nothing - arrival to Singapore.



+++++++++++++++

Sunday 23rd of May 2021 and we arrived to Singapore around 5 thirty in the morning and that gave me about one hour until next boarding. We got out of the plane and we had staff waiting for us on the bridge. When all of us had embarked we had to line up and we got a green wrist band meaning TRANSIT PASSENGER. Passengers with no wrist band have started the journey here in Singapore.

We have to walk in a line behind one "Guide" that will lead us to the departure gate.

9 of us walking in a line like school children behind the guy dresses in a face mask and a gown and goggles. The gown reached down to the knees covering the front. Still open in the back and around the neck, so seriously, what is this protecting against?

But I must admit that it looks like action is taken, maybe someone is feeling safer.

Most important, business can go on as they have taken serious action against the Covid. Same as blocking every second seat on the airport.


Changi International Airport is empty
Sky train to terminal 3
Control station when we come off the sky train


My departure gate was A 15 and our "Guide" took all of us to the gate A 15 with the sky train. All transit passengers had to go to gate A 15 as there was a Covid station where they checked our boarding pass and temperature.

Pretty pointless but it was nice people working there and I got a bottle of water. Something I would never get if it wasn't for the corona. Looked to be some vending machines but who is carry Singapore coins transit Singapore International?

I thought that I was alone in business class when they came to tell me that it was time for boarding. They guy walked me to the airplane and I took my seat. A few minutes later the rest of the passengers boarded and there was quite a few flying biz. My estimation and it was more business passengers than passenger in the back. Around 15to 20 passengers in total.

This made me think, why did they come to walk me to the plane? A cubic ton of old passenger and they might have thought that I would not be able to board by myself.


Boarding Singapore Airlines flight SQ 706
Leaving Singapore
Enjoying a cup of tea
... and BOOM, we are in Bangkok


We landed in Bangkok and embarkation and walking towards immigration was same business as every time. But halfway and there were long rows of chairs next to the moving walkway. I passed all the chairs using the moving walkway. Chairs on both sides and there was a control station at the end of the walkway.

Coming off the walkway and they asked me to sit down and they checked my temperature and I got an ASQ card to put on my shirt, ASQ # 201. They checked all my documents:

• Passport
• Visa
• Boarding pass
• CoE Certificate of Entry
• Travel Insurance covering at least 100 000 US Dollar
• ASQ Hotel booking (Quarantine hotel)
• T-8 form
• Negative PCR Corvis-19 test

I have down loaded the ThailandPlus app on my phone, but no one have bothered to ask for it.


Chairs for long as I can see
Plenty chairs
ASQ #201
Checking all the documents


They return all my documents, plus one pink slip and I leave. After 10 meters they are checking my documents again and I can continue towards the immigration. Passing another control but they only wave me by. There is another desk just before immigration and they check all the documents again. They are wet stamping and fill up forms before I can pass the immigration.

Immigration took a bit longer than usual as they were flipping through my documents as well. Pick up my luggage - passing custom - meeting the ASQ staff. Coming out from custom and a girl dressed in full hospital outfit greeted me and asked for my ASQ Hotel.

She found my name and she would show me to my car. I asked her for a bottle of water and she went to get me a bottle that I could enjoy in the car.


ASQ Representatives meet me
ASQ Representatives meet me
ASQ Representatives meet me
ASQ Representative takes me to the car
Pointing out my car
Leaving Suvarnabhumi Airport


ASQ cars have a special lane, well, there is no normal taxi, everyone arrive have to go to ASQ hotel for 14 days of isolation. Light traffic so we reached Radisson Suites around 9 thirty and I was greeted by 2 hotel staff and one Nurse. Check temperature and I have to stand on a soaked matt to disinfect my shoes. I also needed to take on cover over my shoes.

The nurse gave me the schedule for the Covid-19 test schedule for the 14 days isolation here at the hotel. I will be tested 3 times.

I go inside to check-in. I am showed menu for lunch and dinner and I choose pasta for lunch and fruit and bran flakes for dinner. I inform them that I only want fruit and oat for the rest of the stay, morning, lunch and dinner.

We can do communication via LINE or it is just dial 0 in my room to reach reception. I have 24 seven contact with the nurses/ hospital via the LINE app.


Covid-19 test schedule
At my door


I get to my room and it was very nice when I finally close the door to the room behind me. Arrival to Suvarnabhumi had been very smooth and I cannot help to be impressed by the set up at the airport. Pretty much normal except for the different stops to have my documents checked.

The ASQ was also working smoothly. Passing the custom and they took well care of me and everything was very well organised. And I mean everything, from disembark the plane until sitting in the special ASQ car taking me to the ASQ hotel.

The room was OK even though it was not the standard I had expected from Radisson as I have lived at several Radissons around the world.

First thing I did was to order soda water and milk from 7 Eleven. And I added 3 kg of oatmeal to my order. There is a 100 Baht (3 US) fee added for orders from 7 Eleven as they have to send someone to buy the things. So this is a very good service.

I was also very pleased to find cutlery and a plate in my room. And when my lunch I arrived I was very pleased. There are several choices and I had selected pasta with chicken sausage.

I had dreaded the food coming to ASQ Hotel in Bangkok. I have seen several pictures on internet when I was seeking information about ASQ on the internet. Big hotels serving food looking like dog food in containers like them they use to serve food in on board flights. Flimsy paper plates and plastic cutlery not even good to use having a picnic in the park.

Easy to understand that they are not allowed to use utensils. If you have asked for plastic utensils you will have to put them in a bag together with the containers in a bag marked "BIOHAZARD" and
put outside your door for disposal.

And if you choose to use the real plate and cutlery you have to wash it up yourself.

And the food was plentiful and there are plenty to choose from when you order food the day before. But I have already booked my food for the next 14 days so I expect to have a V-shaped torso checking out 6 June 2021.


| | |
| --- | --- |
| Before | After |
My room
My room
My room
My room
My room
Excellent lunch


I had my lunch and the food was very good and I was happy to have real stuff to eat from. I have a bowl and a normal plate to choose from so I am very pleased with Radisson's set up for my 14
days of isolation.

Radisson deliver food three times per day. Knocking on the door and I have to wait for 30 seconds before I can open the door.

Finished the meal and I went to bed and I slept until 6 o'clock in the evening when I woke up scared that it would be impossible to sleep again tonight.

My evening meal arrived around 6 o'clock and it was fruit and bran. Making tea mixing the bran with oat and water in the bowl and it was just as good as I remember it to be.


My choice for dinner




+++++++++++++++

Monday 24th of May 2021 and I wake up around 2 o'clock in the morning. I was surprised that I had managed to fall asleep yesterday after having slept in the afternoon. I went up to make tea.

Just a wee bit more than 12 hours at ASQ Hotel in Bangkok and it is already getting boring. But today there will be a 3 minutes break from the boredom as I will make a Covid-19 test on the roof top today.

Always a little something to look forward to.

I was getting hungry so I was looking forward to the breakfast as well. Delivered to the door between 8 and 9 o'clock with a knock on the door and I open the door 30 seconds later to avoid contact with the staff.


Breakfast


Breakfast, no surprise, bran and fruit and I made tea so it was pretty much the same as dinner yesterday. They came to pick me up at 10 and I went to the roof top where I will make the first Covid-19 test.

Nice to come out from the room and to come out on the roof for a glimpse on Bangkok.


Roof top
Roof top
Roof top Covid-19 test

Back to the boredom in my room and I felt asleep in the afternoon making me worry again over being able to fall asleep tonight. Nothing to do and I discover the room service menu on the TV. THIS WAS NOT GOOD!

There is plenty to choose from and I ordered a pizza that will do no good for my diet.


It was a very nice pizza




+++++++++++++++

Tuesday 25th of May 2021 and I wake up at 2 o'clock in the morning. Again, no problem to fall asleep yesterday evening. I went up to have my breakfast, I had plenty bran remaining from yesterday. My second breakfast will be delivered around 8 o'clock.

While doing nothing I came up with a plan. I will only order food from the room service on Sundays. But there is the spaghetti Carbonara option for lunch tomorrow so I might skip the fruit for lunch tomorrow. I will think about it and I hope I make the right decision.

Breakfast was delivered at 08:23 and I had the fruit saving the bran for another time.

I leave the desk and I go to lie down on the bed. One hour trying to sleep and I turned on the telly. I checked out the LEARN THAI selection but after a few minutes with "Good Day" and "How are you?" I ended up with the ROOM SERVICE and I ordered a hamburger.


Learning Thai, would not have minded a wee bit more advanced
Hamburger


I got the Covid result today and it was negative, so now two tests to go. Otherwise the whole day was spent in bed and I had my tea and fruit when I woke up 6 o'clock in the evening.



+++++++++++++++

Wednesday 26th of May 2021 and waking up at 4 o'clock and I move over to my desk to have a cup of tea and some oatmeal. I finish my morning meal and I move back to the bed where I spend a lot of the day. Breakfast are delivered to my door between 8 and 9 o'clock.

I only ate the fruit with a cup of tea and now I have several containers with bran I have not bothered to eat. They also deliver new things to the mini bar so now I have more peanuts and a chocolate bar. I hope this was the only and last refill.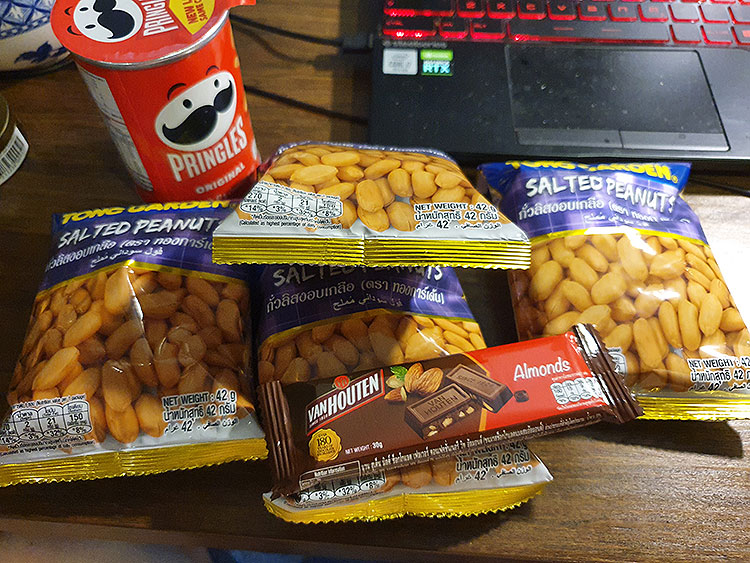 Refilling the MINI BAR


I made a mistake reading the menu yesterday, there is no Spaghetti Carbonara option for lunch today so I had fruit and oats. But tomorrow there is the Spaghetti Carbonara option tomorrow so I booked this for tomorrow.



+++++++++++++++

Thursday 27th of May 2021 and waking up at 2 thirty and I mixed bran in my oats today, a wee bit more exciting but not much and I am looking forward to Spaghetti Carbonara for lunch today. I called the reception at 04:30 and I changed my breakfast option for today.

I booked American breakfast and I cancelled the fruit and bran.

I got back to watching video and I was delirious by hunger and I was waiting for my breakfast and time turned really slow. I called the reception again and I asked if they could arrange 5 bottles of MAX from 7 Eleven. Not healthy but just a little to alleviate the boredom with.


MAX from Seven 11
MAX from Seven 11
MAX from Seven 11


I had just opened the first MAX when it knocked on the door. I waited 30 seconds and I got out to pick up my breakfast. I was drooling seeing a real breakfast after several days with fruit only.

I opened the container and there was an omelette with fried potatoes. Bacon and sausages on top of that and I threw myself over the food and it was really nice with real food.

I finished my breakfast and I moved over to the bed waiting for the lunch to arrive.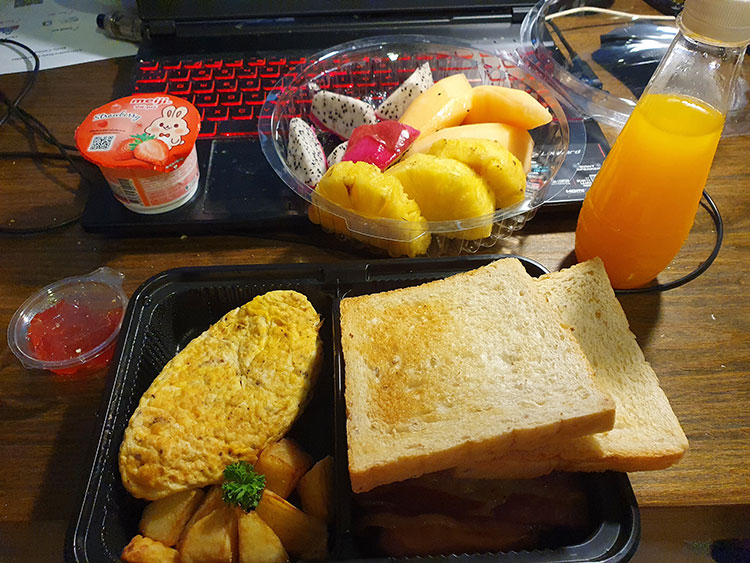 Breakfast
Lunch


The lunch was very good and I was really pleased when I was ready with the lunch. I watched a little video before moving over to the bed trying to alleviate the boredom. And shit, I felt asleep and I woke up quarter to 7 o'clock in the evening.

And I was yet again very worried, now it will be impossible to fall asleep tonight.



+++++++++++++++

Friday 28th of May 2021 and the alarm went off at 8 and it was a quick get out of bed to turn off the alarm. I knew that the next alarm would go off at 8 twenty. Breakfast arrived and I had tea,
fruit and oats for breakfast.

I called the reception to change my lunch and dinner option from fruit and bran to pasta for lunch and fish and chips for dinner.

This is not a good development after just a few day here at the ASQ Hotel as I had been hoping for fruit only? To make things worse, I was hungry waiting for the lunch and I went to Villa Markets web page and I ordered cheese and some ham.

The lunch was very good and I was full, but the boredom made me call room service to order a
pizza that I was for sure not needing. And I was not feeling very good when I had finished the pizza and I moved over to the bed.

I really hope I don't order any more pizza from the room service. Well, I hope I can avoid the room service until I check-out.


Lunch
Pizza


Later on in the afternoon and I called room service and I cancelled my dinner, I had have enough for today. A managed to spend time in bed without falling asleep.

So I hope to be able to sleep tonight as I slept very badly during last night, could not tell if I had been a sleep or awake, pretty much like sleeping with high fever.

In Sweden I heard about a sleeping pill they sold in the drug stores, no prescription needed if you were above 16 years old and suffering from jetlag. There is no drugs in the pill, all natural it says.

I took one pill early this morning as I could not sleep because of all the sleeping yesterday and, well, I will not take it again as it was a very strange night.



+++++++++++++++

Saturday 29th of May 2021 and I was out of bed at 4 after just an hour of sleep. Impossible to sleep so I could as well get out of bed. I made tea and I had one piece of mozzarella with the tea for breakfast. Well, I also finished the last Toblerone that I bought yesterday and that was
hopefully the last Toblerone for me.

My breakfast arrived around 8 o'clock and I ate the fruit and I moved over to the bed where I waited for them to come to pick me up for the Covid-19 test on the roof top.


Come to pick me up for Covid test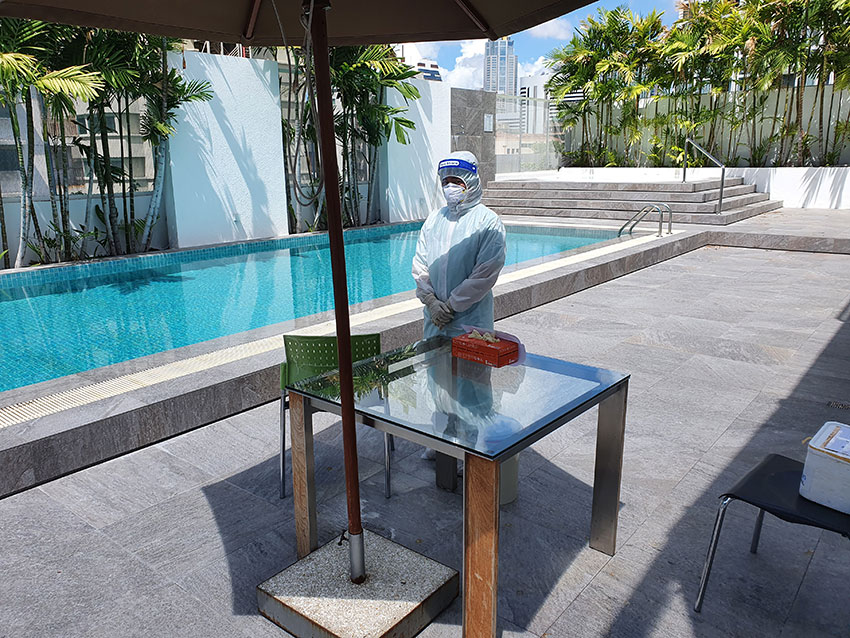 Nurse waiting for me on the roof top

I felt asleep in the afternoon and I slept until almost 8 o'clock in the evening, DARN! This was really not any good. I did not drink any tea when I woke up hoping to be able to fall asleep again later on in the evening.

I wrote to the Nurse on the LINE app at 10 o'clock and I asked for a sleeping pill. They were sending it from the hospital and it was at my door 11 o'clock and I was asleep before midnight.

I paid 18 Baht that I transferred to the hospitals bank. 20 Baht - 2 baht discount = 18 Baht.





+++++++++++++++

Sunday 30th of May 2021 and I woke up full of vim at 05:30. I made tea and it was cheese and ham for breakfast. I called the reception in it will be fruit for my second breakfast and dinner. Lunch will be the same I had on my first day, chicken sausages and spaghetti.

My lunch came to my door at 12 and it was very good, actually the best spaghetti I have had in a very long time. Chicken sausage sounds like something you throw in the garden when you want your dog to duck out of the house. But it is really good and I will check out the room service menu to see if it is available as room service.

On the set ASQ menu it looks to be available only on Sundays.


Excellent lunch
Fish and chips


Earlier in the morning I received a LINE message and my Covid-19 test from yesterday and it was negative. Now only one Covid test before I can go home. Calling room service in the afternoon and I ordered Fish and Chips. I ordered milk and MAX from 7 Eleven.

I went to bed after the Fish and Chips and I felt asleep and I woke up at midnight, DARN!!



+++++++++++++++

Monday 31st of May 2021 and I had tea and midnight oats and I expect it to be a full night wide awake as I woke up at midnight. I gave the bed a try around 3 o'clock after having ordered Brie and Camembert cheese from Villa Market. It will be delivered between 9 and 10 o'clock.

I managed to get 2 hours of sleep before I was back up for yet another tea and a piece of mozzarella cheese. I called the reception and I asked for American Breakfast and fruit only for
lunch and dinner. The breakfast was great and I felt good when I returned to bed to watch a movie.

My cheese arrived from Villa Market and I had one Camembert and it was lovely. I will try to remember this brand so I can order it again. Lunch fruit arrived to my door and I enjoyed my fruit in the afternoon.

My dinner fruit arrived at 6 and I finished the fruit and I was asleep at 7 o'clock.



+++++++++++++++

Tuesday 1st of June 2021 and I woke up at midnight thirty but I was lucky to fall asleep 2 o'clock again and I slept until 5 thirty and I was full of vim when I got out of bed.

I booked fruit for breakfast and noodles for lunch and chicken burger for dinner. I made tea and I had oats for breakfast while watching internet until my breakfast fruit arrived to my door at eight o'clock. Lucky enough I changed my mind, I was thinking American Breakfast but I changed it to fruit as I will have "real" lunch and dinner today.

I finished the fruit and I sent a line message to the reception and I asked them to send my bill for room service and the minibar. And I asked them to put on my 7 Eleven purchases on the bill.

It came to 4354 Baht and I transferred the money to their bank account. Time did not pass very quickly but the clock turned 10 and I had a quick cuppa with a bit of Brie cheese while looking at a stupid Swedish TV series.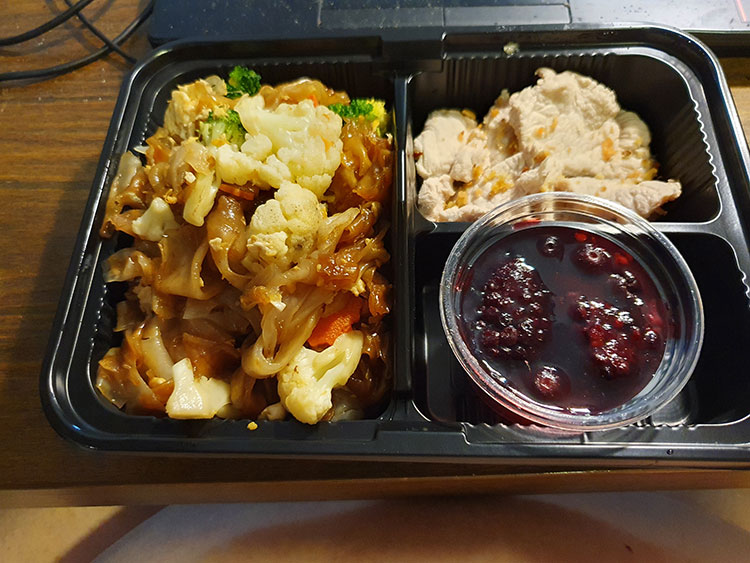 Excellent noodles for lunch


I could have at least four more of the noodle portions, it was enough to make me full, but it tasted so good I could have had more. But I need to think about the V-shaped torso. Now I only have to wait for the next meal, the chicken burger with chips coming for dinner.

The burger comes with soup, but I asked them not to bring the soup. And there is really not much
to do while waiting so I finished the TV series. I also cut my hair using my Wahl cutter
for the first time ever.

The afternoon was very slow so I moved over to the bed to lay down a bit while hoping to be able to stay awake.


New haircut


I got the chicken burger to my door at 6 o'clock and it was a great disappointment. After more than a week this turned out to be a huge disappointment.



+++++++++++++++

Wednesday 2nd of June 2021 and again, waking up around midnight thirty. Not possible to fall asleep again so got up for a cup of tea and a piece of Camembert. I ordered more Camembert and some chocolate from Villa Market.

I watched another TV series killing time until my breakfast fruit arrived. I was in bed when it arrived and I did not bother to go get it until 8 thirty.

My lunch fruit arrived at 12 and I opened my GRAB app and I ordered some Italian food. My snack from Villa Market arrived at the same time.


Freshly delivered snacks from Villa Market


I put the snacks in the fridge continuing watching my TV series. Getting hungry and I could not wait for the food to come. I ordered around 12 and according to the GRAB app the food would be here around 1 o'clock.

The food arrived 20 minutes past one. Excellent spinach and cheesy garlic bread that I finished with a lasagne. The food was very good, but it was too much and I did not feel like a million when I was finished. I moved over to bed and I felt asleep.


Italian food


I woke up at 7 and I was not happy that I had felt asleep. Out of bed and I attended my bag of Pepsi MAX that had been delivered from 7 Eleven. I popped open one bottle and I watched video until 9 o'clock when I went to bed and I managed to fall asleep by the help of the Doctors pills.

I managed to sleep but I woke up around every second hour.


I got a bag of pepsi MAX




+++++++++++++++

Thursday 3rd of June 2021 and I woke up at 5 o'clock and I was full of vim. I got started with making tea and to prepare oats and bran. And I enjoyed my breakfast and I finished my meal with a piece of Camembert.

My breakfast fruit arrived at 8 o'clock and I enjoyed the fruit with another cup of tea while waiting for my Covid - 19 test. They will make the test on the roof top around 10 thirty.


They come to pick me up for the Covid test
The Nurse waiting for me

Back in my room and I was a wee bit hungry so I had a piece of Camembert while waiting for my lunch. Fruit for breakfast but I have ordered Spaghetti Carbonara for lunch and meatballs with mashed potato for dinner.

I have been in an excellent mood today, of course a good sleep but still, it makes me worry. Now only two days to go until Sunday when I go home 6 o'clock in the morning. So of course, this helps for my mood. But I am worried as I have really felt bad since day 2 after the arrival to Radisson ASQ hotel. Sitting in a room by yourself for 2 weeks and no reason to be in a good mood.

So the big question is, is the good mood because of the good sleep or is it due to me getting used to be locked in to a small room?

And I was just waiting for it to happen, now they changed the name of the Covid virus to Alpha, Bets etc. It was OK to say UK virus and South Africa virus. But when it was the Indian virus it turned racist. India complained like a baby, there have been nothing stopping the Indians to say UK virus etc. But now they cry foul!

What do we call persons behaving like this? And no, India is not stigmatised by the "Indian virus", no one I knew have ever had any bad thought about India because the Indian virus. But almost everyone have strong feelings about how they treat women's in the country.

Girls never want to set foot in the country, this is stigmatizing for the country so this should be on top of their priority list.


This should be the priority


Sitting in the room and the news is on and they are showing the movie "Girl Power: Hindi Style" on the news several times per day. This is a documentary about the The Gulabi Gang in India. I can't help wonder whats most important for the females in India. Maybe it is what to call a virus.

Imagine to be a female born in India, pure horror!



Girl Power: Hindi Style


How the Gulabi Gang fights for women's rights in India

At the age of 20, Sampat Pal and four female companions avenged their friend whose husband abused her. They caught him and beat him up. This was the start of the Gulabi, or Pink Gang in India, which teaches women self-defence and helps them fight for their rights.

Today, the movement has over a million members, and women from all over India keep joining Sampat Pal's Gulabi Gang, hoping to find support and safety. And indeed, over the years, Sampat, with the Pink Gang's help, significantly improved women's lives in India. How did they manage that?




Spaghetti Carbonara for lunch


Finished my lunch and yet again, excellent Spaghetti Carbonara and now there is only to wait for the meatballs for dinner remaining to kill the time with. Spending the afternoon changing between
the desk and lying in bed watching news.

Today it have been about the Government in Israel. It have gone from Belarus a few days ago and then they turned the attention to USA spying on EU. This was news back in 2013.

And all these days the news have been about Israel Gaza and of course the Covid-19 and they are going on and on. Belarus and it was of course a roar of anger from EU.

Where was the roar from EU when they did the same to a plane suspected to carry Snowden on board? And by the way, this was the very same Snowden that exposed the USA spying on EU.

And I remember it even though it was almost 10 years ago and all the European Scooby Doo democracy's stood up as one defending Snowden.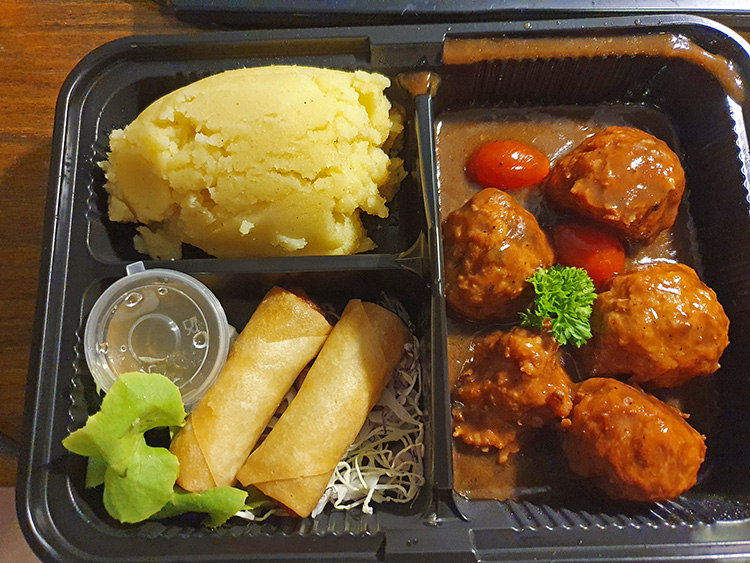 This was good


I had not expected much from the meatballs, but it was delicious. And the spring rolls was very good as well. The meal came with a fruit palter that I will save for later, but I finished the blueberry crumple pie, or whatever it was. But it was really good.



+++++++++++++++

Friday 4th of June 2021 and waking up at 3 o'clock in the morning and 10 minutes later I had a cup
of tea with 2 pieces of Camembert. I completed the breakfast with the fruit plater from yesterday's dinner.

I rented a movie online and I opened one of the chocolate boxes that I bought at Villa Market.


Chocolate from Villa Market


I got the result from the last Covid test and it was negative. I ordered lunch and dinner, Spaghetti Bolognese for lunch and Fish & Chips for dinner. I also ordered some cheese and milk from Villa Market and it knocked on my door. My breakfast fruit had arrived and I made a cup of
tea and I continued with my rented movie.

My yoga teacher sent me a video via LINE and I went straight over to me bed and I
started to do the exercises. I can do on the floor, but then I need a yoga matt before I go down on the floor. So if I buy a yoga matt I will bring it on board.



My Covid test came in negative so now no more Covid tests until I have to fly to Singapore.

My Brie cheese arrived at 11 and I tried one piece right on, and it was very good. This brand was very good, I bought Brie from Australia last week and it was not so good.

Well, actually, it tasted bad. But these cheeses tasted so good that I got scared. But I will
hopefully not eat all of them at the same time.

Lunch arrived just before 12 o'clock and it was, well, heavenly Spaghetti Bolognese. I have seen pictures of ASQ food from friends sending pictures to me from the quarantine. The food have looked like someone had been walking around in the food container.

Many complains about cold food etc.

Well, I have had only warm 5 star food since I checked in to the ASQ hotel. OK, the Chicken burger was not very pleasant. So I have been very pleased and I can really recommend Radisson Suites if you plan to come to Thailand.


Spaghetti Bolognese


I started a new series in the afternoon and it turned out to be a good one, the "SetUp" and finally a good series. Many of the Netflix series I turned off after 10 minutes, some times less. "SetUp" was the second good series I have see during my almost 2 weeks in quarantine.

The first good series was the 5 Star "The Kominsky method"


Dinner: Fish & Chips, Ceasar salad, Brownie and fruit plater


The new series I started, the "SetUp" kept me up until 9 o'clock in the evening and I almost felt a
sleep in front of the computer. I finished the episode and I went to bed
hoping to be able to fall asleep.



+++++++++++++++

Saturday 5th of June 2021 and waking up at 6 o'clock for the last day at the ASQ hotel. Tea and Brie cheese for breakfast while continuing the TV series from yesterday. I called the reception and I asked for JUST fruit for breakfast. I ordered the delicious noodles for lunch and spaghetti for dinner. My last lunch and dinner at the ASQ hotel.

I finished my series, well, I could not finish it on Netflix. The connection was interrupted and then the whole series was gone from Netflix. I cancelled my Netflix subscription, something I had planned to do for a long time.

I went to another streaming service and I could finish the series.


Last lunch: The excellent fried noodles


I started season 2 and when the Haitian guy got shoot I was disappointed because this was the only character that I did not FWD through. But he did not die so it was pretty exciting all the way to the end of the season even though they were running out of ideas for the series a couple of episodes before he got shot.

Dinner came, my last dinner here and it was spaghetti with chicken, very good.


My last ASQ dinner


After dinner and I continued with my series, and now they were totally out of good ideas for the series and it was FWD most of the time. Well, first season was good, second was OK. Third was a waste and of time even though it was mostly FWD.



+++++++++++++++

Sunday 6th of June 2021 and I was excited when I woke up at 3 thirty, 30 minutes before my
alarm was set to go off. I had packed most of my things and I had ordered some stuff yesterday as my fridge will be empty at home.

I called reception and they came to help me with my luggage. And it was darn heavy as I had all my Swedish honey in the bags.

I checked out and I paid my bill while waiting for the taxi that arrived after a few minutes and I was on my way back home.


My luggage are ready
My luggage are ready


Taxi back home where I will spend the next 3 weeks in home quarantine before flying to Singapore. Click HERE to find out if I make it to Singapore.


OK, it has come to my knowledge that we have senior citizens visiting my web page. How hard can it
be? So it's not very easy for them to see the blue coloured links to the next page.

Jiffy (also jiff)


noun [in SING.] informal a moment: we'll be back in a jiffy.

ORIGIN late 18th cent.: of unknown origin.

So as you understand, in a jiff pretty much depends on your internet.

So I put a "Next" button here and I hope that there isn't any problem to understand how to use that one. So just CLICK the "Next" button on your left hand side and you will be on the next page in a jiff!
Marunong ka mag-tagalog? Walang problema! Magpunta sa kabilang pahina pindutin ang "NEXT" button sa itaas


Faites vous parlez le français? Pas de problème! Pour arriver à la page suivante faites s'il vous plaît un déclic le bouton "Next" ci-dessus!


Haga usted dice el español? No hay problema! Ver la siguiente página sólo hacer clic el botón "Next" encima!


Farla parla l'italiano? Non problemi! Per vedere la prossima pagina lo scatto per favore giusto Il bottone "Next" sopra


Sprechen sie Deutsch! Kein problem! Wenn Sie die folgende Seite sehen wollen gerade klicken der Knopf "Next" oben!


คุณพูดภาษาไทยได้ไหม ไม่มีปัญหา ถ้าคุณต้องการไปหน้าถัดไป ให้กดปุ่ม "Next" ข้างบนนี้


Вы говорите по-русски? Просто нажмите синюю кнопку "Next" с левой стороны и Вы моментально переместитесь на следующую страницу!


E ni Svenskar och inte förstår Engelska så ska ni skämmas. J och Björn, med det menar jag inte att alla mina stavfel ska ältas varje gång vi träffas.


Well, the flag of Skåne, just a BONUS flag.
You are visitor no.
To www.aladdin.st since December 2005
Visitors from different countries since 26th of September 2011