Friday 13th of April 2012 and I woke up quarter past 9. Typical, I had turned off my alarm yesterday in hope for me to sleep until 11. But I was lucky and I managed to fall asleep again. My phone rang at 9 thirty, I didn't answer and I felt asleep again. 10 thirty and it rang again and by
now I had enough sleep.

I made myself a "TUNA & ONION SURPRISE" ® and a pot of tea. No more chicken, at least not for a week or two. The tuna taste better if I eat the normal tuna, just to add onion and some olive oil. The Matsaman tuna, I don't know what to do with it. Well, I can have a can every now and then hoping that I won't get tired of eating it.

I need cash, I don't want to run around with a valet and ATM card
during Songkran. I remember my last Songkran in Bangkok, my valet was destroyed. I went to the ATM at my local 7 Eleven when I finished my breakfast and I withdrew cash to last me for the day. The problem is to get the money in to the, well, actually, the problem is not to get the money in to the water proof tube.

The problem is to get money out of the tube when the tube is full of money. I loaded my water gun when I was back home from the ATM and I was ready to take on any water fight with my WATER BLASTER 2012.


I try my WATER BLASTER 2012 on the Security Guard


Before leaving I came up with this great idea, I will leave the water proof money container at home and I will take the valet I used during Songkran 2009. This valet is already destroyed and I just
have it at home as a emergency valet in case I lost my valet.

Before taking a taxi I sprayed the girls in the office and the Security Guards.

Sukhumvit Road Soi 23 was empty, kinds of reminded me of the Red Shirt trouble and the curfew back in 2009. But of course, today there was a festive mood in the air. I was surprised to find a taxi in just a few seconds and I asked the driver to take me to Silom and I was drinking a Minute Maid that I had bought at my Local 7 Eleven. It was a very nice driver and we had a good chat on our way towards Silom.

Silom Road
Silom Road
Silom Road
Silom Road
Silom Road
Silom Road


I walked down Silom wondering where the music and beer were. I didn't have to wonder where the Bangkokians where, Silom was so full so it was hard to make my way through the crowd. I heard
loud music a few hundred meters down Silom and I decided to go have a beer. BIG DISAPOINTMENT!! It was a shop playing music and no beer.

Where to get beer?

YEAH!!! SILOM SOI4!!! And they will
hopefully have forgot me at TAPAS, it is a few year since I was there last time.

I heard music as soon as I entered the Soi and there were people
drinking beer. TAPAS were closed so I had to drink my beer on the opposite side. GOOD!


I had 2 beers with ice before I left and when I reached PatPong 2 I turned off Silom and I was soon on PatPong and there was music and beer. I was still dry, well, almost. I walked up PatPong when I spotted a guy with a fire hose spraying everyone approaching. What to do? Yeah, I turned around and I went for a beer.

PATPONG
PATPONG
The best beer in the world?
PATPONG
Refilling the WATER BLASTER 2012


I decided to leave for Khaosan Road and I left Patpong and I walked up Silom trying to find a taxi. Silom is closed for traffic so I had to walk all the way up to the intersection. I had managed to
stay dry for 2 hours. At 2 o'clock I was both drunk and wet, well this is Songkran and nothing else was expected.

By the time I reached the intersection Silom/ Naradiwas I was pretty annoyed with the WATER BLASTER 2012, I need to refill it every second squirt. But it is handy, I can have it in my pocket and at 7 Eleven I took a shot at one of the girls and when she turned around I had already the gun in my pocket.
- What was that?
I looked around
- I don't know
She looked after me when I left and maybe she thought that I had spitted at her. So no, I will not do that again. There was a guy and 3 girls going to Khaosan and they asked if I wanted to go with them. 200 Baht for a TUK TUK, OK, it is Songkran and 5 people splitting so I gave it a go. Normally I stay well clear of any TUK TUK. But I was tipsy and I was happy to have found a mean of transportation. I had not expected any taxis during Songkran.

Back on Silom
Back on Silom
Back on Silom
Refilling my WATER BLASTER 2012- Bangkok Fire department always ready to help

And look at that, they have proper FOG FIGHTERS


The Thais thought it was expensive, 4 students but 40 Baht per head is OK. The water war continued all the way from Silom to Khaosan Road and we were soaked at arrival. The TUK TUK driver stopped at 7 Eleven and we bought beer before walking the last hundred meters to Khaosan. We had to pass a security check before entering and as soon as we had entered I wanted to leave. There were so much people so it was very hard to move. And I was impressed by my Thai friends, they always managed to find me when I was wandering off.

On the way to Khaosan Road
On the way to Khaosan Road
On the way to Khaosan Road
The were throwing water at us all the way from Silom to Khaosan
On the way to Khaosan Road
On the way to Khaosan Road
We arrived to Banglamphu and we buy beer at 7 Eleven


We were walking up Rambuttri Road and suddenly everyone was screaming and I had the Thai guy and the 3 girls grabbing me and they pulled me in cover. I was on the ground wondering what was going on. Everyone around us was screaming and they were running in all directions and I had my 4 new Thai friends laying over me.
- What the
is going on?
Turned out to be false alarm and things were soon back to normal. Some on thought it was a terrorist attack and panic spread down Rambuttri Road.

Rambuttri Road
My, well, Scobby 2012 needs yet another refill
Khaosan Road


I dropped my Scobby 2012 on the street when we walked up Khaosan Road and the whole thing
cracked. I tried to repair it but no luck. So I went to look for a taxi and I went back to TESCO at Rama 4 to buy a new gun.

LO AND BEHOLD, the guns was down to 3 Baht from 5 Baht and I decided to go crazy and I bought 3 guns. Better off having some back up if I drop the gun again.

I paid 9 Baht for the guns and I went to have a cup of tea before I returned to Khaosan. No problem to find a taxi and I was soon on my way down Rama 4 towards Khaosan Road when I decided to stop at Silom. Why waste valuable Songkran time in a taxi?



20 minutes before 9 in the evening and TESCO have a big sale on water guns


And the evening went on with more beers and countless refills and I returned home at 11 to change clothes and a shower. I went to Thonglor, but there was a place with 3 people and Whiskey Mist was closed.
- What's going on?
- Songkran
OK, no point having open when all the people are at Silom or Khaosan having a blast. I was back home at 4 in the morning and, for sure, I'm too old for this. But I can't help being a wee bit impressed. Uncle Aladdin on the go from 12 to 4 in the morning. Drinking beer all the time, this is
something we did when we were teenagers. Has it something to do with the mumbo jumbo stuff my Muay Thai Teacher gave me the other day?

Refilling my new GREEN WATER BLASTER 2012
Silom
Yet another refill




+++++++++++++++

Saturday 14th of April 2012 and when I woke up I was all like "foock Songkran, never again" and I prepared myself for a day in bed with my hangover surprise without the surprise. I made a smoothie with blueberry and strawberry and the yogurt that turned out to be milk. I added 2 bananas and when I tasted it was like SHIT!


I added plenty sugar and I went back to bed and my hangover DVDs. Seriously, the smoothie would have been excellent if I have added the ice cream. But it is of course not healthy. OK, drinking 40 cans of beer last night wasn't all that healthy either. OK, let's do an intellectual experiment. You
have strawberries (no sugar) whipped cream and ice cream. YUMMY!!! Take away the strawberries, still yummy! But take away the ice cream and whipped cream and it is, well, down the trash bin it goes.

My smoothie was, well, it took me quite some time to finish it.

- Hmm, might have been better to do it a hangover surprise with the added vodka. I was in my bed when I decided to go have a Baileys and after 1 and a half litre it was like:
- WHERE IS MY WATER BLASTER 2012?
My clothes were in the dryer and after one and a half litre it was:
- I will soon be wet again. Why sit here growing old, bigger and losing hair while the Songkran is out there?

I found a taxi just at the gate, but first I had to refill my water guns. There were 2 children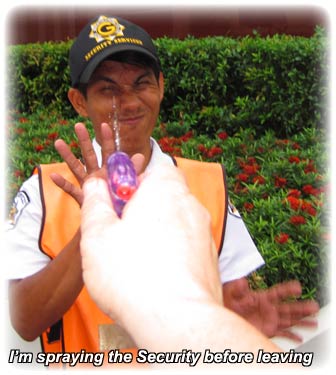 playing with water and their mother refilled my guns. I was
out of water before we reached Asok.

I was spraying people from the taxi and when I told the driver that I was out of water he told me that he had water. He had 2 bottles of water between the front seats and I could refill my guns.

So we were in a constant water fight all the way to Silom. Well, almost all the way, we were running out of water when we were half way down Rama
IV. And the taxi driver had to stop because there was something wrong
with the engine. DARN! Will I have to get out to get a new taxi?

Nothing I was looking forward to, I was dry and I would be wet in a
jiffy if I would have to get out to find another taxi.

He just needed to fill up some water in the engine and we were soon on our way again. I asked the driver to stop a wee bit before we reached Silom and I walked the last few
hundred meters














And of course, it was a constant refill of my water guns. The reason for me to getting out of the taxi was that I heard music and
I went to check it out. It was 2 guys playing guitar and drums.

I bought a Leo beer and I started to talk with a guy, he had the same idea as me, 2 WATER
BLASTERS and we didn't do anything but drinking beer and refilling our water guns.

I walked towards Silom and I decided to pass Silom and for to Surawong and enter Silom from PatPong. Yesterday I managed to stay dry for an hour and today I was soaked after 5 minutes.

It was a sunny and warm day so it was actually nice to get soaked, unless of course it is ice water they are throwing at you. Walking down the street and suddenly there is a bucket of ice cold water over me.

I walked up Surawong Road until I reached PatPong and I turned in to PatPong. And I was surprised, they were putting up the night market. For sure nothing I had expected during Songkran.

Rama 4 Road
Rama 4 Road
Silom Road


I left PatPong for PatPong 2 and I was soon having a San Miguel Light in front of me. Have to take the chance to get real beer while I can. They only sell Leo along the roads, but it is cheap 35 Baht
for a beer. But I prefer to pay 90 for a San Miguel Light.

Thanks' to the Baileys I was tipsy when I arrived to the Songkran festivities, otherwise it would have been impossible to drink the Leo beer. From a can while walking the streets.

I was at a bar close to Foodland. Songkran and something is missing, yeah, baby powder. I went over to Foodland and I bought a bag of baby powder and I returned to the bar. I emptied a 500 g jar over a girl selling drinks at the street. Everyone was laughing and the 2
Thai couples next to me thought it was hilarious.

Well, at least until they got a jar of baby powder over them. Then it wasn't so very fun anymore.

There was a guy from Germany and he got a jar over him as well and he asked me to cover his girlfriend as well. He wanted a
picture with the Songkran spirit to bring back home to Germany. Well, exactly how fun is it to throw baby powder at someone that asks for it?

At PatPong 2 - Before I bought the baby powder
At PatPong 2 - Before I bought the baby powder
At PatPong 2
At PatPong 2
At PatPong 2


I don't know what time it was when I was back home, maybe 3 o'clock in the morning and by then I have had enough of Songkran and I will
hopefully be out of town next year.



+++++++++++++++

Sunday 15th of April 2012 and I spent the whole afternoon watching hangover DVDs.

Watching hangover DVDs


I'm not sure, but it might have been thanks to the blueberry/ Strawberry shake that I felt better than expected. I didn't feel like a million, but I felt good enough to get out of bed at 5 o'clock. I had
decided to go eat some Italian food. I got dressed and I left for Sukhumvit Soi 19. Of course, the water fight was in full swing and there were a crowd outside my local 7 Eleven throwing water at people.

I was hungry and I needed to get passed 7 Eleven and I wanted to stay dry. No taxi in sight so I decided to make a run for it. I managed to dodge the water and I was dry when I left 7 Eleven behind. Well, that was until I came around the corner after passing the 7 Eleven. As soon as I came around the corner there was 3 girls coming running towards me. And they had 3 buckets of water.

Sukhumvit Soi 23
My local 7 Eleven
My local 7 Eleven
I was soon wet.


I walked down to Asoke and there were people throwing water on each side of the crossing. No way
that I would manage to pass there without getting totally soaked.

I could not walk down Asoke towards Sukhumvit, I could see that they were throwing water further down Asoke. Going back down Sukhumvit Soi 23 was no option. A taxi, I waited until I saw a taxi and I waved at the taxi and we were soon on the way to Soi 19 and the Italian
restaurant.

I ordered spaghetti with onion and bacon. I asked if they had avocado.
- I will check with the Chef
- Smoked salmon?
- We have
- Can I have a plate of avocado and smoked salmon?

I got a plate of avocado and smoked salmon and it was delicious. They brought my spaghetti to the table and I asked for one
more plate of avocado and smoked salmon.

I finished my meal and I went to Terminal 21 next door. I
needed a new pair of glasses because I lost my glasses yesterday. Of course, paying 35 Baht for the beers and I had finally managed to have a cheap night out. Only to discover that I needed to buy new glasses. Seems like it is impossible to have a few drinks on the cheap.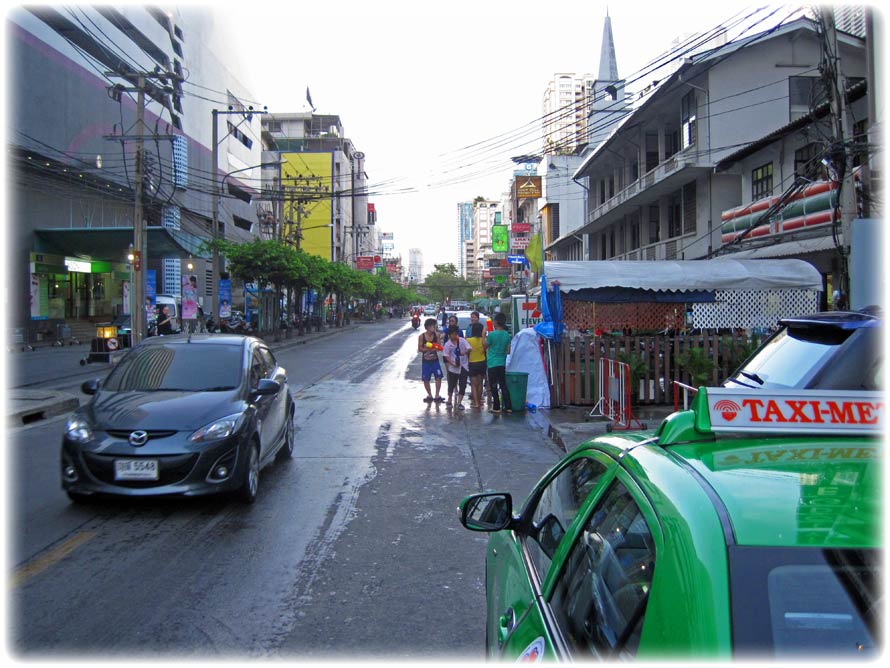 Sukhumvit Soi 19


I entered Terminal 21 and I asked for an optician at the information. I was told that there was
one on the 2nd floor. I said thank you and I left for
the 2nd floor.

I found a pair of frames and we checked my eyes. They told me that it would take an hour.
- What about 45 minutes? I asked
- We will try
They charged me 8348 Baht for the glasses.

- What the


8348 Baht, it would have been cheaper, well, almost to get a flight to Manila and buy the glasses there. 8348 Baht, that's almost a monthly salary for many people in Thailand and I see a lot of Thai people with glasses. So how can they charge almost a
month's salary for a pair of glasses?

Well, next time and I will make a VISA run to Manila to buy my glasses. I walked around Terminal 21 while waiting for my glasses to be ready. There are posters all over my Soi about the summer sale on Terminal 21 and it also says that there are special artists. I discovered that the special artist was Elvis. Well, how exciting is Elvis? Not very.

I went up to the 5th floor to have a look for a Dairy Queen but I was unlucky. I was in a hurry to get down from the 5th floor. I suffer from vertigo and the hangover didn't help. It felt like the whole building was about to fall apart and going in the escalators was not fun. I had to concentrate to look up and as soon as I
looked down it felt like I was falling over the rail.

I found a Dairy Queen on the bottom floor and I bought a Mango Almond ice-cream that I enjoyed while walking around waiting for my glasses to be ready. 15 minutes had passed when the boredom was killing me and I returned to see if my glasses were ready. I had to wait for 5 minutes and my glasses were ready and I could return
home. And I decided to walk back home


I made it almost all the way up to Prasanmit Plaza when I got a bucket of water over me. I was not happy about it, but you are not allowed to get angry during Songkran.

When I reached the Banana Leaf Kitchen I turned right towards my local 7 Eleven. I heard some girls screaming ALADDIN!!!

It was the girls from my local 7 Eleven and they came towards me with water guns. One of our Technician in the building was with them and
they were on the way down Soi 23 to continue the water fight.

Good, that will
hopefully leave a clear way for me walking back home.

Bad luck, there was a girl 20 meters further up the Soi and she had a big bucket of water and it looked cold. She came towards me and she held up the bucket ready to pour over me. I managed to grab the bucket and she got most of the water over herself. And this is hopefully the last water I will experience this Songkran and tomorrow it should be back to normal

After 3 days I had enough, 2 days with water fight. Most of the Hurray and bravo had worn off the water fighting today, but it was enough to get me soaked.

Hopefully the last water for me this Songkran - And she got the most of the bucket on herself with my help


I stopped at my local 7 Eleven for 2 bottles of Minute Maid before I returned home to my hangover DVDs. Now we just have to wait for Songkran 2013 when I will
hopefully be out of town. I still have 2 of my water guns in case I will be in town next year.



+++++++++++++++

Monday 16th of April 2012 and it was nice to have put Songkran 2012 behind us. Well, almost, I can still feel the aftermath from all the Leo beer during the Songkran. And my "TUNA & ONION
SURPRISE" ® and tea didn't make much to make me feel better.

I went back to bed to watch DVDs after my breakfast and I left for Sophia Muay Thai Gym 10 minutes before 3. I had planned to have a morning session at Chakrit, but my favourite Teacher is home to celebrate Songkran and he will be back tomorrow.

I walked to Sophia Muay Thai Gym and I took the opportunity to get a picture of Terminal 21's poster along my Soi. SURPRISE CONCERT. Yes, who wouldn't be surprised to run in to Elvis on Terminal 21? Well, I was not all that surprised, it wasn't all that long ago I ran in to him in Pattaya during our snorkling adventure.

So it is not impossible for Elvis to have sober up for a performance at Terminal 21. Well, anyway,
I arrived to Sophia a few minutes before 3.

We started with 3 or 4 rounds of sparring and
then we swapped to the pads. I got some terrible pain in my shoulders after a few rounds and it will be nice with a few days of rest from the boxing when I'm in Tokyo.

We finished the session at 4 and the American girl arrived for her 4 o'clock session. I stayed behind for half an hour and we talked about the weekend and about her fight on the 26th. This is something I'm looking
forward to, it will be an adventure, yes, almost like a tour of the Thai country side.

I was back home 20 minutes before 5 and I had a shower and a change of clothes. I skipped my "TUNA & ONION SURPRISE" ® and afternoon tea and I took a taxi to Siam Square. I walked from there to MBK. I stopped at a few opticians and I found glasses, almost the same as I bought yesterday for 1250 Baht. OK, I could feel the difference in the quality, but these glasses are good enough to lose while crawling along the gutters in the wee hours.

- What the


I bought 2 pairs so now I have glasses to last me for a while. But I regretted going to buy my
glasses yesterday, I could have bought 7 pairs at MBK instead of 1 pair at
Terminal 21. They would finish my glasses in 30 minutes and I went to eat some sushi at Kobune while waiting.

I had 2 glasses of fresh orange juice and 3 plates of the smallest salmon maki I
had ever seen. The glasses were ready when I was back at the Optician and I left MBK Center behind via the walk bridge to the sky train station.

I had decided to walk back home because of the skipped "TUNA & ONION SURPRISE" ®. I had have salmon sushi and orange juice instead so I needed to walk away some of the calories. And Bangkok Fight Club is closed today so I need some kind of exercise and a constitutional
is a good way to burn calories.

But I'm happy to say that I just passed the Dairy Queen at MBK Center. I wanted a Mango/ Almonds ice cream but I have decided to start to kick arse with my diet again. Always hungry, last time I was home
I sucked down 2 or 3 packs of cigarettes every day and I don't want to start smoke again.

And as the walk path under the sky train tracks stops at Siam Discovery I had to walk through Siam Discovery, Siam Center and Siam Paragon and I was back on the walk path under the sky train again.

MBK Center/ Mahboonkrong
MBK Center/ Mahboonkrong


The walk path ended at Erawan at Chit Lom BTS Station and I left the walk path through the Maneeya Center. I stopped at a few tailors at Maneeya Center shopping center to have a look at
Thai silk for some new shirts. Dry cleaning only and I, well, I left and I decided to stop at my Tailor on Soi 15 to see if he have some silk that can be washed in cold water.

Dry cleaning is just an inconvenience, remember last Thursday when I was going to pick up my bed cover. The girl was out delivering so I had to wait for her to return. I want
stuff that I can throw in to my washing machine.

This is one of the best thing ever happened to me in Thailand, when I could start use my laundry room. Where I lived before I had laundry service, but you always had to call them to come and pick up and to deliver.

Passing World Trade Center on my way back home


My tailor had Thai silk, dry cleaning only. But he had Japanese silk that I could wash in cold water.
- You need special detergent for silk
- I can run it in DELICATE MODE and 30°C with just a wee bit of soap, I said.

He will deliver my new shirts and shorts tomorrow evening and I walked back home. I stopped at my local 7 Eleven to buy some Minute Maids. I pestered the girl for having a hangover from yesterday's Songkran adventure.
- No cheering and screaming ALADDIN today?
I finished my Minute Maids and I brought a bottle of water from the fridge and I added half of a plastic lemon in to the bottle, not very tasty. But more exciting than plain water and I will
hopefully be able to give up the minute maids. Eating sushi and I order fresh orange juice, alleviates the urge for a cigarette after the meal. But my diet goes in the wrong direction.



+++++++++++++++

Tuesday 17th of April 2012 and I had turned on my alarm yesterday so it went off at 9. Took me a few minutes to get out of bed to turn off the alarm. Then I felt backwards back in to bed and I didn't woke up until 10 thirty. I popped a fist full of pain killers first thing, a terrible pain in my
right shoulder.

I walked to Chakrit Muay Thai School on Soi 39 when I had finished my breakfast. I saw a Poster on Soi 39, something about "Scan here to see your task" and there was a poster at Chakrit as well. 4 guys in red shirts laying on the floor at Chakrit. There was some kind of company event going on and the 4 guys in red shirts were waiting for some people to come for Thai boxing.

I started my session and suddenly there were 20 to 30 people coming in and they all had the same shirts. So it was obviously a company on a day out. There were so much people that I could not finish my session. I got pissed off, what a waste
of time to come here. I have more important things to do than to walk to Chakrit and back.

Well, walking back and forth to Chakrit gave me time to ponder on a problem. My
diet have come to a complete stand still, I'm literally the 2 ton Superman.

And it is strange, the only difference from last time is that I have given up smoking and the Diet MAX. Otherwise it is boxing like before, but no changes o the scale.

It is very frustrating and I have more or
| | |
| --- | --- |
| Before | After |
less given up the idea to step up on the scale in the mornings.

And one more thing that has changed is that I have my AC on 27°C. If I run it on
26 and I'm freezing cold. I usually put it on 20 to 22°C when I'm back home and after 2 days I'm used and I run it on 24°C

I don't know if it is due to the smoking but I hope I can start to lose weight when I'm back from Tokyo. Well, anyway, on my way back home from Chakrit I decided to go to buy stuff to make smoothies in the morning. I started my day today with tuna and Matsaman tuna and the Matsaman is really bad. Heartburn and I don't know what to do with the remaining 30 or 40 cans. Well, it is not like they are getting old so I can have one every now and then. But right now I'm
feed up with tuna.

I had a shower when I was back home and I grabbed my shopping bag and I left for Tops Market at Robinson. I would buy yogurt, blueberry, hazelnuts and I would look for something else to add. I knew that I would skip the strawberries and what I thought was yoghurt last time. Was most likely some fruit milk they called Dutch milk.


I started by buying 2 and a half kilo of blueberries. Then I went to look for yoghurt and
there was a lady with her child buying yoghurt. So I asked if the one she bought was good. I had no clue about what yoghurt to buy.
- Yes, I use to mix it with pineapple
- Cheers, thank you

I grabbed 5 jars of yoghurt and I went to look for hazelnuts. Almond and hazelnuts, a kilo and this will last me for a while. I bought some cantaloupe and mango and I went to pay. For sure, it would have been cheaper to eat breakfast on Marriott. I left my bags with the cashier.
- I'll be back, I forgot the honey

When I was back home I put the hazelnuts and almond in a glass and I chopped them with my rod mixer. Then I added the blueberry and yoghurt and I mixed everything. The glass was full so I had to drink some of the smoothie before I added the mango.

| | |
| --- | --- |
| Hazelnuts, almonds, honey, blueberry and yoghurt | Almost ready, just to add the cantaloupe |

I had to drink while mixing and it was very good. I had to drink plenty to be able to get the cantaloupe in to the glass. Well, I will never add cantaloupe to my smoothies again, it become very
watery and the taste was for sure not improved by the cantaloupe.

I finished my smoothie and I had a shower before I left for Bangkok Fight Club. There were 8 of us today, 2 new guys and we were punching and kicking the punch bags

It was a good session at Bangkok Fight Club even though I could not use my right arm due to pain in the right shoulder. But my left arm was fit for use

Cool down and sit ups and it was time to go home. I think my "SMOOTHIE PLAN" has back fired on me. I made a new smoothie when I came back home, without the cantaloupe and it was delicious.
Well, blueberries and hazelnuts are
not coming cheap in Bangkok so I would have saved money going to Marriott. But never mind the money, the most, well, the only
important thing is to try to live healthy and to lose a few hundred kilos.

I was enjoying my smoothie when my Tailor came to deliver my clothes. DARN! I should have tried the shirts before I had my smoothie.

I packed my bag for tomorrow so I'm ready to leave for the airport after Bangkok Fight Club and a shower tomorrow night.

And as my Travel Agent told me

that the flight was full I will try to do a internet check-in so I can get an aisle seat and I will
hopefully be able to sleep all the way to Tokyo.



+++++++++++++++

Wednesday 18th of April 2012 and my alarm went off at 9 and it took me quite some time to get out of bed. But I managed to stay awake but I wasn't out of bed until it was almost 10. I had a
can of disgusting matsaman tuna and a onion with my morning tea. It would have been good with a smoothie, but I start to suspect that they aren't all that healthy.

But the good thing with the Matsaman tuna is that I enjoy it for a very long time, takes me almost 30 to 40
minutes to finish the darn can compare to 5 minutes for an ordinary can of tuna.

I was a wee bit late to Sophia Muay Thai Gym and it was 20 minutes past before we started the session. And today both my left and right shoulder was out of order so the sparring didn't give that much. No strength at all in my arms. But I will have my session at Bangkok Fight Club before getting to the airport.

I need every minute of exercise before leaving, I want to arrive to
Tokyo as Charisma Man and not as Porky.

I made a smoothie when I came back home from Sophia. And I realised that I had to start measure the ingredients next time making a smoothie. I added to much hazelnuts
and almonds so when I started the rod mixer it turned out to a nut and honey smoothie. Very tasty but there was no room for the healthy stuff in the glass, and this is a BIG beer jug I use as glass.

I finished my luggage and I put it inside my door ready to grab when I'm back from Bangkok Fight Club. I walked through Srinakharinwirot University and I ran in to my old class mates from the Thai language school.

I didn't saw them but they spotted me and started to wave at me. I turned off my IPod and I
asked them why they hadn't showed up at Bangkok Fight Club.

I don't know about the guy, but his wife seems pretty eager to start the boxing classes. I told them that I was off to Tokyo tonight, but I would be back next week.
- Then we're coming next week.
- Well, we see about that

I continued to Bangkok Fight Club and when I arrived it was only
the Teacher there. No one from my class and after a few minutes the French guy came and the American girl arrived quarter past 7.

My Teachers daughter had made a model boxer and she had named him Aladdin and the Teacher brought it for me. I will put him in my bed room so I won't forget Bangkok Fight Club, ever.

It was almost 25 minutes past 7 before we started with the warm up and then we did some Muay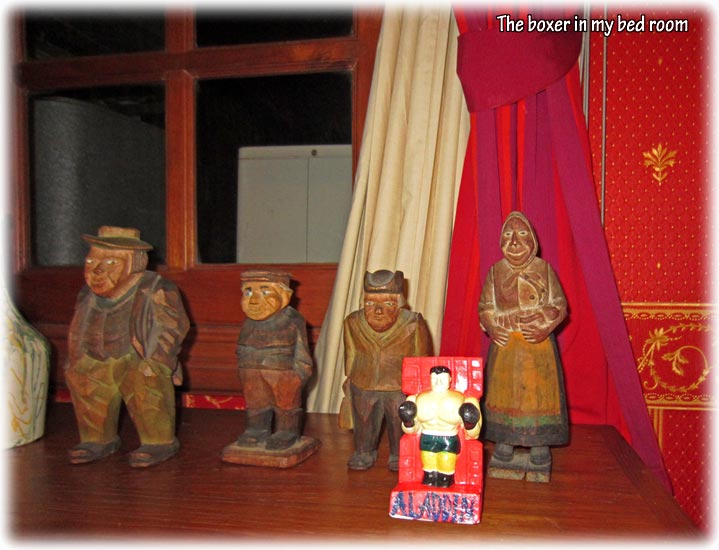 Thai technique kicking drills. We were busy with the drill when one of the Korean guys arrived at 19:35. I finished at 8 and I walked back home to have a shower before leaving for the airport.

I packed one extra "EMERGENCY SHIRT" before I left for the airport. I have brought 1 shirt for each day, but just in case I run in to an accident an extra shirt can come in handy. Never mind the sock, but some extra underwear on top of the "ONE PER DAY" can
come in handy id I'm running in to an accident. Never knows what's going to
happening and I'm better off being prepared for the worst.

Otherwise nothing but 2 rolls of snus and my medical chest. And of course my laptop.

I found a taxi in a jiff and we were soon on the way to Bangkok International, Suvarnabhumi and my flight TG 642. Thai Airways check in is usually empty, but just in case there was much people I was better off being early.

We were on the highway at Sukhumvit after just a few minutes and the driver was hauling arse down the highway towards Suvarnabhumi Airport and we arrived 20 minutes past 9.

I have plenty time before my flight leaves at 23:50 and there were almost no people at the check in.

I had reserved at aisle seat when I spoke with Thai Airways earlier today and I aske in the check-in if they had a free row so I could have both window and aisle sets. Good if I can see mount Fuji tomorrow morning. I don't know where mount Fuji is but I hope that we will see if from the airplane when approaching Tokyo.

Almost no people at the check-in
Almost no people at the check-in


I got myy boarding pass and I went to the security check and Immigration. There was only one guy
in front of me at the security check. I wanted to take a picture for my web page and when I took the second
picture they told me that it was not allowed to take pictures.

I passed the
security check with flying colours. The guy in front of me took of his shoes and belt, but I didn't bother and no one complained. And the metal detector was quiet when I passed so it was just
to grab my things and put back the lap top in the bag and leave for the immigration.

No people at the Immigration and the whole thing had only taken a few minutes, from check-in to the tax free shop.


So I had plenty time to kill, but that is better than to miss the flight.





No people at the Immigration


I passed the Tax free shop a few minutes after my arrival to Suvarnabhumi Airport and I saw a
shelf with Baileys

- What the


Baileys HAZELNUT!!! This is a must buy and I bought 2 bottles. Will come
in very handy as a HANGOVER SURPRISE in Tokyo, one bottle on Friday when I wake up with a hangover and one bottle when I wake up Saturday morning with a hangover. Sunday and I guess I will have to do with Loperamide. Never mind, I will stay in my room the whole Sunday with my hangover.

2 hours before my flight departures so I went to the Thai Lounge to kill the time writing drivel on my web page.


Well, I'm off to Tokyo and you can follow Charisma Man's adventure in Tokyo with just a simple CLICK HERE so hang on!


OK, it has come to my knowledge that we have senior citizens visiting my web page. How hard can it
be? So it's not very easy for them to see the blue coloured links to the next page. So

Jiffy (also jiff)


noun [in SING.] informal a moment: we'll be back in a jiffy.

ORIGIN late 18th cent.: of unknown origin.

So as you understand, in a jiff pretty much depends on your internet.

I put a "Next" button here and I hope that there isn't any problem to understand how to use that one.
So just CLICK the "Next" button on your left hand side and you will be on the next page in a jiff!
Marunong ka mag-tagalog? Walang problema! Magpunta sa kabilang pahina pindutin ang "NEXT" button sa itaas


Faites vous parlez le français? Pas de problème! Pour arriver à la page suivante faites s'il vous plaît un déclic le bouton "Next" ci-dessus!


Haga usted dice el español? No hay problema! Ver la siguiente página sólo hacer clic el botón "Next" encima!


Farla parla l'italiano? Non problemi! Per vedere la prossima pagina lo scatto per favore giusto Il bottone "Next" sopra


Sprechen sie Deutsch! Kein problem! Wenn Sie die folgende Seite sehen wollen gerade klicken der Knopf "Next" oben!


คุณพูดภาษาไทยได้ไหม ไม่มีปัญหา ถ้าคุณต้องการไปหน้าถัดไป ให้กดปุ่ม "Next" ข้างบนนี้


Вы говорите по-русски? NJET PROBLEMA! Просто нажмите синюю кнопку "Next" с левой стороны и Вы моментально переместитесь на следующую страницу!


E ni Svenskar och inte förstår Engelska så ska ni skämmas. J och Björn, med det menar jag inte att alla mina stavfel ska ältas varje gång vi träffas.


Well, the flag of Skåne, just a BONUS flag.


You are visitor no.
To www.aladdin.st since December 2005