Move along, nothing to see here!

Where is our friend, Agent's Representative? Everyone miss him! He was sent ashore when they left to pick us up in Singapore. He is back home and he will join us when we come to Map Ta Put, bringing my Yoga mats, Swedish Honey and other stuff. He is also taking a Covid test and he updated me with pictures from the testing adventure.



Our friend taking Covid test in Bangkok




Our friend taking Covid test in Bangkok




Our friend taking Covid test in Bangkok




Our friend taking Covid test in Bangkok


We got a new Cook in Singapore and our Agent's Representative enjoy his cakes. He was in the CCR munching trying to tempt me to break my diet.


Having cake
Having cake
Having cake


He forgot our yoga mats, but we will get them in SriRacha, can't wait to get them on board so we can start yoga. My friend is keeping fit with shadow boxing.





+++++++++++++++

Monday 12th of July 2021 and we left SriRacha 2 o'clock in the morning and we will be in Bongkot tomorrow morning at 8 o'clock. But we got a distress message on the NAVTEX from Bangkok Radio. Man over board from a fishing boat and our route is straight through the area.


Man over board NAVTEX message
Man over board NAVTEX message


We reached the area around 11 thirty and all available hands was on the bridge and the surrounding bridge deck to look out for the missing fisherman. We pass the fishing boats and as the current was setting to the south we searched south of the MOB position.

We drove West to East and then was turned south and continued East to West and our track was soon looking like a ladder on the ECDIS.

Looking for missing fisherman
Our track on the ECDIS
Looking for man over board


We started searching around 11 thirty and we had covered the intended area at 15:00 and we continued our voyage towards the South to Bongkot. And now we will be a few hours late to Bongkot because of the SAR.

I had have our friend the Agent's representative to try to steer the ship. He had never done it before and he was happy to get the chance.


First time ever for our friend to steer a ship
First time ever for our friend to steer a ship
First time ever for our friend to steer a ship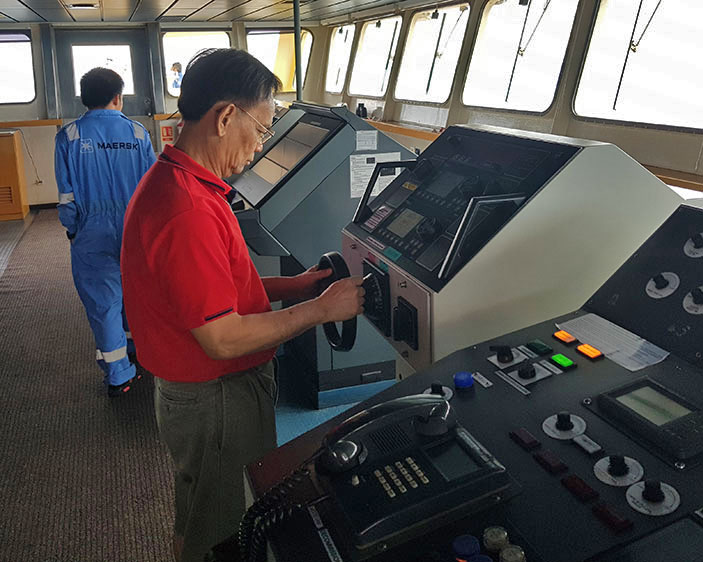 First time ever for our friend to steer a ship




+++++++++++++++

Thursday 15th of July 2021 and we start discharge 20:30 at the SBM buoy in Sriracha and we complete loading just after 4 o'clock in the morning. Our Agent's Representative left with the Surveyors as he have to go home and take the Corvid, yes they call it vaccine. He will be back on Map Ta Put anchorage on the 18th of July.

We left Sriracha and we arrived to IRPC Terminal in Rayong at lunch time. I was dead tired when they called me even though I was fresh out of the shower. Not many hours of sleep the last day. I was updated on the situation in Bangkok from our friend the Agent's Representative.

They had found Corvid at Big-C and everything was closed. But he managed to find a cover for my new phone and a couple of "back scratchers" for me.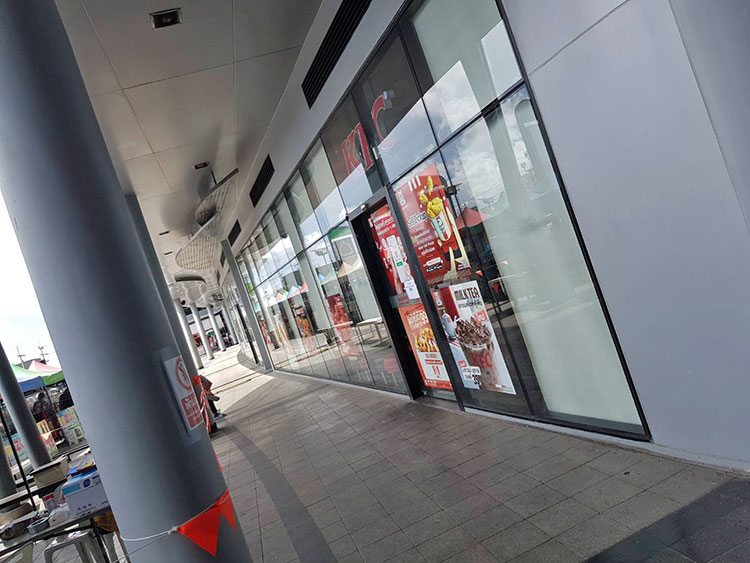 Everything is closed down
Everything is closed down
Everything is closed down
Everything is closed down
Cover for my new phone
"back scratchers"


PTT had asked us to take some pictures of the terminal, FSO2 Pathumabaha in Bongkot, when coming to load on the 21st of July. I really don't know what they had expected, phone camera and, well, the pictures look good on the phone, but to see them on a computer screen and the poor quality really sticking out.

But I have my Canon D5 so I brought it to the bridge coming to the bridge in the morning of the 21st of July. Pilot came on board at 8 o'clock and we started to get closer to the FSO2 Pathumabaha on Greater Bongkot North Field.

Of course, our Agent's Representative is on the bridge approaching Greater Bongkot North Field and FSO2 Pathumabaha. And as he is now proficient with the helm I took the opportunity to train him in the use of our bow thruster.


Training with the bow thruster
Greater Bongkot North Field


PTTEP - Gulf Thailand Greater Bongkot North (GBN) / Bongkot Field (G2/61)

The Bongkot field is in the Gulf of Thailand, approximately 600 km south of Bangkok and 203 km off the coast of Songkhla province.

The Bongkot field produces about 600 MMcf/d of natural gas and 18,000 b/d of condensate, equivalent to 20 per cent of Thailand's national gas consumption.

PTTEP will conduct exploration/appraisal program and develop the discovered structures at Greater Bongkot North (GBN).

From https://www.dmsprojects.net
Approaching FSO2 Pathumabaha in Bongkot
Approaching FSO2 Pathumabaha in Bongkot
Approaching FSO2 Pathumabaha in Bongkot
Tug boat picking up the hawser from the FSO that we will pick up to use as tandem mooring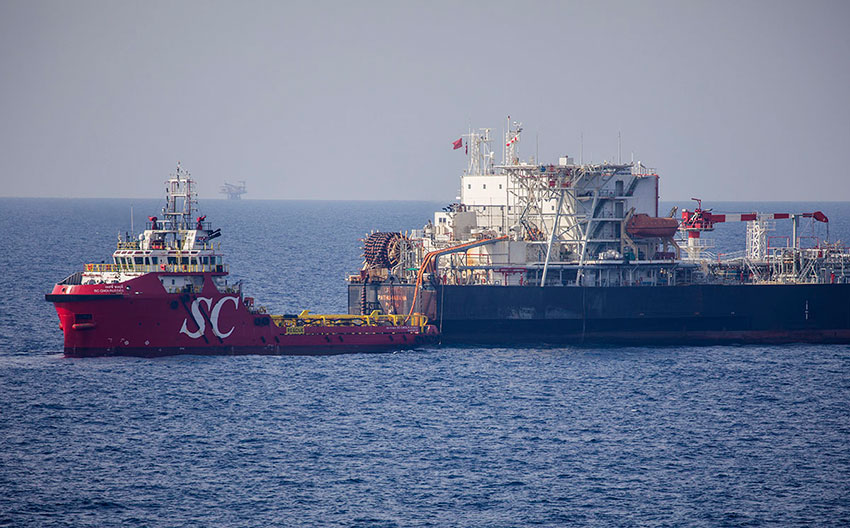 Approaching FSO2 Pathumabaha in Bongkot
Tug boat picking up the hawser from the FSO that we will pick up to use as tandem mooring
Hawser


noun a thick rope or cable for mooring or towing a ship.

ORIGIN Middle English: from Anglo-Norman French haucer, from Old French haucier 'to hoist', based on Latin altus 'high'.

From The NEW OXFORD Dictionary OF ENGLISH
Approaching FSO2 Pathumabaha in Bongkot
Approaching FSO2 Pathumabaha in Bongkot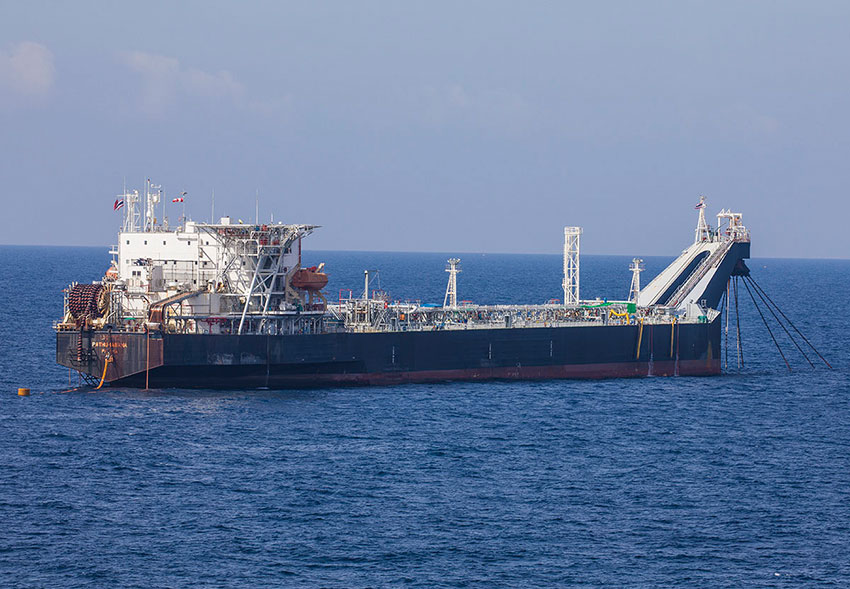 Approaching FSO2 Pathumabaha in Bongkot
Approaching FSO2 Pathumabaha in Bongkot
Hawser in the water waiting for for us to pick it up
Approaching FSO2 Pathumabaha in Bongkot
Approaching FSO2 Pathumabaha in Bongkot
Approaching FSO2 Pathumabaha in Bongkot
Approaching FSO2 Pathumabaha in Bongkot
Approaching FSO2 Pathumabaha in Bongkot
Approaching FSO2 Pathumabaha in Bongkot
Approaching FSO2 Pathumabaha in Bongkot
Approaching FSO2 Pathumabaha in Bongkot
Giving the line so we can heave up the hawser
Giving the line so we can heave up the hawser
Tug boat take our line to connect to the hawser
All fast at the FSO2 Pathumabaha
Peanuts
Peanuts


Me diet reaching its peak and our friend brings peanuts to my room. Suddenly he is just standing in front of me with bags of salted peanuts. I could not care less as I had never had any good peanuts in Thailand. Planter's cocktail peanuts or it is never mind and comparing to Planters the Thai peanuts is like eating dog shit.

With that said, dog shit or not, I tried a peanut.
- What the

These peanuts was a good as Planters and I made a mental note to remember TONG GARDEN. Excellent peanuts and the peanuts was soon finished. OK, I put 12 bags on our 2 Engineers door as I realised that things would go very bad if I finished all the peanuts by myself.


Mr. Peanut


We gave MAMA an emergency call on the LINE app and I ordered 120 bags of TONG GARDEN peanuts and well, 20 Toblerone. 20 seconds after have hanged up I got second thoughts and I told my friend to keep it in his room, or I will make myself very unhappy.

I buy grocery on line at home since Corvid hit Bangkok and I have been looking for Planter's cocktail peanuts without any luck. (Or maybe very lucky) Now I'm afraid that I will order tons of the TONG GARDEN peanuts when I am back home.

We completed discharging and we will spent 2 days at the anchorage and we will leave for Bongkot on the 1 August to load on the 2 August. Saturday 31 July and the MAMA boat will bring back equipment that have been ashore for calibration.


MAMA boat been here to deliver Peanuts
I asked him to hide our snacks in his room



He left the office promising to hide it in his room telling me NO every time I asked for Toblerone or Peanuts. And it started good, he only brought his herb tea to my room in the evening, and that
is some magic stuff.

This is the cure for everything, and it is actually very refreshing and not bad tasting so I enjoyed the herb and quite happy that we had been through the first day without any peanuts.

2 Toblerone, but, well, it is Saturday, and the herb is very healthy....

First time I drank the "HERB" I was very sceptic. Put it was very good and refreshing and now we drink it every day. Arriving to Bongkot in the morning and we always have HERB.

We have two thermoses on the bridge, Captain mix honey in his HERB so I take half a cup and mix it with our friend's herb and it is a perfect mix. and one of the Pilots in Bongkot also drink HERB so we consume a lot of HERB. If I feel any better? Nah, can't say I do.


Herb is tha shit


Arriving to Bongkot 2 August 2021 and the HERB drinking Pilot is on board for the first trip this tour. Last pilot is moving the jack-up rig just next to the Bongkot FSU so he see us arriving.

He took a couple of pictures that he sent to me via the LINE app.


Roy Maersk and FSO2 Pathumabaha in Bongkot
Roy Maersk and FSO2 Pathumabaha in Bongkot
And the never ending hard work just goes on and on


I gave our friend a Maersk boiler suit so at least he is looking very handsome and he wear the boiler suit with pride.

So he is very happy and I suggested that he should wear it in every port so there will never be any doubt that he is in our TEAM.


Our friend in new uniform together with Pumpman
Our friend in new uniform
Our friend in new uniform

We were down to the PPE store again a couple of days later, our friend wished for a long sleeved boiler suit. And who am I to say no. So we went down in the store to look for a new boiler suit.

I also had him to try our "PIRATE" helmets and wests. Singapore Strait is a marine crime area so we need to keep our eyes out for robbers trying to come on board. Our Agent's Representative is excited and he look forward to come with us to Tanjung Pelepas.


Our friend ready for the pirates in Singapore Strait
Our friend ready for the pirates in Singapore Strait
Our friend ready for the pirates in Singapore Strait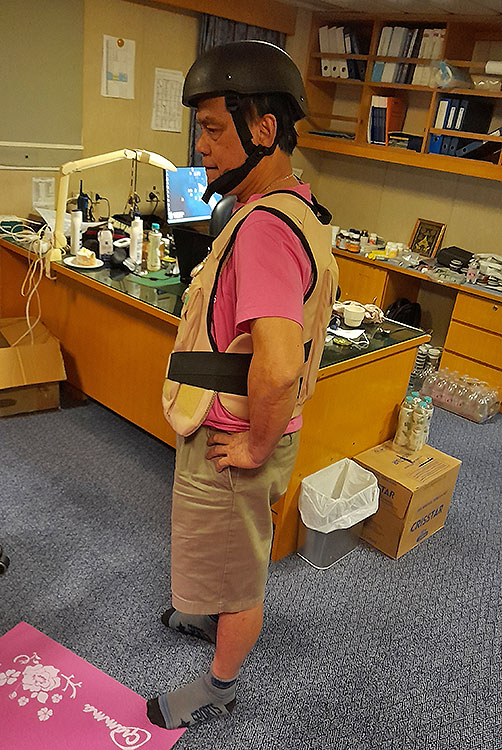 Our friend ready for the pirates in Singapore Strait


Our friend was very disappointed when he could not come with us. The Agent had told him it was to much trouble to put his name on our port clearance before leaving Thailand so he will have to go home when we discharge in Siracha.

I am also very disappointed, it is very boring when he is not on board and his chair in my room is empty and there is no one to talk to.


My friend's chair is empty


I have finally received my telescope ladder for the ballast tanks. We found a Werner (Professional Ladders) at the hardware store in Siracha and I asked our Ship chandler to get one Werner ladder for us. I have been trying to get one since we started with the ballast tanks on board Ribe Maersk back in 2018.

We were eager to get down in the ballast tank to try out the ladder. It is very narrow in the stools so an ordinary ladder is impossible to get in to the stool. But now we can get in to the stool with the new ladder and the crew can do chipping on top of the stool.


Our new ladder for the ballast tanks
Watchman at the ballast tank entrance
Our TOP GUNS giving the ladder 3 out of 3 thumbs up


The crew was very happy and the new ladder got 3 out of 3 thumbs up. It had been very easy to move around with the ladder in the ballast tank. And I was happy, now we can do a proper job



I got an e-mail from Philip Cornwel-Smith and he is writing a column in the online magazine 'Bangkok 101' about the birds that can be seen (and heard) in Bangkok. He asked if he could use
some of my pictures, of course, he can use as many as he want.

You can read the article by clicking HERE! There are some interesting things about birding in Bangkok.


Grey Wagtail


8th of September is the date for me spotting a Grey Wagtail at departure from Bongkot. I spotted the bird later on in the afternoon as well. I could not ID the bird so I consulted my book "Birds of Thailand" in the evening. It was a Grey Wagtail and our friend the Agent's Representative tried to imitate the bird.

I am quite happy with the good morning gymnastics, not as good as on the other ships as we have port stay 2 to 3 times per week. But when we are at anchor or in the sea we start the day with
gymnastic. It is a really good start of the day and the guys like it and they are full of enthusiasm when they get on deck to start the work.


Good morning gymnastics in the CCR
Drinking tea in my room in the evening


And we are drinking tea trying to avoid eating chocolate in my room in the evening. I still have two bags of the tea I bought in Sweden last time. And our friend, the Agent's Representative loves it.
The honey from Sweden is finished since a long time ago.

My friend went home during our trip to Tanjung Pelepas and he took 2 jars of
Swedish honey in my fridge. But his wife had finished the honey before he came back on board.

I still have Swedish honey in my fridge back home so I will at least have some when I sign off next time. But drinking the tea I bought in Sweden I don't need any honey as it has a very good taste .

Not much to spend time on in the evenings but to look at my friend's Thai Buddha amulets, พระเครื่อง. Last time he was home he covered 2 of my amulets in gold and next time he will have to cover 5 more Thai Buddha amulets, พระเครื่อง for me.



My friend busy designing cover for his Thai Buddha amulet, พระเครื่อง



My friend busy designing cover for his Thai Buddha amulet, พระเครื่อง
My friend busy designing cover for his Thai Buddha amulet, พระเครื่อง


Obviously his office space in my cabin is not enough and he have to move over to my desk. He will send the drawing to a silver shop in Bangkok to see if they can make the cover for him. He will be going home beginning of October to take his second vaccine.

He will pick up my gold chain that he ordered when we left him behind in Thailand when we went to Tanjung Pelepas to load. I needed a small gold chain for my small Thai Buddha amulet, พระเครื่อง and I gave him my small silver chain to copy.

So it will be a 4 Baht chain that they will do in a month and that is about the time when he is back home to take his second Corvid jab.


Moving to my desk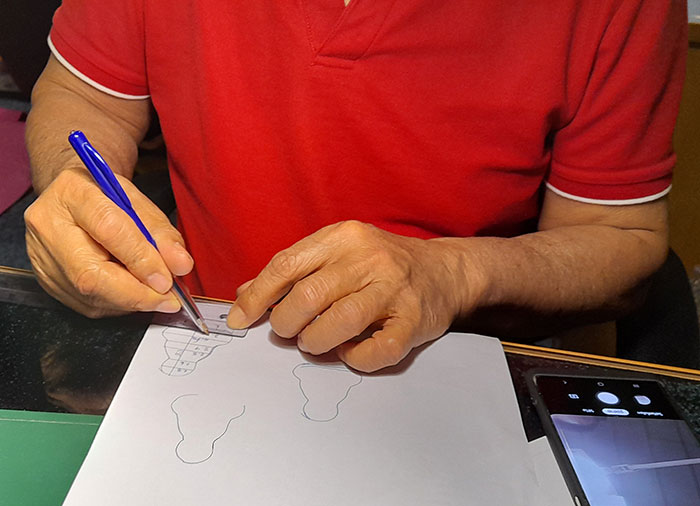 Send picture to the shop



First voyage in October 2021 and our Agent's Representative left us in Map Ta Put after discharging to get home for his second Corvid vaccination. He will also pick up my gold chain that he ordered when he was home for his first vaccination.

Now the chain is ready and he will also cover some other Thai Buddha amulets, พระเครื่อง, for me. So money is required and I gave him cash before he left the ship.


Counting money for the gold

He leave the ship and he is visiting the gold shop first thing when he reach Bangkok. My chain is ready and he leave a couple of my "magic" for them to cover in the gold shop.

I had given a few samples for him to order in the gold shop. This will take about a month to get the "tailor made" frames. But my friend found a couple of "ready made" so they will be ready tomorrow. Good, he can bring everything coming back next discharging.


He is updating me with pictures
New chain
New chain and amulets


And what I like with this trade, is that I can have a steady stream of snus coming from Sweden. Order online and it will arrive after just a couple of days. And it is ver easy to order what I need
from online for an overnight delivery to our Agent that brings it on board when he visit us in Map Ta Put.

So there are many plus going between Greater North Bongkot Field and Map Ta Put.


Snus is coming


We have had strong wind and rain most of the time since I joined back in June. But some days are good and I can enjoy my herb on deck while listening to the crew chipping rust. And our friend
making the herb tea and he is running around with his thermos so it is 5 star service on board m/t Roy Maersk.

Joyful to sit there and listen to the chipping machines and I also keep an eye out for when the crew come up from the ballast tank in the afternoon after completing the days
job. We turn off the ventilation and I fill up my records and I call it a day.

Then it is just to start the job tomorrow morning again, unless we're in port, then we cannot work in the ballast tanks. And as we spend so much time loading and discharging it will take a very long time before the ballast tanks will be ready.


Enjoying herb on deck
Enjoying herb on deck
Enjoying herb on deck

Of course, it would have been very boring on board without our friend. He is always up to something when he is not busy making herb. A lots of laughs and time pass a little quicker than if we only sit around trying to alleviate the boredom.

But in port almost every day and the time is really passing very quickly. And it looks like we can have crew change in Thailand now so no need to get of hire to take the ship to Singapore for crew change anymore and this is something we are looking forward to.


Our Agent's Representative giving tip on how to chip and paint


Yes, time is passing very quickly and we were at the end of the month of October in a jiff and it was time for our monthly safety meeting. And we took the opportunity to have a group picture behind the bridge.

And then the day had come to an end and I went to my room for tea and oatmeal.


The A-team - Click picture for full size picture
The A-team - Click picture for full size picture
The A-team - Click picture for full size picture


Inspecting ballast tanks and one thing is for sure, an hour in the ballast tank is the same as one
hour in the gym. It is really good exercise to climb around inspecting. And of course, our "Good morning PEP" meeting with gymnastics in the morning is doing us very good.

But every now and then I have our own "DISCO MAN" coming to disturb me with his "SHAKING"
when I am busy with my super important paper work.

And now there is quite a lot of paper work to do. Synergy bought Maersk Tankers, so no more Maersk Tankers and I will have to change logo and all the documents from 1st of November 2021. And Maersk Tanker logo will be replaced with Synergy Denmark logo.

Anyway, read all about it just by clicking HERE.


Shaking the behind


We got extra painters on board, 2 gays from Thailand that will be on board to help us with the chipping and painting. And they have to start around the superstructure and there is a lot of noise from the chipping machines during the day time.


Our extra painters chipping outside my cabin



Crew change was set to take place in Singapore November 2021 but our Agent in Siracha (Freelancing and hired by our Agent to do the job when we are in Siracha) told us it was possible to do crew change in Siracha. Took a while for us to get it confirmed as our Agent did not seem to want to do the work.

Bur our Agent's Representative on board called his boss and things could get in motion. First the Boss said it was impossible but he called back after having found out that it was possible to do the crew change in Siracha. But not possible to do crew change in Map Ta Put.

So there have been a lot of emails back and forth about problems with tickets, ASQ hotels, PCR tests, insurance and a lot of other problems. VISA was a huge problem for people from The Philippines and Singapore. And then on the 1st of November Thailand changed the entry requirements for people with the Covid vaccination.



Quarantine-free travel to Thailand – Test & Go



Under this program, fully vaccinated travellers from the 63 approved countries are able to travel around Thailand freely once they have passed a Covid PCR test upon arrival in the country.

To qualify for quarantine exemption, you'll also need:

• Proof that you're fully vaccinated with a vaccine approved by the World Health Organization or by Thailand (kids under 12 traveling with fully vaccinated parents are exempt)
• A negative PCR test taken within 72 hours before traveling.
• A Thailand Pass QR code,
• Proof of at least $50,000 U.S. of insurance covering the costs of treatment for Covid (see below).
• Payment confirmation of one night's stay at an approved SHA+ or AQ hotel
• Payment confirmation of PCR test you'll take shortly after arriving in Thailand and an additional rapid antigen self-test you'll take yourself on day 6 or 7
• Thailand's MorChana App, where you'll record the result of your rapid test done on day 6 or 7.
• Can't visit any countries not on the approved list above 21 days prior to arrival (unless transit less than 12 hours)

From expatholidaysthailand.com




Certificate of Entry was now changed to Thailand Pass so the on signers had to threw their COE and apply for the Thailand Pass. The Filipinos did not have to apply for VISA and the crew change was set to take place in Siracha when we were ready with the discharging.



What are the Requirements for the Thailand Pass


In support of the "Ease of Travel", there are only a few requirements that one will need to be able to obtain a QR entry code and enter Thailand. Listed below are the requirements:

• Passport
• Vaccination Certificate or Card
• Covid-19 Health Insurance Certificate
• Confirmed ASQ hotel booking or Confirmed SHA+ hotel booking (with pre-booked RT PCR test)
• Flight Booking
• Copy of Thai Visa (if required)



How to Apply for Thailand Pass



The Thailand Pass System is a QR code generating system. To obtain a QR entry code or Thailand Pass ID, travellers will have to:

• Register at Thailand Pass web portal
• Input personal details
• Upload the required documents
• Receive a confirmation email after registration
• Wait for the Thailand Pass approval

And if approved, you will receive an email of your QR Entry Code or Thailand Pass ID which you will use upon entering Thailand.

From www.thaisuggest.com



Click HERE for bigger picture

We completed the STOOL in ballast tank 5 port on the way to Siracha. Last tank with the old crew and we start a new with the new crew coming on board. So I went down to inspect the tank after departure from Bongkot on the 13th of November.

The will paint the last layer in the STOOL and I went down with them to see how the STOOL was looking. And what a great difference from before we started. But it takes a very long time to do the job and this is only the third STOOL completed since we joined in Singapore 5 months ago.

Coming to Siracha and the paper work for the off signers was not ready and they could not go home. On signers already at the hotel but now they have to stay for another week before they can join next time we come to Siracha.

But we got our new 4th Engineer on board and he will be double with our 4th Engineer that go home next time. And I took the opportunity to get a picture of our smoke divers when our new Engineer tried on his some diving kit. We will have a remote inspection (Remote because of the Covid) and they need pictures of the smoke divers.


Smoke diving teams


I have ordered about 10 kg of different nuts and seeds and our Ship chandler brought it to me in Siracha. I studied internet on how healthy the different nuts are and I will make a portion for daily consumption:
• 10 Almonds
• 5 Cashew nuts
• 2 Brazilian nuts
• 2 Walnuts

And Flax and Sesame seeds in my oat meal in the morning. And our Agents representative will join in my nut thing and we will live until 120 years old.


Our new healthy nut diet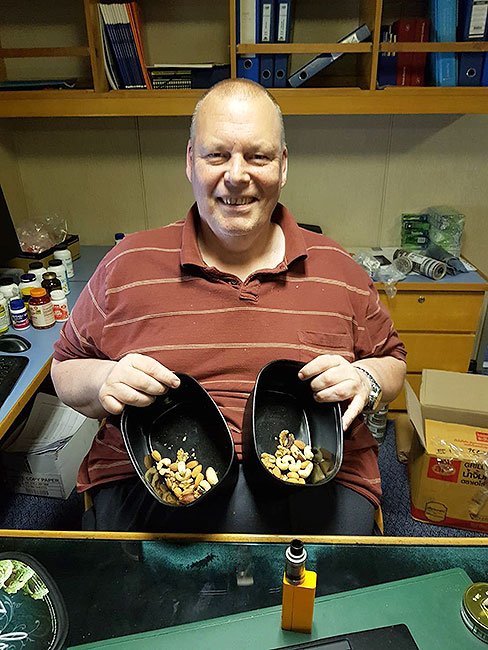 Daily ration for me and my friend
Eating healthy nuts


Might be the imagination, but since we started with the nuts we are full of vim and vigour. Our friend is on deck checking upon the maintenance work and it looks like he likes what he see.

Amazing what just a couple of nuts per day can do to old people. We will continue, but carefully, too many nuts and we will gain weight, even though it is healthy fat we cannot eat too much of it.


The nuts are doing something good to him


We managed to have the crew change and the off signers are isolated in a hotel in Siracha waiting for the flight back home. And as I don't expect Captain to have any exciting food in the hotel, we sent him a video on LINE. "Flæskesteg" his favourite so he will be hungry waiting for the flight locked in to his hotel room.



Flæskesteg


Flæskesteg, ['flɛːskə.stɐ̯j] the Danish version of roast pork, is considered to be one of Denmark's principal national dishes. Always prepared with crackling, it is also a favourite for the Danish Christmas dinner served as the evening meal on 24 December or Christmas Eve.

History
Pork has been a Danish favourite for centuries but it was after the Industrial Revolution in the 1860s when wood-fired ovens were introduced for use in the home that, in addition to sausages and hams, roast pork became a popular dish.

From the beginning, joints were always cooked together with the rind in order to provide crackling. Ever since, this has remained a prerequisite for the dish.

Traditional recipe
The traditional method of preparation is to roast a joint of pork from the breast or neck without removing the rind. So as to obtain crispy crackling, a sharp knife should be used to cut the skin through to the meat in narrow strips. The skin is rubbed with salt, pepper is added, while bay leaves and optionally cloves are inserted into the cuts.

The joint is then roasted in a hot oven. The dish is accompanied by both boiled potatoes and caramelized potatoes (brunede kartofler). These are specially prepared by melting sugar in a frying pan over strong heat, adding a clump of butter, and allowing a portion of small round peeled potatoes (available in cans) to bathe in the mixture until they become richly browned or caramelized.

Red cabbage (rødkål), which can be bought in a jar or a can, is always included too. If the cabbage is prepared from scratch, sliced apples are often added.

Many Danes consider the traditional recipe to be the one described by Frk. Jensen in her 1901 cookbook.

Sandwiches
Flæskesteg med rødkål (roast pork with red cabbage) is also served cold on dark Danish rye bread as an open sandwich, known in Denmark as smørrebrød. The thin slice(s) of pork should, of course, be served with their crispy crackling. The sandwich may be decorated with red cabbage, prunes, a slice of orange and pickled cucumber.

Hot Flæskestegssandwichs in a burger bun are available from many Danish hot dog stands and other fast-food providers.

From Wikipedia



Flæskesteg
Flæskesteg
Flæskesteg
Eating home-made ice cream in the CCR


Our Chef also make the best ice cream in the world so we make a video of our friend enjoying ice cream in the CCR to send to our friend at the hotel. Back in my room and my friend try to sell me a Thai Buddha amulet by the famous Monk หลวงปู่เฒ่ายิ้ม from the Nongbua Temple, วัดหนองบัว in Kanchanaburi.

This is a temple we have planned to visit in January, but as I will stay longer on board, I will spend January in dry dock in Singapore.


Trying to sell Thai Buddha amulets




+++++++++++++++

Tuesday 30th of November 2021 and we leave Bongkot in the evening, only loaded 80.000 bbls so arriving in the morning leaving in the evening. We have had terrible weather during the loading. Strong wind and heavy rain, and I mean really heavy rain.

The birds were struggling and there was a couple of dead birds when we left. I took a picture of one dead bird we found on the bridge wing. I had no clue what bird it was so I sent the pictures to birdforum.net to see if anyone could help me.


Locustella sp.
Locustella sp.
Locustella sp.
Thanks to CARERY at Birdforum I could identify this bird.

"Long undertail coverts and rather large feet make it an Locustella sp. . The wet plumage makes it difficult to really recognise features but I think Lanceolated Warbler could be good call..."

Forum thread HERE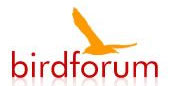 +++++++++++++++

Monday 6th of December 2021 and it is time to make history again. Our friend has never been in a life boat before and I had nagging on him for a long time to join us. Same with the steering of the ship. He never wanted to try, scared. But when I finally got him to the wheel there was nothing stopping him as he really enjoyed it.

But today he will come for the lifeboat drill and he looked to enjoy himself.


Our TEAM - Click picture for full size
Introducing our friend for the crew
Our Cook enter the lifeboat
He is making it in to the lifeboat - First time in his life he is in a lifeboat
Scared, but in the boat
He is happy that he joined us for the lifeboat drill


There is another ship loading the cargo on the 10th of December and we will get some days at the anchorage. So this is an opportunity for our friend to go home. And he is an excellent mood, even though he claims that he doesn't like to go home.

And he will go to the gold shop to frame my new Thai Buddha amulet, พระเครื่อง. We got an amulet from one of the Pilots in Map Ta Put so he will bring it back on board with a new gold frame.


Going home and he is in a good mood





+++++++++++++++

Thursday 23rd of December 2021 and I go to the galley to make lunch. Korv Stroganoff from the Falu sausages we got from Rayong. I will also make rice porridge that I will turn in to Ris a la Malta tomorrow.



Ris a la Malta


Ris à la Malta turns out to be another dish with an "either this, either that"-origin.

While this dish is most strongly connected to Christmas nowadays, Jan-Öjvind Swahn calls ris à la Malta a "classic Sunday dessert" in Mathistorisk uppslagsbok. He connects the name to the Mediterranean island of Malta, known for its oranges. Checking with Larousse Gastronomique, the term à la Maltaise describes "sweet or savoury preparations which are based on oranges, particularly the Maltese blood orange". It seems that it would be a dish with oranges.

Swahn claims that the dessert's first appearance under this name in Sweden is in Hagdahl's 1879 cookbook (I only have the 1896 version, but the recipe is likely the same). Hagdahl's Kok-konsten features "Risgryn med apelsin—Riz à la Malte", where sugar, oranges, orange peel, lemons, wine, and carmine are used to make a sauce into which you stir in the rice porridge. After the mixture has cooled in little bowls, you plate it and serve with orange slices and an orange sauce.

Hagdahl's recipe is similar to Gustafwa Björklund's from 1847 with its elaborate dessert called Ris-Pudding med frukt, where the flavoured rice is layered with boiled apples and crumbled biscuits and—of course—served in a bowl of crystal.

But—Magnus Nilsson notes that the Danish upper class started serving sweetened rice porridge mixed with cream around the beginning of the 1900s. Risalamande, the Danish name for the dish, comes from the French riz à l'amande, meaning "rice with almonds". Nilsson claims that the Swedes misspelled the Danish name and dropped the almonds.

So, is it Malta because of Maltese oranges, or because of sloppy spelling? I tend to believe more in the oranges, but the rice pudding exists both served with rice and with red jam.



What's in ris à la Malta?
This type of rice-based dessert has been popular for a long time, so there are many variations. For example, in Iduns hjälpreda from 1893, there's a recipe for riskräm ("rice cream") flavoured with lemon juice and rum and layered with raspberry jam.

In Husmoderns kokbok from 1927, Kerstin Wenström features a Ris à la Malta—by that name—which contains gelatine. The idea is to be able to turn the dish upside down on a plate before serving. This beauty is flavoured with vanilla or lemon peel, but no oranges, and is served with fruit sauce or jam.

The recipe for apelsinris in Prinsessornas kokbok from 1934 prepares a sweetened rice porridge with orange pieces and a bowl of whipped cream separately, only mixing them together before serving.

The little dilemma with the dessert's origin doesn't seem to bother Magnus Nilsson, who solves it by featuring two recipes. He makes his ris à la Malta with only rice porridge, cream, and sugar, and notes that it often is served with fruit sauce or a berry compote. Then he has another recipe for apelsinris, "rice with orange", which is flavoured with sugar, vanilla sugar, oranges, orange peel, and toasted almond flakes.

To summarize, the typical recipe of today consists of rice porridge, cream, and sugar. Then there's either oranges, jam, or fruit sauce.

From https://swedishspoon.com/malta/

Aladdin's HOT TIP! Never ever use oranges when you do Ris a la Malta. Taste good but if you get the dry oranges that only growing in your mouth while chewing and the Ris a la Malta is a total waste.


Negative Covid test and I start with the Korv Stroganoff. And I am really excited to try the Falukorv (Falu Sausage) that we bought from Olearys S.B.D in Rayong. Located just 20 km from MAMA's shop in Rayong fishing harbour.

And I was pretty excited to try the Falukorv as the other stuff we had bought at Olearys S.B.D. The Wienerkorv (Wiener sausages) had been excellent and the Liver pate had been very good.



Falukorv


Falukorv (/ˈfɑːluːkɔːrv/ FAH-loo-korv, Swedish: [ˈfɑ̂ːlɵˌkɔrv] is a Swedish sausage (korv in Swedish) made of a grated mixture of smoked pork and beef or veal with potato starch flour, onion, salt and mild spices. Falukorv is a cooked sausage, so it can be eaten without any further preparation.

History
The history of Falukorv reaches back to the Falun copper mine during the 16th and 17th century, where ox hide was used for ropes and some of the meat remaining after slaughter was salted and smoked and used for sausages.

The tradition of preparing the meat in this way was revitalised in the late 19th century by the butcher Anders Olsson, whose initiation led to the development of the modern Falukorv, which uses a mixture of pork and beef or veal. A popular sausage, Falukorv has Traditional Speciality Guaranteed-status in the EU and UK. Under EU law thus, restrictions apply to what may be labelled as "Falukorv".

Only potato flour may be used as a binding agent, and the amount of meat may not fall short of 45%, although most brands of Falukorv have a significantly higher meat percentage.

Middagskorv
Because of its TSG status, only that particular sausage may be called Falukorv; it may not be made with alternative ingredients. Manufacturers therefore use the term middagskorv (dinner sausage) to describe variations, such as sausages with a lower fat content of 9% instead of the standard 23%, chicken, or vegetarian versions made from soy, pea and potato protein or quorn.


So, I was really looking forward to our lunch when I started to make the Korv Stroganoff. I made the rice porridge while chopping the ingredients for the Korv Stroganoff


Making rice porridge
Making rice porridge
Falukorv
Falukorv
Chopped Falukorv
Chopping onion and bell pepper
Read to start the stove
Korv Stroganoff | Traditional Stew From Sweden


Korv Stroganoff is the Swedish version of a popular dish known as beef Stroganoff. Instead of beef, the dish is prepared with a Swedish sausage called Falukorv, made with a combination of pork, beef, potato starch, and spices. Korv Stroganoff is beloved by children and takes only about 10 minutes to prepare.

Apart from Falukorv sausage, the dish is made with onions, tomato purée, chopped tomatoes, and crème fraiche. All ingredients are simmered and seasoned, and this warming, comforting dish is then served, ideally with boiled rice on the side.

From https://www.tasteatlas.com/korv-stroganoff
Korv Stroganoff on the stove
Korv Stroganoff on the stove


The Korv Stroganoff turned out to be very good and I was full when I left for the CCR to test the crew for Covid in the CCR. All crew negative except one that have been positive for 3 days now. Looks good, only one positive and I hope it stays like that. And the one testing positive is feeling very good and there is no symptoms.



+++++++++++++++
Friday 24th of December 2021 and I went to the galley to make the Ris a la Malta in the afternoon so it will be ready in time for the dinner. I also made a fruit punch sauce and I look forward to try it at 17 thirty.



Making Ris a la Malta




+++++++++++++++

Tuesday 28th of December 2021 and I will do the last Ris a la Malta today and I start in the morning so it will be ready for lunch. I whipped the cream and this time I added a wee bit more vanilla sugar than the first time. I added the rice porridge to the whipped cream and I mixed it. A quick taste and it was very good and I was really looking forward to lunch.

The sauce was ready and I put the Ris a la Malta in the fridge to keep it cool until lunch time.


Last rice porridge and whipped cream
Put the rice porridge in the whipped cream
Mixing rice porridge with the whipped cream
It taste very good
Making the fruit sauce
Ready


I only had Ris a la Malta, also called Santa Claus porridge for lunch. Now we will not have any Ris a
la Malta until next Christmas. Good, something to look forward to. Of course, I can make it every day, but then it will be boring, so next Christmas it is.



+++++++++++++++

Wednesday 12th of January 2022 and we are anchored at Map Ta Put anchorage since 3 o'clock in the morning after having completed the last discharging for PTT. Our friend leaves us in the morning with the MAMA boat. The boat come to pick him up and they deliver some Danish bread and Swedish sausages that we have ordered.

The boat arrived at 8 and my friend had knocked on my door at 07:20 and we went for breakfast, the last breakfast together. And I had to go out on deck to say good bye even though I was very busy with the upcoming tank cleaning. And they will also come onboard to take covid PCR tests before we leave for Singapore.


Time for our friend to leave
Time for our friend to leave
Time for our friend to leave


Very sad, we have had much fun during the years, first on board Rita Maersk then Ribe Maersk and no Roy Maersk. But there was not much time for sadness. We started the tank cleaning and we had just started when they came to do the PCR tests.

Tank cleaning ready at 13:10, and we have found 9 tank cleaning machines that is not working. Ducking sabotage not to repair after previous tank cleanings. We started purging the tanks with IG at 13:30

We started the stagger test in the late afternoon on the 14th and it was almost ready in the evening of the 16th of January, just 4 tanks remaining to check.

I inspected the last cargo tanks while discharging the water through the ODME operating it in the 15ppm mode. 20 000cubic meter of water in the cargo tanks and we can run maximum around 500 cubic meters per hour.

So, it will take long time to get rid of the water, and when we are ready, we will have to decant the last water from the slop tank. This will also be the last tank to inspect after having discharging the slop in Singapore.


Eating Jackfruit that our friend brought on board last time in Map Ta Put
Eating Jackfruit that our friend brought on board last time in Map Ta Put
Eating Jackfruit that our friend brought on board last time in Map Ta Put
First time ever eating red bananas and they were really good


But it is not only healthy fruit, have to eat ice cream as well to send "teasers" to our friend. He like the ice cream and every time I went to the freezer, he was never more than one step behind.


So even though the ice cream isn't doing my diet any good I have to eat one every now
| | |
| --- | --- |
| Before | After |
and then to update our friend.

But running up and down the tanks are burning away the ice cream so I don't have to feel too bad about it.


Ice cream in the galley


Our friend have stopped working on the ships, he only visit them when they come to Siracha staying one night on board during the discharge to keep an eye on things. But he will come to stay on board Roy Maersk if we come back after the dry dock. He miss Roy Maersk, same with the crew on the FSO in Bongkot, they want us to come back.

The chances for Roy to get back to Thailand is slim, but we will see. We managed to get all the water out and we decanted the last water from the slop tank on the 20th of January and we started to head towards Singapore where we will take Pilot at 8 o'clock in the morning.


Our friend going on board TMN discharging crude oil in Siracha




+++++++++++++++

Friday 21st of January 2022 and we dropped anchor in Singapore and not long after that we had the slop barge alongside. Slop barge was secured alongside at 10:30 and I started to discharge the slop at 11:12 completing the discharge 24 minutes later.

Tank cleaning between 11:42 and 12:18 and the barge started to take sludge from the engine room. We started to purge the slop tank with IG until less than 2% hydro carbon and after that we started to gas freeing the tank.


Our hero busy


We will have a Chemist coming on board to measure gas on the ship at 16:00 and we need to be gas free before then. We were waiting on deck for the Chemist and we had got strict orders on how to avoid Covid. Only Chief Officer on deck and to wear full PPE, mask, googles and the full song and dance.

When they came on board, I screamed stop from a distance. I asked them to put their ID cards in the box with the visitor log and to step back.




They left us 5 minutes after 5 and I went for a shower. We will get our provision and stores tomorrow morning. And we will inspect the last tank, the very slop tank that we cleaned today.



+++++++++++++++

Saturday 22nd of January 2022 and we inspected the tank in the morning and the stores arrived, of course, just in time for the lunch. We were just about to be ready discharging our ballast preparing for the ship yard. Maximum 5 m draft and maximum 1 m trim. So, we need to be very "light" at the arrival to the ship yard.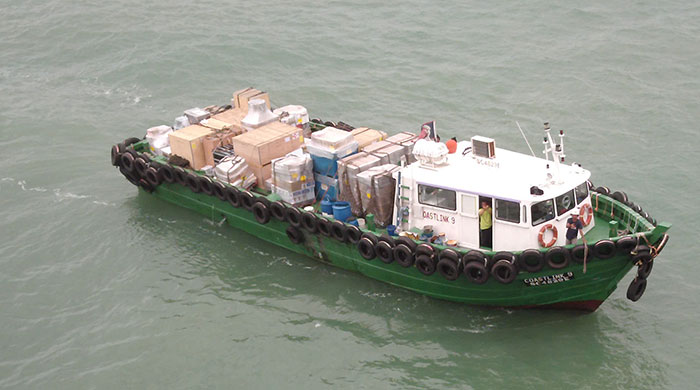 Stores arriving
2nd Officer busy with the ballast
2nd Officer and Pump Man
The barge is alongside
AB and Motorman ready for action



+++++++++++++++

Sunday 23rd of January 2022 and I woke up at 5 o'clock expecting our Pilot to board us at 6 o'clock. I will start discharging ballast water at 7 so we have maximum 5 meters draft at arrival to PaxOcean shipyard.

I come down to the CCR at 7 and our Cook ask me if I want an omelette, Chief Officer special. I said no thanks, but I was thinking about our friend in Thailand and he really loved the "Chief
Officer" special omelettes.

He had tried to make it when he was home, but he had failed and I have promised to teach him how to do the "Chief Officer" special next time I am at home in my own kitchen.



I said no thanks to the omelettes, I only eat oat meal as I have changed for a healthy life style. But I was thinking about my friend and I need to send him a video so I said:
- Please! I have an omelette.

I went to discharge the ballast and we had 5 meters draft aft and 4.2 meters forward when we arrived to the ship yard. Docking Master checked the draft when he boarded the vessel. We expected him to board around 09:30 but he was delayed by an hour.


Arriving to PaxOcean
Arriving to PaxOcean
Arriving to PaxOcean
Arriving to PaxOcean
Arriving to PaxOcean
Arriving to PaxOcean
Arriving to PaxOcean
Arriving to PaxOcean


We can see the Stolt ship in one of the docks. We will take this dock when she is ready. But we got to know that they had found Covid on board the Stolt ship yesterday. And this might be problem if they are going to stay in quarantine for 14 days.

I must be in Sweden on the 1st of March to attend a chemical course and if we will have to wait for 14 days for the Stolt ship to leave it might be a "touch and go" to make it to the course in time. Well, we will see if I make it in time.


Arriving to PaxOcean
Arriving to PaxOcean
Arriving to PaxOcean
Arriving to PaxOcean
Arriving to PaxOcean


The Doctor came on board at 2 o'clock to take PCR tests and when we get the result, they people from the yard can come onboard. We are in a hurry to get the Lloyds Inspectors on board so they can finish the tank survey. We expect them to complete the work in 2 days but we need to transfer ballast water so he can enter all the tanks.



+++++++++++++++

Monday 24th of January 2022 and I took the chance to make Falukorv and Creamed cabbage for dinner and I went to the galley at 4 o'clock in the afternoon to make dinner.


Slicing Falukorv
Boiling cabbage
Creaming cabbage
Creaming cabbage
Frying Falukorv
Creamed cabbage and Falukorv ready


My friend is back home in Bangkok and he will go to Maersk Kara on the 27th of January and he is enjoying himself in Bangkok. He sent me a video he took at the market and there are quite a few people at the market considering the Covid.

There are most people in the evening when people are finished with their jobs and are on the way back home. And they do some shopping on the way.






+++++++++++++++

Sunday 30th of January 2022 and I could get out for a
constitutional on bridge deck in the evening.


PaxOcean by night
PaxOcean by night
Motorman and 2nd Officer
PaxOcean by night
PaxOcean by night
PaxOcean by night
PaxOcean by night
Our hero


It was nice to come out for a walk on the bridge deck, and I will do it tomorrow again. Looks like they will come on board from the shipyard tomorrow and then we will see how things will play out. If there should even be a slim chance for me to get to my chemical course in Sweden first of March they have to start the work tomorrow.

I had expected an onslaught of yard workers to come on board but it was, well, at least we did a lot of paper work to prepare all permits that will be signed at our morning meeting with the yard at 09:30 on the bridge every day. I start with "Good morning PEP" meeting with the crew in the CCR
at 8 o'clock every morning. And there is also time for our gymnastics in the morning.


Slowly going crazy
My brother dropping anchor with a Torm ship


My brother send me a video of when they arrive and drop the anchor. And I can see that the Torm ships looks nice on deck. Wednesday afternoon and we went on deck with one of the yard workers and we marked rails and stuff that needs welding. He marked the area with yellow spray paint and now I expected things to get in to motion.

But Friday turned out good anyway, our Superintendent brought two bottles of Pepsi Black to me. Pepsi MAX is called Pepsi Black in Singapore.



So, a tedious Friday turned in to a Pepsi party in the CCR. And this was a total surprise! But I expect more Pepsi to be delivered Saturday afternoon as I have ordered a few bottles from a
Supermarket. Order online and they will deliver to the ship yard.

They will be delivered on Saturday afternoon. Saturday morning and no sign of the welders so this was a disappointment. But they have decided on how to bring the ballast plant down to the pump room.

They will cut a hole to the slop tank. And then a hole from the slop tank in to the pump room.

They had cut a hole during the night between Friday and Saturday and I went on deck for some inspection after the good morning gymnastic and a glass of Pepsi.


Our Hero inspecting on deck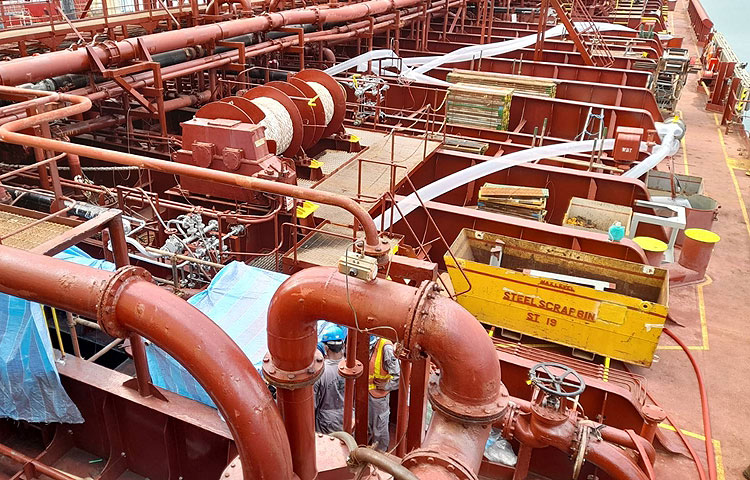 Yard workers busy on deck
Yard workers busy on deck
They have cut a hole to the slop tank
They have cut a hole to the slop tank
They have cut a hole to the slop tank
Yard workers busy on deck


I continue forward to cargo tank 1 Port. The crew is chipping and painting the area. They are ready on tank deck over CT 1P and they have started the chipping over CT 2P.

The area start to look good and we take the chance to finish all old expired paint in this area. We
had 100 Lit expired paint and I want to use it on deck so we can empty the paint store.

Then we can buy new paint to fill up the paint store when we leave Singapore. The expired paint is for indoor use, but it will look good on our deck. And we will save some money as we can put the paint in to use.

I was happy with the area when I walked back towards the superstructure checking out the crew chipping the Butterworth hatches. This is our opportunity to chip and paint them as we are gas free. Not possible to do it when we have gas in the tanks.


Painting in progress
Tank deck at CT 1 P freshly painted
Tank deck at CT 1 P freshly painted
Tank deck at CT 1 P freshly painted
Tank deck at CT 1 P freshly painted
Tank deck at CT 1 P freshly painted
Tank deck at CT 1 P freshly painted
Chipping a one of the Butterworth hatches
Butterworth cover


A Butterworth cover (also Butterworth hatch and Butterworth plate) is a hatch on the deck of a cargo vessel that is used to seal a small opening that admits to the space below.

In oil tankers and other marine vessels used for transporting fluid products, there are small service openings though the deck into each tank to allow access for miscellaneous reasons such as sampling, inspection, gauging and cleaning.


By United States Navy - United States Navy, Naval Safety Center, Acquisition Safety -- Confined Spaces


When the service opening is not in use, it is sealed by a removable cover plate, commonly referred to as a Butterworth cover. Butterworth hatches are not the main access hatches, but are the servicing hatches, and are generally closed with a metal cover plate with a gasket that is fastened to the deck by a number of bolts which stick up from the deck. Holes on the edges of the plate fit over these bolts and the cover is fastened down with nuts or dogs.

Vapor accidents can occur when pressure builds up in the tank below and the Butterworth cover is carelessly removed. Butterworth hatches have been responsible for a number of marine losses. In the United States, regulations prescribe requirements for Butterworth hatches and covers.


Cleaning machine in Butterworth hatch

By U.S. Department of Labor Occupational Safety & Health Administration



From Wikipedia


Walking back aft again and I went to inspect the poop deck so I knew where to throw our different garbage. Our crew had thrown a lot of empty paint buckets and we want to make sure it doesn't end up in the general garbage.

Back in my office and I took all my permit applications and I went for the morning meeting with the ship yard on the bridge, every day at 09:30.


Lifting stagging from deck
Poop deck full of garbage containers and equipment
Plenty equipment and material all over the ship


While we are enjoying the Saturday in Singapore our friend is on the way to Siracha to join m/t Oberon. They are discharging crude and our friend needs to come on board to keep track of times
and paper work. So he will spend the night on board and he sent me a video that he took in his cabin.

He was happy with his cabin and it looked nice. He had a proper desk to work on and a big bed, so the cabin looked good. He will leave Sunday when discharging is completed.


Our friend on board m/t Oberon




+++++++++++++++

Monday 7th of February 2022 and we will go in to the dry dock tomorrow. So, I will test our ballast valves so we are sure they are working before the dock. They were supposed to be here for this at 11:45. Of course, no sign of the yard people coming for the valves at 11:45.

We are installing a Ballast Water Treatment Plant in the pump room so all ballast valves are disconnected and we need to drain our ballast when in the dry dock.

They came at 3 o'clock in the afternoon to test the valves, just in time when I was going to help our Cook to make Falusausage and smashed potato.


Our Cook have prepared the sausage
Making smashed potatoes
Making smashed potatoes
Our Cook tries the potato


So, I just had time to get to the galley for some quick pointers before I had to go back to the CCR to test the valves. But it turned out well, the Falusausage disappeared like an aspirin and almost all the smashed potato was eaten. OK, I had a lot of it.

I was very full when I left the mess room going back to my room.



+++++++++++++++

Tuesday 8th of February 2022 and today is the day we will go in to the dock. I discover that our friend had sent me a lot of pictures and videos on LINE when I fired up my computer in the morning. He had been at the temple to give the money he have collected on board Roy Maersk.

He have had a post box on the wall in the CCR where people could put money, Thai coins and bills they no longer had use for when signing off. It was actually interesting to see the pictures.

Start early morning to give food to the monks, Alms giving, what Thais call dak bat (ตักบาตร). The monks walk round the temple area bare feet carrying their bowls. And people come to offer food and this takes place from dawn until about 7 o'clock in the morning.


Up early morning for Alms giving, ตักบาตร
Up early morning for Alms giving, ตักบาตร
Up early morning for Alms giving, ตักบาตร
Up early morning for Alms giving, ตักบาตร
Up early morning for Alms giving, ตักบาตร

We started the day in the CCR and I handed out today's job to the crew. And of course, before
going to work we had our good morning gymnastics. We had our morning meeting at nine thirty and we got it confirmed, we will move to the dry dock at 12 o'clock.

We left the jetty at 12 and I spotted House Crows, Common Myna and a Striated Heron during our move. When in the dock we had a Grey Heron flying over the ship yard.

We had all fast in the dry dock around 90 minutes later and they started to drop the anchors and the chains in the dock. We will change our anchor chains and the new chains are already at the ship yard. They only need to bring them down to the dock.


Leaving the jetty
Leaving the jetty
Leaving the jetty
Leaving the jetty
Dry dock


A dry dock (sometimes drydock or dry-dock) is a narrow basin or vessel that can be flooded to allow a load to be floated in, then drained to allow that load to come to rest on a dry platform. Dry docks are used for the construction, maintenance, and repair of ships, boats, and other watercraft.



Types



Graving
A graving dock is the traditional form of dry dock. It is a narrow basin, usually made of earthen berms and concrete, closed by gates or by a caisson. A vessel is floated in with the gates open, then the gates are closed and the water is pumped out, leaving the craft supported on blocks.

The keel blocks as well as the bilge block are placed on the floor of the dock in accordance with the "docking plan" of the ship. Routine use of dry docks is for the "graving" i.e. the cleaning, removal of barnacles and rust, and re-painting of ships' hulls.

Some fine-tuning of the ship's position can be done by divers while there is still some water left to manoeuvre it about. It is extremely important that supporting blocks conform to the structural members so that the ship is not damaged when its weight is supported by the blocks. Some anti-submarine warfare warships have sonar domes protruding beneath the hull, requiring the hull to be supported several metres above the bottom of the drydock.

Once the remainder of the water is pumped out, the ship can be freely inspected or serviced. When work on the ship is finished, the gates are opened to allow water in, and the ship is carefully refloated.

Modern graving docks are box-shaped, to accommodate newer, boxier ships, whereas old dry docks are often shaped like the ships that are planned to be docked there. This shaping was advantageous because such a dock was easier to build, it was easier to side-support the ships, and less water had to be pumped away.

Dry docks used for building Navy vessels may occasionally be built with a roof, to prevent spy satellites from taking pictures of the dry dock and any vessels that may be in it. During World War II, fortified dry docks were used by the Germans to protect their submarines from Allied air raids (see submarine pen).

An advantage of covered dry docks is that work can take place in any weather; this is frequently used by modern shipyards for construction especially of complex, high-value vessels like cruise ships where delays would incur a high cost.

Floating
A floating dry dock is a type of pontoon for dry docking ships, possessing floodable buoyancy chambers and a "U"-shaped cross-section. The walls are used to give the dry dock stability when the floor or deck is below the surface of the water. When valves are opened, the chambers fill with water, causing the dry dock to float lower in the water.

The deck becomes submerged and this allows a ship to be moved into position inside. When the water is pumped out of the chambers, the dry dock rises and the ship is lifted out of the water on the rising deck, allowing work to proceed on the ship's hull.

A large floating dry dock involves multiple rectangular sections. These sections can be combined to handle ships of various lengths, and the sections themselves can come in different dimensions. Each section contains its own equipment for emptying the ballast and to provide the required services, and the addition of a bow section can facilitate the towing of the dry dock once assembled. For smaller boats, one-piece floating dry docks can be constructed, potentially coming with their own bow and steering mechanism.

Shipyards operate floating dry docks as one method for hauling or docking vessels. Floating drydocks are important in locations where porous ground prevents the use of conventional drydocks, such as at the Royal Naval Dockyard on the limestone archipelago of Bermuda. Another advantage of floating dry docks is that they can be moved to wherever they are needed and can also be sold second-hand. During World War II, the U.S. Navy used such auxiliary floating drydocks extensively to provide maintenance in remote locations.

Two examples of these were the 1,000-foot AFDB-1 and the 850-foot AFDB-3. The latter, an Advance Base Sectional Dock which saw action in Guam, was mothballed near Norfolk, Virginia, and was eventually towed to Portland, Maine, to become part of Bath Iron Works' repair facilities.

A downside of floating dry docks is that unscheduled sinkings and off-design dives may take place, as with the Russian dock PD-50 in 2018.

The "Hughes Mining Barge", or HMB-1, is a covered, floating drydock that is also submersible to support the secret transfer of a mechanical lifting device underneath the Glomar Explorer ship, as well as the development of the Sea Shadow stealth ship.

From Wikipedia
Our dock is empty
Our dock is empty
Entering the dock "ASS"
Entering the dock "ASS"
Entering the dock "ASS"
Entering the dock "ASS"
Entering the dock "ASS"
Entering the dock "ASS"
Entering the dock "ASS"
Looking at a Grey Heron flying over the ship yard


As soon as they were ready with the anchor chain I started to drop the ballast by gravity and they went to remove the "bottom plugs" around 5 o'clock.

We have ordered a second delivery of MAX that will be delivered in the dry dock. The first delivery was OK, but the Pistachio nuts was not delivered. We tried a second order, but the Pistachio was cancelled again.

Captain want to have Pistachio to make ice cream as our Cook will teach him to make ice cream.


First delivery of MAX a few days ago
Going to take pictures in the dock


And I needed more MAX so we decided to try another online supermarket and they will deliver the Pistachio to the dry dock. And I used the same supermarket as the first time to order more MAX. They will deliver everything to the dry dock on the 9th of February.

So, on the 10th of February 2022 the ice cream making kicked off in the galley at 15:00.


Making ice cream
In PaxOcean dry dock
In PaxOcean dry dock
In PaxOcean dry dock






+++++++++++++++

Thursday 17th of February 2022 and we will get out from the dry dock tomorrow so I decided to get down in the dock to have a look. Captain and I left the ship at 13 thirty for the dry dock adventure. Painting completed and we just need to wait for the paint to cure and we can leave the dock going back to the jetty again.



Coming ashore at PaxOcean



Painting the hull
Pictures have to be taken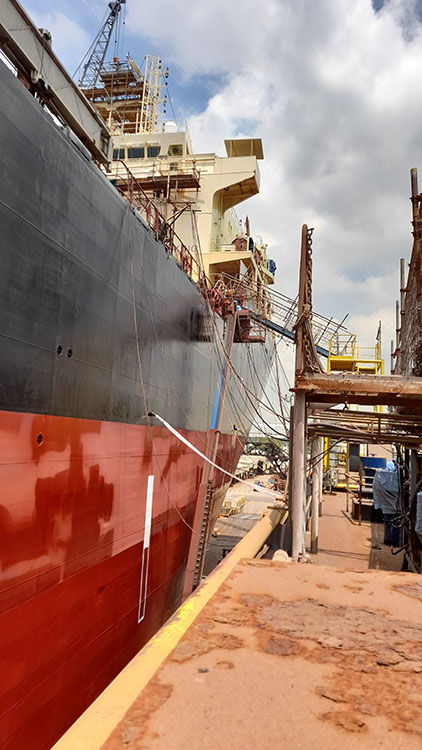 Painting the hull
Our hero inspecting the work
Our hero inspecting the work
Painting the hull
Our hero inspecting the work
Our hero inspecting the work
Our hero inspecting the work
In the dry dock
In the dry dock
In the dry dock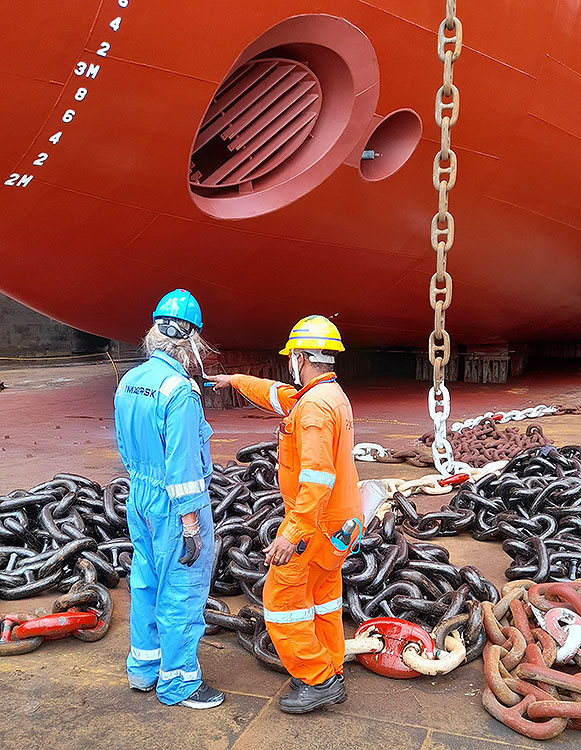 In the dry dock
Our hero inspecting the work
Dry dock next to us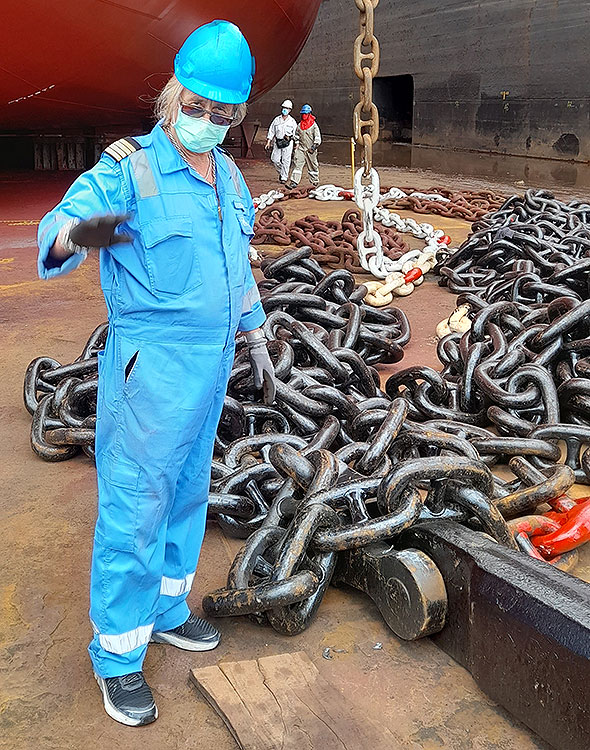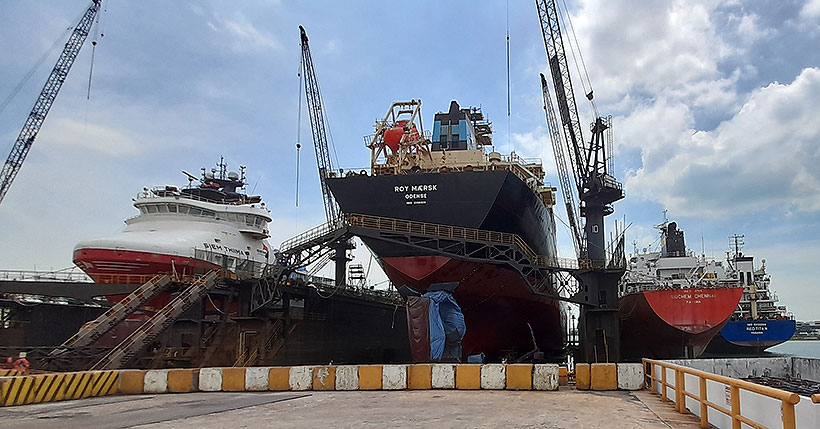 I never eat dinner, a can of tuna and tea in my room is enough. But today I was working late and
I was in the CCR by the time the clock turned DINNER.

I was lucky, still some sausages from lunch and I had my dinner and was about to leave when Captain brought out his ice cream "Aladdin Style" They have made cubic tonnes of ice cream but
the had never been satisfied and I gave them a couple of pointers.

No taste of the Pistachio. Had to cheat with green colour to get green ice cream. A few pointers and today we had green ice cream tasting Pistachio, and it was very good. But not for the diet!





+++++++++++++++

Friday 18th of February 2022 and it is time to leave the dry dock. We were clear of the dry dock at 11:44 and we had to wait for the ship occupying our jetty. A Wagenborg ship and she will go in to the same dry dock we had just left.

She was entering the dry dock while we were waiting and we had time for a quick lunch. We had all fast at the jetty at 2 o'clock in the afternoon.


Leaving the dry dock



We had ordered 21 JBL CHARGE 5 loudspeakers a couple of days ago and they arrived on the 21st of February, just the day we are scheduled to leave the dry dock. Pilot booked for 9 o'clock tomorrow morning, but later on changed to 11 o'clock.

We had bought loudspeakers for 4900 Dollars and we had the crew to come pick up their loudspeakers in my room after dinner. We had 3 people isolated in their cabins so we put their
loudspeakers outside their doors.

They have felt a little sick so we have isolated them so there will be no problem for us when we are signing off tomorrow evening.


Handing out loudspeakers
Handing out loudspeakers
Handing out loudspeakers
Handing out loudspeakers



+++++++++++++++

Tuesday 22nd of February 2022 and pilot was changed from 9 o'clock until 11 and we had to wait until 12 for the tug boat. The ship yard workers were still working on board and Alfa Laval's people were still onboard until departure.

We dropped the anchor at the Eastern Anchorage at 3 o'clock in the afternoon. I was still in the CCR as I could not fill ballast as there were some problems with the filter. I gave up around 4 o'clock and I went to pack my bags.

New Chief Officer and Chief Officer came on board around 5 thirty and the new Filipino crew came on board at 8 thirty. We left with the boat delivering the last crew and it took about 15 minutes to reach the immigration.

We had to wait for the transport to the airport at the holding area after having passed the immigration and custom.


Waiting for transport to Changi International
Waiting for transport to Changi International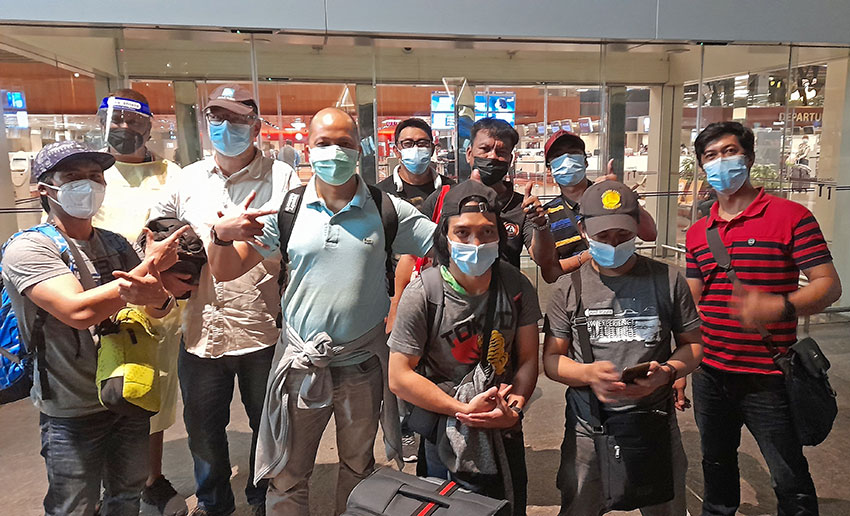 Arriving to Changi International


Checking in and I went straight to the lounge to try to book a hotel and a car for me in Sweden. Always uncertain until the last minute when I can get off the ship so not possible to book anything until I know when I can get on the flight.

I had two soda waters in the lounge before leaving for gate B1 and Singapore Airlines flight SQ 352 to Copenhagen. And I was in a good mode with my bookings for the cottage and car confirmed.


Copenhagen next
Time to leave Singapore
Time for a sleep


12 hour flight and I slept for 7 hours so I was feeling good when we landed in Copenhagen. Immigration and custom and I was at the vending machine buying a train ticket to Malmö where I will pick up my car. Click HERE to find out if I am luck with the bird watching in Skåne.


You are visitor no.