The name Tuborg has it's origin from the 18th century and it's a shortening of Thuesborg. Mr. Jonas Thule had property at Ryvhagen just north of Copenhagen and it was named to Thuesborg after him.

Tuborg harbour was built by Hans Peter Prior 1868 and after that there were big changes for the country idyllic atmosphere. 1873 Philip Wulff Heyman founded the conglomerate Tuborg Fabrikker A/S together with Rudolph Puggaard and Gustav Brock. They make a logo from T & F and
Philip W. Heyman

buy the harbour and the surrounding land from Hans Peter Prior. They start to built factories and brewery.

Philip W. Heyman was only 35 years old but he had many businesses. Tuborg brewery was his main interest and he got Copenhagen's first private telephone line installed between the brewery and his private home.

Tuborg delivered their first beer 13th of June 1875. It was a traditional lager beer known as "Tuborg Red" from 1923.



After some time Tuborg concentrate their activity to the
Delivering beer back in the days

brewery. They sell the glassworks and after receiving compensation from the other fertilize manufacturer in Denmark they close down the fertilizer factory. 1880 the first "Tuborg Green" was delivered.

Today you just order a "Grøn" on the pub and you will get a
green Tuborg. During the 1890's they made the
first "Tuborg Gold"

1923 Tuborg started to make Soda water but, hmmm, even though they make very good beer I suggest that you stick to the best Soda water in the world Ramlösa

Many of the workers on Tuborg fled to Sweden during WW2. In January 1945 the Germans blow the brewery in to pieces in revenge for something the Danish resistance had done. Well, already the day after they delivered beer from Tuborg again. Stupid to try to stop the Danes from drinking beer.

1970 the 2 word famous brewery Tuborg and Carlsberg merged to 1 company. But the 2 brands kept their own products and identity.

Back in the days when we went to Denmark every weekend for drinking beer we always drank Gold beer. That was typical for the Swedes to drink Gold beer and get drunk quickly according to the Danes. The Danes always ordered a "Grøn".

There was a ferry line between Tuborg and Landskrona. If you want some breath taking information about the ferry line just hold on to your mouse and click HERE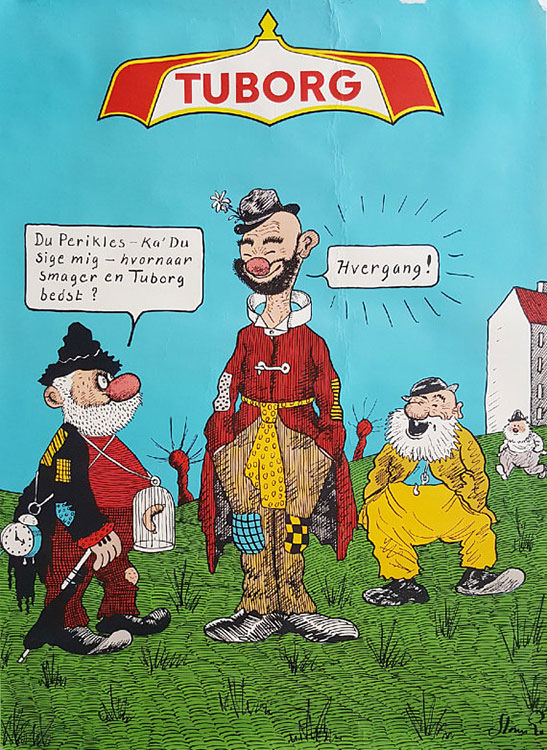 You are visitor no.
To www.aladdin.st since December 2005
Visitors from different countries since 26th of September 2011