17JUL: Nuuk town trip - museum - hiking trip - Charisma Man?



Day 7


We arrive in Nuuk and stay at the 4 star Hotel Hans Egede with the town's most stunning harbor views. The hotel is located very centrally in Nuuk and you might want to explore the nearby area a little on your own.

With traffic lights, buses and lots of cars it seems to be a busy town, but the wonderful scenery and the endless horizon automatically set the town life in another perspective. As in all other towns in Greenland, you live in close harmony with nature but with plenty of inspiration from modern life.

And as we have heard, there is a night club!

Friday 17th of July 2015 and I woke up around 9 o'clock in the morning. I looked out the window and it was yet another gorgeous day here on Greenland. Or well, as I woke up on board Artic Umiaq Line's ferry Sarfaq Ittuk I'm actually just of the coast of Greenland.

The sea look like a windmill pond, some swell so we're rolling slightly. I had missed the breakfast and I went down to the coffee shop to see if there was something to buy. There were plenty to
buy, but I wanted something breakfast like. We started with the hugging.

I had been there yesterday and the Cashier rose up to hug the guy in front of me. When it was my turn I asked for a hug as the other guy had got. She rose from her chair and she came around to give me a hug. She also explained that the other guy's sister had
died and that was the reason for the hug. But I like the attitude, a customer tells you that his sister had died and the Cashier came around to comfort you with a hug.

Well, anyway, today we started with a hug and I bought 2 cheese and ham sandwiches that I brought to my cabin.

I finish my breakfast in my cabin and I go up on weather deck. I only see two people from my

Narwhal


a small Arctic whale, the male of which has a long forward-pointing spirally twisted tusk developed from one of its teeth

group. Our Guide and a guy from Australia. Our Guide had also been sleeping late and he was eating dry cod fish for breakfast. Well, better than the Narwhal

It was a gorgeous day and we were slowly steaming towards Nuuk in the North. Another 3 and a half hours to go. Our Guide told me that he had found a whale watching tour for me in Ilulissat on the 19th when we arrive.

Good, whale watching in the afternoon and midnight sailing among the icebergs in the evening. Looks to be yet another beautiful day on Greenland for me. And I miss two whales, the Narwhal and the Killer whale, will I see them in Ilulissat?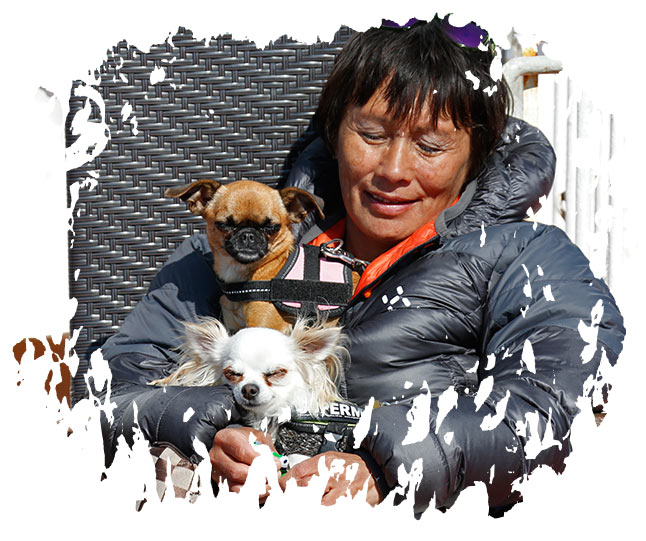 I was, well, it was a beautiful view from the weather deck, but I have seen plenty mountains in my life so I went to my cabin to up-date my web page. I have given up the idea with internet and I
will upload it when we're at the hotel in Nuuk.

And I decided to skip lunch, this school canteen styled lunch, well, it is not for me. And I just had 2 sandwiches with a diet drink. So I will survive until we arrive to Nuuk. And I really need to shape up with my diet. Heel, my diet capsized and sank somewhere between Bangkok and Copenhagen back in June.

Thai Airways always serves good food. And I will soon be back at Österns Pärla in Helsingborg. But when I'm back home I will really get serious with the exercise and boxing.


Lunch time
Lunch time
Lunch time
I pay my bill and get a refund for my internet
I pay my bill and get a refund for my internet


I was impressed by the staff in the cafeteria, they were always happy. So it was always a
pleasure to run in to them where ever it was on the boat
- OH! Mr. Handsome

Anyway, we're all very happy that we're about to reach Nuuk and the end of the ferry trip. By now it is getting a wee bit tedious, of course, a few whales would have changed the situation remarkably. Or even a few icebergs that would have made the journey a little bit more exciting.

I was in my cabin with Shazaam kicking arse on full blast when it knocked on my door. I thought they were here to complain about the music. But they asked me to move out as they need to get started with the cleaning of the cabins for the new passengers coming here in Nuuk.



I packed my bags and I went on deck to see Nuuk while we were approaching the town. I could see some apartment buildings on the mountains outside Nuuk. Otherwise there wasn't much to tell us
there was a town. We could see a terminal and a Royal Arctic Line ship alongside the terminal.

As we came closer we could see some more houses but nothing reminding of a town. We came alongside at 3 o'clock in the afternoon and there were some people on the jetty waiting for friends/ relatives coming with the ferry. We were soon off the ferry and there was a taxi waiting for us. A taxi for 7 passengers and the car will have to go two times to get us to Hotel Hans Egede. I was waiting to get on the second trip, but as the front seat was empty on the first trip I got in to the taxi and we took off towards the hotel in "down town" Nuuk


Approaching Nuuk
Approaching Nuuk
Approaching Nuuk
Arriving to Nuuk
People waiting for us to arrive
Arriving to Nuuk
Passengers waiting to get off the ferry
Our taxi
Arriving to our hotel
View from my hotel room


I checked in to the hotel and I was soon to discover that there wasn't any mini bar in the room. I went to the shop next door and I bought a "hangover kit". Choco milk and juice and I'm sad to say,
Kim's Sprøde Flæskesvær

And I'm very sad to say that I bought 3 bags. And I was even more sad coming back to my room to discover that it is
JUMBO sized bags after ripping the first bag open.

Do they have any normal sized stuff here on Greenland? Maybe soon as they have international influences coming to Greenland as well. Among them the Singaporean push the happy to sad face rating of the service

Anyway, I finished one bag of Kim's Sprøde Flæskesvær and I felt bad, both physical and mentally. This was not what I have had in mind when buying the darn Kim's Sprøde Flæskesvær

We were going to meet in the reception a 16:15 for a 2 hour walking tour through the Nuuk. Most
of the museums are closed by now, but we will pass some of them so we know where they are tomorrow, for those of us that want to visit a museum or two tomorrow.

But I have my hangover kit and I will not visit any museums tomorrow. And I will for sure not join them on their 15 km hike tomorrow afternoon. They will meet in the reception at 1 o'clock tomorrow afternoon and I told our Guide that I would
not join them as I had "other" things to do by then.

We left the hotel for our walking tour around Nuuk. And we ran in to the first attraction just outside the hotel.

The traffic light and we were so lucky that we got to see the light changing to red light. I had actually expected quite a crowd at the traffic light having a look at the main attraction in the city. We ran in to a street market across the road from the hotel and, well, there was nothing I wanted to buy. And that is even though they had a rope for sale, and Rod Stewart's greatest hits.


One of Nuuk's main attractions just outside the hotel.
And I could not believe my luck, I got to see the traffic light change to red
Across the street and there is a street market. And we can see what kind of shit they try to sell. Rod Stewart's greatest hits!
At the fish market and one of the workers point out on a
whale poster what endangered spices that are on sale today
Nuuk walking street
Old Nuuk
Old Nuuk
Nuuk from the top of the hill
We walk along the water front
I'm walking around looking for a place with music
Selling balloons and cotton candy

I left the group around 6 o'clock and I went to look for a place with good music. I was surprised
to find myself in a small shopping mall. I had met three guys and they told me that there were some places around the Grønlenske Bank building.

I went there and I was soon in a place called Lego Bar or something like that and I had my first ever beer on Greenland.






The Lego Bar was like a Danish Bodega and a Danish bodega is for sure not any high end place. The toilet is like a toilet in a prison cell (have I heard) everything in stainless steel, even the mirror on the wall was made out of stainless steel.

I had a beer and the beer was good, of course I asked for a San Miguel Light but they just gaped at me and I got a Grøn Tuborg. Well, Grøn Tuborg is a very good beer, but the music left a wee
bit to wish for. But the girl behind the bard has soon some good music going on and I asked for my second Grøn Tuborg.

I was soon sitting with 6 empty beer bottles in front of me. Yes, Charisma Man was on the way to Nuuk. Of course he is, after the amount of money I have paid for this trip I expect the full experience. And to come back home to FUNKY TOWN without having experienced the nightlife in Nuuk would be a failure.

I would have spent the rest of my life wondering about the night life in Nuuk. So yes, I was tipsy and the stainless steel toilet had turned in to something very nice and I was thinking about redecorate my condo in stainless steel.

Of course not, the toilet was kind of nasty even when I was tipsy. Brought back some memories I really don't cake for. Anyway, I left for another place across the street.



The pub Maximut and they had some really good music on when I entered the place. I asked for a
beer and as soon as I had my first sip the music turned in to shit.

I was soon enjoying my second beer and I was arranging the music and things were soon getting FUNKY. And what a difference good music are making. A mediocre pub had turned in to the FUNKY spot of Nuuk and it was very fun. Two beers were soon turning in to several beers. I was also recommended the Skyline Bar at hotel Hans Egede. I was told that this was the place for the "nice" people
- What the
is the "nice" people?
- You know, the rich people
- Are you joking?

I checked out the Skyline bar when I returned to my hotel to leave my camera, would be perfect to wake up without my new camera tomorrow. I had a few beers before leaving the Skyline bar.


Skyline Bar at hotel Hans Egede in Nuuk
Skyline Bar at hotel Hans Egede in Nuuk
Skyline Bar at hotel Hans Egede in Nuuk
Some place I don't remember the name of
Some place I don't remember the name of
Some place I don't remember the name of
Some place I don't remember the name of
2 or 3 o'clock in the morning
2 or 3 o'clock in the morning
And it seems like they are running the traffic light attraction 24 foocking 7


I was back in my room between 2 and 3 o'clock in the morning and it had been a nice evening. So if you come to Nuuk you should at least get out one night. And what have surprised me most of all are all the beautiful Greenland girls. I had expected. Well, I have seen a few of the Greenlanders in Denmark and the girls have for sure not been very beautiful. Mostly tragic to see them, drunk and toothless

Anyway, now I have experienced the night life in Nuuk and tomorrow will be spent with my hangover kit in my room. And to experience a hangover in Nuuk, just click HERE!



Jimmie Åkesson Almedalstal 2015
OK, it has come to my knowledge that we have senior citizens visiting my web page. How hard can it
be? So it's not very easy for them to see the blue coloured links to the next page.

Jiffy (also jiff)


noun [in SING.] informal a moment: we'll be back in a jiffy.

ORIGIN late 18th cent.: of unknown origin.

So as you understand, in a jiff pretty much depends on your internet.

So I put a "Next" button here and I hope that there isn't any problem to understand how to use that one. So just CLICK the "Next" button on your left hand side and you will be on the next page in a jiff!
Marunong ka mag-tagalog? Walang problema! Magpunta sa kabilang pahina pindutin ang "NEXT" button sa itaas


Faites vous parlez le français? Pas de problème! Pour arriver à la page suivante faites s'il vous plaît un déclic le bouton "Next" ci-dessus!


Haga usted dice el español? No hay problema! Ver la siguiente página sólo hacer clic el botón "Next" encima!


Farla parla l'italiano? Non problemi! Per vedere la prossima pagina lo scatto per favore giusto Il bottone "Next" sopra


Sprechen sie Deutsch! Kein problem! Wenn Sie die folgende Seite sehen wollen gerade klicken der Knopf "Next" oben!


คุณพูดภาษาไทยได้ไหม ไม่มีปัญหา ถ้าคุณต้องการไปหน้าถัดไป ให้กดปุ่ม "Next" ข้างบนนี้


Вы говорите по-русски? NJET PROBLEMA! Просто нажмите синюю кнопку "Next" с левой стороны и Вы моментально переместитесь на следующую страницу!


E ni Svenskar och inte förstår Engelska så ska ni skämmas. J och Björn, med det menar jag inte att alla mina stavfel ska ältas varje gång vi träffas.


Well, the flag of Skåne, just a BONUS flag.
You are visitor no.
To www.aladdin.st since December 2005
Visitors from different countries since 26th of September 2011