Sunday 19th of July 2015 and I was in the reception a minute later and the girl from World of Greenland was in the reception waiting for me. We were soon in the van on our way to the boat in the
marina. We will be 8 passengers on this whale watching tour. So it is OK, not too much people on board. All passengers went inside but I went forward to sit outside in the front.

I also discovered that the ferry we had been on going to Nuuk was in port. I think the ferry goes from South to the North during the summer. Looking around and it was hard to believe it was summer with all the ice from the Ilulissat

Ilulissat Icefjord


Greenlandic: Ilulissat Kangerlua is a fjord in western Greenland. Ilulissat Icefjord was declared a UNESCO World Heritage Site in 2004.

It runs west 40 km from the Greenland ice sheet to Disko Bay just south of Ilulissat town. At its eastern end is the Jakobshavn Isbræ glacier (Greenlandic: Sermeq Kujalleq), the most productive glacier in the Northern Hemisphere. The glacier flows at a rate of 20–35 m per day, resulting in around 20 billion tonnes of icebergs calved off and passing out of the fjord every year.

Icebergs breaking from the glacier are often so large (up to a kilometre in height) that they are too tall to float down the fjord and lie stuck on the bottom of its shallower areas, sometimes for years, until they are broken up by the force of the glacier and icebergs further up the fjord. On breaking up the icebergs emerge into the open sea and initially travel north with ocean currents before turning south and running into the Atlantic Ocean. Larger icebergs typically do not melt until they reach 40-45 degrees north (further south than the United Kingdom and level with New York City).

From Wikipedia, the free encyclopedia

Icefjord just South of Ilulissat.

Ilulissat Glacier calving and the pressure had released a huge iceberg blocking the Ilulissat Icefjord Friday morning and the whole Disko Bay was full of ice. And this is the reason for the whale watching tour was delayed.

The entrance to the port was blocked with ice and we had a hard time to find our way out between the ice. It was kind of cold up front but I enjoyed every minute of it. And I was soon joined by another enthusiast and his camera. And it was a beautiful trip through the ice in search for open water so we could start look for the whales. It was cold, but I would not miss it for anything.


Port of Ilulissat blocked with ice

We were fighting our way through the ice for more than an hour and it was a beautiful trip. When we reached open water it didn't take long before I discovered a spray at 2 o'clock. I gave the internationally recognised sign for spray from whales at 2 o'clock to our driver and he changed course and the other passengers came forward to me and my new friend form Los Angeles.

Now a beautiful experience started, a whale and here calve was swimming and they entertained us for an hour or so before we returned to Ilulissat. I had many beautiful pictures and we were all in a very good mood. The whales were swimming right next to us and we could also see the typical white Humpback fin when they were swimming under us.


A Humpback whale and a baby whale
A Humpback whale and a baby whale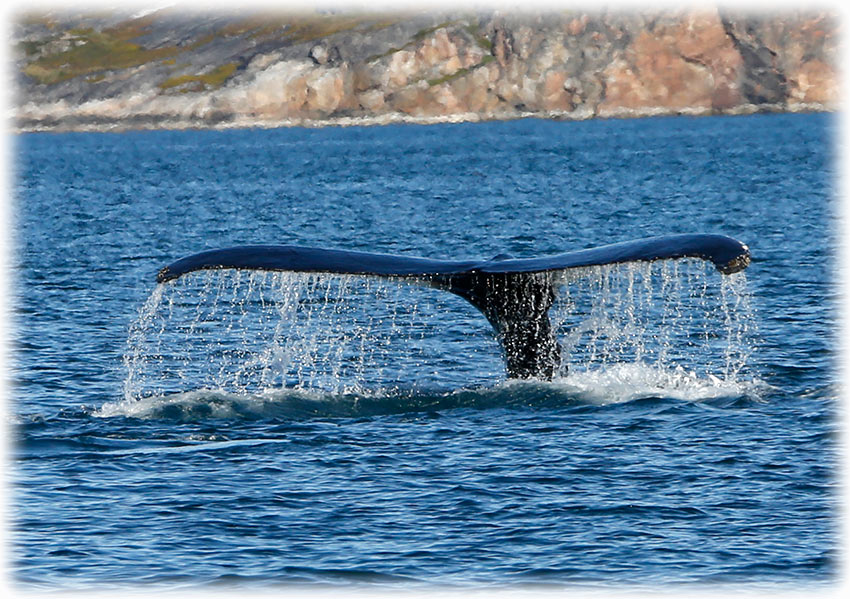 Fantastic, just a few meters in front of the boat
Fantastic, just a few meters in front of the boat
This experience will be hard to beat, but now it is time to return to Ilulissat

There was not one single person on board, crew and passengers that wasn't amazed when it was
time for us to go back in to the ice to try to find a way back to Ilulissat

We were very happy and the crew was very satisfied with the Humpback whale show, better than any movie I have ever seen and this is something you never grow tired of to see. Now we have to find a way back to Ilulissat through the ice. It was soon only me and my new friend from Los Angeles remaining outside up front of the boat. We were
having our cameras stand-by, always ready to take a picture.

My new friend from Los Angeles is mostly interested in taking pictures of birds and we have only seen some Ravens and Seagulls. But they look nice when they fly over the ice.

And I was getting hungry, nothing to eat since breakfast so I will have a quick dinner when I'm back at Hotel Arctic before we're leaving for the "midnight sailing among icebergs" tour.


We follow one boat that clear the way from ice for us
We follow one boat that clear the way from ice for us
We follow one boat that clear the way from ice for us
We follow one boat that clear the way from ice for us
We approach Ilulissat
Ilulissat port is blocked with ice
We manage to get in to Ilulissat port
We can see our hotel
We manage to get in to Ilulissat port


We were back in port shortly after 8 o'clock and we were soon on World of Greenland's van on the way to Hotel Arctic. Everyone was beaming of joy in the van after our Humpback whale experiences during the whale watching. But now it was time for dinner, and it had to be a quick one as we were leaving with the 21:40 shuttle to catch the boat for the midnight sailing. Restaurant was full and I asked them what kind of place they were running as the hotel guests couldn't get anything to eat. I see posters everywhere about how foocking great Hotel Arctic and their food is.

Was not possible to have lunch as they closed at 14:00. And dinner, yeah, the restaurant was full. I asked them what the
and they told me that I could go to the second floor as they had a restaurant there as well. Yeah, what do they have?

As I suspected, hamburgers and stuff like that. I ordered a steak with nothing and 2 bowls of boiled potatoes with plenty dill. I meet our Swedish couple and they were having their dinner
- Did you get boiled potatoes?
- Yes, and you enjoy your French fries
- They told us they didn't had any boiled potatoes!
- Well, I got both boiled potatoes and dill. French fries was exciting when you were a teenager.

Anyway, I was soon on my way back to the marina for the midnight sailing among icebergs. The remaining passengers from my group had left ad I was waiting for the shuttle. We were on our way when they called and told the driver to drop me in the marina as they were waiting for me.

They had told me that we would meet outside World of Greenland's office but this had obviously changed and it was straight to the marina. Click HERE for some sailing among the iceberg extravaganza. Yet another adventure I have been looking forward to.



OK, it has come to my knowledge that we have senior citizens visiting my web page. How hard can it
be? So it's not very easy for them to see the blue coloured links to the next page.

Jiffy (also jiff)


noun [in SING.] informal a moment: we'll be back in a jiffy.

ORIGIN late 18th cent.: of unknown origin.

So as you understand, in a jiff pretty much depends on your internet.

So I put a "Next" button here and I hope that there isn't any problem to understand how to use that one. So just CLICK the "Next" button on your left hand side and you will be on the next page in a jiff!
Marunong ka mag-tagalog? Walang problema! Magpunta sa kabilang pahina pindutin ang "NEXT" button sa itaas


Faites vous parlez le français? Pas de problème! Pour arriver à la page suivante faites s'il vous plaît un déclic le bouton "Next" ci-dessus!


Haga usted dice el español? No hay problema! Ver la siguiente página sólo hacer clic el botón "Next" encima!


Farla parla l'italiano? Non problemi! Per vedere la prossima pagina lo scatto per favore giusto Il bottone "Next" sopra


Sprechen sie Deutsch! Kein problem! Wenn Sie die folgende Seite sehen wollen gerade klicken der Knopf "Next" oben!


คุณพูดภาษาไทยได้ไหม ไม่มีปัญหา ถ้าคุณต้องการไปหน้าถัดไป ให้กดปุ่ม "Next" ข้างบนนี้


Вы говорите по-русски? NJET PROBLEMA! Просто нажмите синюю кнопку "Next" с левой стороны и Вы моментально переместитесь на следующую страницу!


E ni Svenskar och inte förstår Engelska så ska ni skämmas. J och Björn, med det menar jag inte att alla mina stavfel ska ältas varje gång vi träffas.


Well, the flag of Skåne, just a BONUS flag.
You are visitor no.