Saturday 31st of March 2018 and I had my sad to say, but good for my diet, last breakfast at Tiger Tops Karnali Lodge. I went out to the car, should have been here at 5 thirty, but never came until 6 o'clock something. Never mind, I was just ready with the breakfast when the car arrived. We were soon on our way towards Chitwan National Park on the very bad road from Tiger Tops Karnali Lodge to the Mahendra Highway.


My home for the next 8 houts or so
Leaving Tiger Tops Karnali Lodge for the last time
On the highway
The sun is coming up over the forest
Mahendra Highway


(Nepali: महेन्द्र राजमार्ग), also called East-West Highway (Nepali: पुर्ब पश्चिम राजमार्ग) runs across the Terai geographical region of Nepal, from Mechinagar in the east to Bhim Datta in the west, cutting across
the entire width of the country. It is the longest highway in Nepal and was constructed by CPWD/PWD Nepali and Indian engineers.

Overview
The highway is mostly a single lane in each direction. It is a major infrastructure element because east-west travel was previously limited to the Hulaki Highway built during the Rana regime, expensive and limited air travel, or Nepalese trains and buses. The highway crosses the Terai from east to west for over 1,000 kilometres.

The major destinations along and around the highway are Mechinagar, Bhadrapur, Itahari, Janakpur, Bharatpur, Butwal, Siddharthanagar, Nepalganj, and Bhim Dutta. Other towns on the Mahendra Highway are Birtamod, Damak, Inaruwa, Lahan, Narayangadh, Bardibas, and Chisapani

South of the highway are five official border crossing points between Nepal and India.

Infrastructure in Nepal remains neglected despite the very few "highways" that exist. The busiest highways, including Prithivi Highway, all suffer from heavy traffic.

From Wikipedia, the free encyclopedia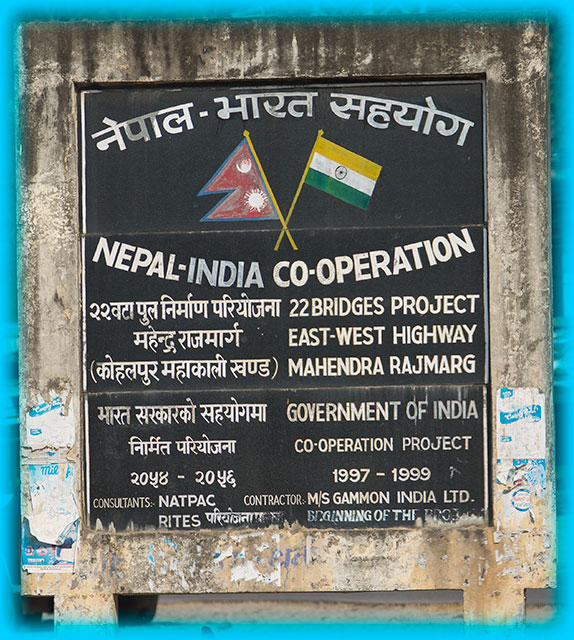 Sign at Karnali Bridge in Chisapani






We're hauling arse down highway # H1 and after 30 minutes or so I was confident with the driver. He was driving good so I had a power nap in the back seat. He was keeping 80 km/h, sometimes 90 so I expected to be at Tiger Tops Tharu Lodge in Chitwan National Park in a jiff. But, well, if they say 8 hours it is 8 hours or more. It was OK until we reached the mountain.

Going up the mountains on twisty roads with TATA trucks trying to get up the mountains in 15km/h. And the Mahendra Highway is a great showcase for TATA as there is broken down TATA trucks everywhere along the Mahendra Highway.

And BOOM! Our average speed went down to almost zero. But I enjoyed the ride looking at the landscape passing by outside the window. And of course, I kept an eye out for tigers in the forest while driving by. Never know what's showing up on the road side.


Yet another check-point
Going up the mountains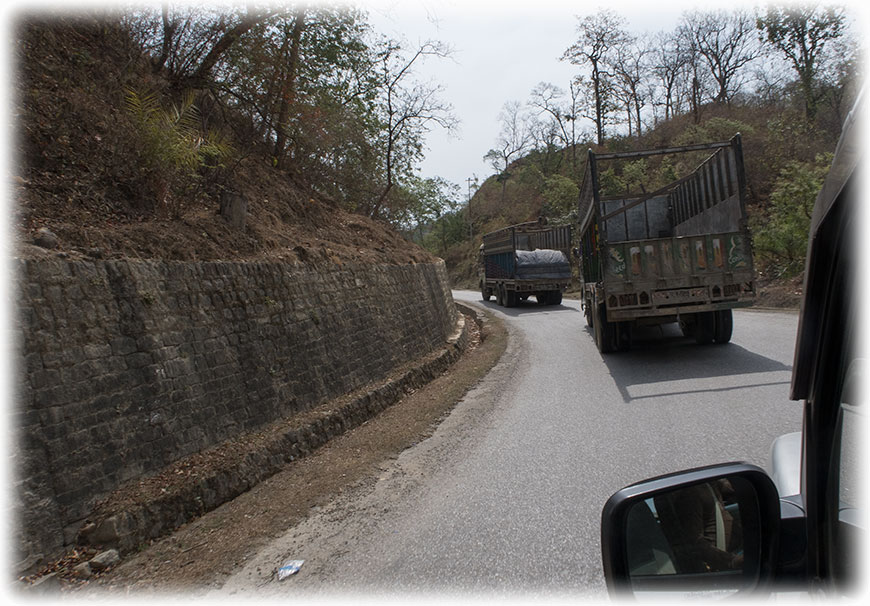 Going up the mountains
We're not going to break any speed records here
We're not going to break any speed records here

We come down from the mountains and we're making a little bit more of a speed, not much, but anyway. We're passing a city, Chandrauta and suddenly I see a bird sitting on the wire. Looking like a beautiful Black-winged Kite. I asked the Driver to stop and I got a few pictures of the beautiful Kite.

But when I check the pictures I see that the bird have yellow eyes. And according to all the books I have checked, and all the Black-winged Kites I have seen have red eyes.

But I got help from BirdForum and I learned that juvenile Black-winged Kites have yellow eyes. Great! Learning something new every day.


Black-winged Kite
Black-winged Kite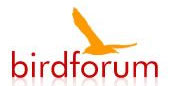 Thanks'


Rafael at BirdingForum for helping me identify the yellow eyed Black-winged Kite



++++++++


Your ID is correct regarding the raptor. Eye-colour is age related. The bird in your photos is a juvenile (as you can see by checking the white tips to the wing-coverts); adults will have red eyes.

__________________
Rafael

http://www.flickr.com/photos/18665593@N00/




We drove through Chandrauta and I kept my eye out for more birds on the wires along the road. We left the "highway", highway, what a joke to call it a highway. But I guess it is a highway comparing with roads around here. I had expected nice roads to Lumbini as this is a world famous place. And a Buddhist pilgrimage site and people are coming from all over the world and, yes, the road was almost none existing!!

And coming in to Lumbini, well, I was disappointed. I really don't know what I had expected, but it was only dust and the closer we came the more the place looked like a circus.

And here was for sure nothing that looked to be a 5 star hotel, and it didn't look like a place that would have a 5 star hotel.


We're driving in to Lumbini
Lumbini was really not what I had expected it to be
Lumbini was really not what I had expected it to be
Lumbini was really not what I had expected it to be

I checked the internet for hotels that looked like they had an OK restaurant. Baya Bhuddist Garden or something like that was what I found. We found the place and I had lunch with my driver and it was Ok. When we were ready we drove back to the Buddha Park. There is a gate and we parked the car. And as we don't have much time my plan was to go around the place in 5 minutes and we could be on our way again.

But we were not allowed to go in with the car, but there was some motorcycle rickshaws outside the gate. I rented a rickshaw and we went through the gate and I was very disappointed, we were only going up to yet another gate. Not allowed to enter with a rickshaw, and as you can see on the video, the place was crowded. It would take too long time to visit the place and I decided to turn around so we can get to Tiger Tops Tharu Lodge.



Lumbinī


(Nepali and Sanskrit: लुम्बिनी, "the lovely") is a Buddhist pilgrimage site in the Rupandehi District of Province No. 5 in Nepal. It is the place where, according to Buddhist tradition, Queen Mayadevi gave birth to Siddhartha Gautama in 563 BCE. Gautama, who achieved Enlightenment sometime around 528 BCE, became the Buddha and founded Buddhism. Lumbini is one of many magnets for pilgrimage that sprang up in places pivotal to the life of the Buddha.

Lumbini has a number of temples, including the Mayadevi Temple and several others which are still under repair. Many monuments, monasteries and a museum, the Lumbini International Research Institute, are also within the holy site. Also there is the Puskarini, or Holy Pond, where the Buddha's mother took the ritual dip prior to his birth and where he had his first bath. At other sites near Lumbini, earlier Buddhas were, according to tradition, born, then achieved ultimate Enlightenment and finally relinquished their earthly forms.

Lumbini was made a World Heritage Site status by UNESCO in 1997.



Lumbini entrance gate
Lumbini entrance gate
We drive through the gate to Lumbini
Lumbini and it is crowded

Back at the car and I bought a few bottles of Mango juice to have at the Tiger Tops Tharu Lodge. I was told it would take us about 2 hours to reach the hotel. We took off and we were soon in the mountains again. The road was really bad, coming in to Lumbini from West and the road was next to non-existing, leaving towards East and the road was a wee bit better, but not much.

We passed through a city and we were soon back on the Mahendra Highway whopping arse doing 30 km/h towards Chitwan. We saw quite a few trucks and cars that have drove off the road. And many trucks that have broken down.

Two hours passed and still no sign of us approaching any hotel. We drove on and on and the car got more and more uncomfortable by the minute. Suddenly we turned right and I could see a sign giving directions to Tiger Tops Tharu Lodge. First sign of us ever arriving to our destination.


Well,
On the way to Tiger Tops Tharu Lodge
A truck blocking half the highway
A truck blocking half the highway
Repairing the suspensions
First sign of the Tiger Tops Tharu Lodge
My room at Tiger Tops Tharu Lodge
My room at Tiger Tops Tharu Lodge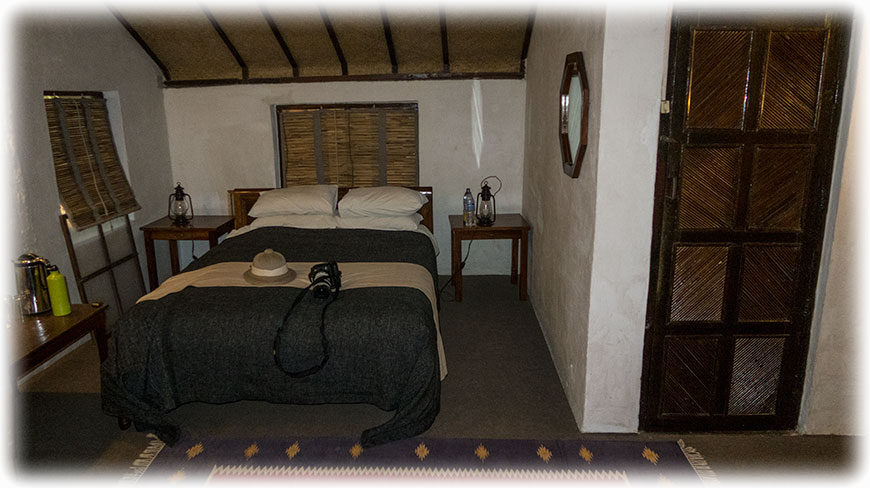 My room at Tiger Tops Tharu Lodge


It was another 15 minutes or so on a bumpy dirt road until we finally could get out of the car. I got to my room and they had prepared a desk and a chair in the room. The room looked nice and cosy and I will feel right at home here for the 5 upcoming nights.

Dinner, fruit salad and tea and I was off to bed. I had asked them to knock on my door at 4 o'clock tomorrow morning with a pot of tea. Something to look forward to. We will leave for the safari at 7 o'clock and I learned that we have to cross a river to reach the jeep and national park. I had told them that I wanted morning and afternoon safari but they told me that it was better with a full day safari.

Well, full day, kind of pointless as it is very hot during the days and birds and animals are taking shelter in the shadows. Well, we just need to click HERE to find out what we find in Chitwan National Park tomorrow, maybe tiger or leopard.


OK, it has come to my knowledge that we have senior citizens visiting my web page. How hard can it
be? So it's not very easy for them to see the blue coloured links to the next page.

Jiffy (also jiff)


noun [in SING.] informal a moment: we'll be back in a jiffy.

ORIGIN late 18th cent.: of unknown origin.

So as you understand, in a jiff pretty much depends on your internet.

So I put a "Next" button here and I hope that there isn't any problem to understand how to use that one. So just CLICK the "Next" button on your left hand side and you will be on the next page in a jiff!
Marunong ka mag-tagalog? Walang problema! Magpunta sa kabilang pahina pindutin ang "NEXT" button sa itaas


Faites vous parlez le français? Pas de problème! Pour arriver à la page suivante faites s'il vous plaît un déclic le bouton "Next" ci-dessus!


Haga usted dice el español? No hay problema! Ver la siguiente página sólo hacer clic el botón "Next" encima!


Farla parla l'italiano? Non problemi! Per vedere la prossima pagina lo scatto per favore giusto Il bottone "Next" sopra


Sprechen sie Deutsch! Kein problem! Wenn Sie die folgende Seite sehen wollen gerade klicken der Knopf "Next" oben!


คุณพูดภาษาไทยได้ไหม ไม่มีปัญหา ถ้าคุณต้องการไปหน้าถัดไป ให้กดปุ่ม "Next" ข้างบนนี้


Вы говорите по-русски? Просто нажмите синюю кнопку "Next" с левой стороны и Вы моментально переместитесь на следующую страницу!


E ni Svenskar och inte förstår Engelska så ska ni skämmas. J och Björn, med det menar jag inte att alla mina stavfel ska ältas varje gång vi träffas.


Well, the flag of Skåne, just a BONUS flag.
You are visitor no.
To www.aladdin.st since December 2005
Visitors from different countries since 26th of September 2011