Thursday 5th of April 2018 and it was raining so no bird watching in the morning. So I killed time in my room and at 8 o'clock I went for breakfast. They had asked if I wanted to go in my own car or with the mini buss to the airport. The mini bus was OK for me and it was me and 7 others in the bus going to Bharatpur Airport.

It took us about 1 hour 15 minutes to reach the airport, and it had been a nice trip and an interesting landscape had passing by outside the window.


We leave the village in the bus
On the way to Bharatpur Airport
On the way to Bharatpur Airport
Bharatpur Airport
Bharatpur Airport
Angry Foreigner's You Tube channel, click HERE


We arrived around 10 o'clock and departure was at 11:10. Checking-in and my Guide told me to hurry up. I asked why and he told me that they had an earlier flight. All flight had been cancelled yesterday due to the rain in Kathmandu. So I passed a non-existing security and I was in the departure hall. The departure hall reminded me about a run-down bus station in the Caribbean.

No information at all in the departure hall. So I had no clue about the departure hall. And then someone called out something and someone told me that it was my flight. GREAT!!!! I will be in Kathmandu before scheduled departure time. So I was in an UP BEAT mood. Of course, the size of the plane kept my spirit down a bit.


Bharatpur Airport departure hall
Bharatpur Airport departure hall
Bharatpur Airport departure hall
Our plane behind the trees
Walking to the plane leaving Bharatpur Airport behind

It was a small plane, but the flight is only 20 minutes or so, so I will survive. We walked out to the tarmac and the airplane. People blocking the boarding ladder taking selfies so I took the chance to
stand back to get a few pictures of the plane.

Coming on board and it was a very small plane, I asked for an extension climbing on board and I found my seat. I was in my seat when I discovered that they had closed the door. I had observed that the aft part of the plane was empty
and I asked the Stewardess if boarding was completed.

Boarding was completed and I moved back in the plane and I had two seats all by lonesome. It was quite comfy and the 20 minutes flight have turned from 20 minutes of pain to 20 minutes of comfort.

As on all my previous (two) flights with Yeti Airlines the Stewardess came with a basket with candy and then she
walked around with a bottle of water and plastic cups. There is really no time for anything else, but I said no thanks.

I really can't understand why they have to serve snacks/ food just because you're on board a plane. Of course, a horror 8 hours flight is different. OK, sitting up front and you're served a proper meal, then I can enjoy a "snack" if there is the time.

We started to taxi out to the runway and the pilot was revving the engines and we were soon airborne. I killed the time playing a game on my phone while I kept one eye out the window to watch the scenery. Time passed by very quickly and we were soon going down to Kathmandu Airport. And as when I arrived with Thai, the airport was congested we had to circle for a few minutes before we could land.


We're taking off
Airborne
Leaving Bharatpur behind
Unloading our luggage in Kathmandu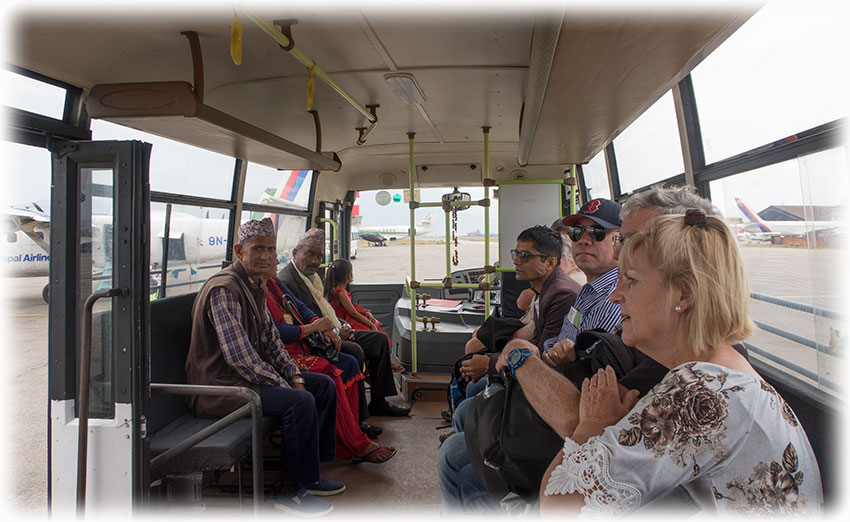 On the bus to the domestic terminal
Waiting for our luggage


I picked up my bag and I went out and as I came out the Tiger Tops Representative came and he took my luggage. We went to the car and we were soon on our way to Hotel Yak and Yeti. I asked
if we could stop at a Supermarket to look for Diet Pepsi on bottles.

We made one or two stops and I gave up. I just wanted to get to the hotel and relax, and I know that they have Diet Pepsi at the hotel. But only cans.

I checked in to the hotel and I asked the guy in the reception to send 8 cans of Diet Pepsi to my room. I took my bag and I left for the elevator to get to my room on the fifth floor.


My room at Hotel Yak and Yeti
My room at Hotel Yak and Yeti
Its knocking on my door

It was very nice to be back at Hotel Yak and Yeti after almost 2 weeks in the forest. I went for dinner and then to bed early. Wake up call at 4 o'clock and a BACK UP call 10 or 15 minutes later. The will pick me up at 5 thirty tomorrow morning for the Everest Express flight with Yeti Airlines. Click HERE to find out how Mount Everest looks from an airplane.


Du Thooommaass
OK, it has come to my knowledge that we have senior citizens visiting my web page. How hard can it
be? So it's not very easy for them to see the blue coloured links to the next page.

Jiffy (also jiff)


noun [in SING.] informal a moment: we'll be back in a jiffy.

ORIGIN late 18th cent.: of unknown origin.

So as you understand, in a jiff pretty much depends on your internet.

So I put a "Next" button here and I hope that there isn't any problem to understand how to use that one. So just CLICK the "Next" button on your left hand side and you will be on the next page in a jiff!
Marunong ka mag-tagalog? Walang problema! Magpunta sa kabilang pahina pindutin ang "NEXT" button sa itaas


Faites vous parlez le français? Pas de problème! Pour arriver à la page suivante faites s'il vous plaît un déclic le bouton "Next" ci-dessus!


Haga usted dice el español? No hay problema! Ver la siguiente página sólo hacer clic el botón "Next" encima!


Farla parla l'italiano? Non problemi! Per vedere la prossima pagina lo scatto per favore giusto Il bottone "Next" sopra


Sprechen sie Deutsch! Kein problem! Wenn Sie die folgende Seite sehen wollen gerade klicken der Knopf "Next" oben!


คุณพูดภาษาไทยได้ไหม ไม่มีปัญหา ถ้าคุณต้องการไปหน้าถัดไป ให้กดปุ่ม "Next" ข้างบนนี้


Вы говорите по-русски? Просто нажмите синюю кнопку "Next" с левой стороны и Вы моментально переместитесь на следующую страницу!


E ni Svenskar och inte förstår Engelska så ska ni skämmas. J och Björn, med det menar jag inte att alla mina stavfel ska ältas varje gång vi träffas.


Well, the flag of Skåne, just a BONUS flag.
You are visitor no.