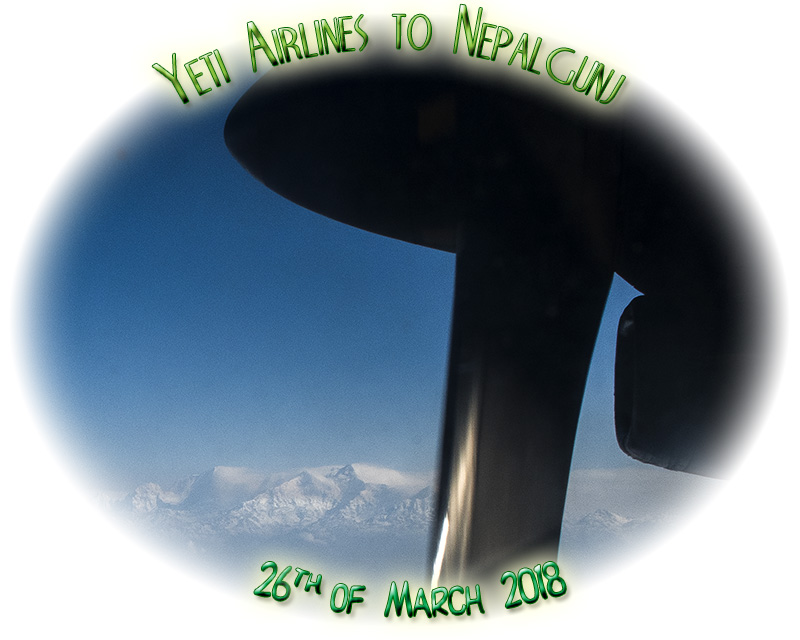 Monday 26th of March 2018 and time to fly with Yeti Airlines for the first time ever, nothing I'm looking forward to. But it is for 50 minutes only so I hope it will be OK. An empty seat next to me would be like winning the lottery for both me and the passenger that would have been seated next to me. Let's see how the flight turns out. But I'm a little worried, mostly due to the seat. But it seems like there is a lot of air disasters in Nepal.



Accidents and incidents
25 May 2004 – Yeti Airlines Flight 117: A Yeti Airlines de Havilland Canada DHC-6 Twin Otter (Registration: 9N-AFD) cargo flight crashed into a hill on approach to Lukla.

21 June 2006 – 2006 Yeti Airlines Twin Otter Crash: A DHC-6 Twin Otter registered 9N-AEQ was destroyed in a rice paddy on approach to Jumla, killing all six passengers and the crew of three.

8 October 2008 – Yeti Airlines Flight 103: A DHC-6 was destroyed upon landing at Lukla, killing all eighteen passengers and two of the three crew. The captain was the only survivor.

24 September 2016 - Yeti Airlines Flight 893: A BAe Jetstream 41 registration 9N-AIB en route from Kathmandu to Bhairahawa overran the runway while landing at Gautam Buddha Airport. All 29 passengers and the crew of 3 were unhurt but the aircraft was damaged beyond repair.



The following is the text of the notice on the AirDisaster.com forum pages after the server crash:


"Dear AirDisaster.Com Forum members,
At about 3pm U.S. Pacific Time today, the web server that hosted the AirDisaster.Com forums suffered a catastrophic failure which rendered both hard drives useless and irrecoverable. Unfortunately, one drive in this server contained the live forums database, and the other contained the daily database backups.

With this in mind, I'm sorry to report that, effective immediately, the AirDisaster.Com Discussion Forums are closed permanently. These forums were home to hundreds of thousands of posts, and to attempt to start from scratch at this point would be futile, in my opinion.

For those of you looking for a place to continue discussing aviation safety, we have introduced a new Aviation Safety Discussion Forum at our sister site, JetPhotos.Net. While I know this isn't the ideal solution for many of you, I would still invite all of you to visit the JP.Net forums, sign up, and participate!

On a personal note, to me, this is the end of an era. These forums were regarded as the most authoritative aviation safety forums on the internet, for a period of almost 10 years. On top of that, they were home to many friendships, some rivalries, and spawned at least one successful marriage. That, above all else, will be the legacy of these forums long after they're gone.

I'd like to thank each and every one of you who helped to make the forums as successful as they were, and would like to thank, especially, the administrators, moderators, and industry forum hosts who devoted their free time to make this place the best it could possibly be.

I guess that's about it. I hope to see many of you over at the JetPhotos.Net forums, and to those of you who will no longer participate, the best to all of you for a bright and prosperous future.

Last one out, hit the lights!

Chris Kilroy Editor, AirDisaster.Com




I was in the reception quarter past 6 and the Tiger Tops representative was already there waiting for me. The breakfast starts at 6 thirty but they had already started and I had a plate of sausages, not very good, but better than nothing. We left the hotel at 6 thirty and we were at the Kathmandu Domestic Terminal 10 minutes or so later.

Looked well run down walking through some, well, I don't know what it was. But it looked to be hundreds of years old. Then a modern glass house that turned out to be just a modern looking glass front/ facade. But the interior and the building was at least as old as the history of aviation in Nepal. No no no, it was not bad, quite the opposite, it was very interesting.


Arriving to the Domestic terminal in Kathmandu
First we have to walk through something...
WOW! This looks to be modern, new and fresh and I was surprised!
Line up for some kind of security before we can enter the terminal
Lining up to check in to Yeti Airlines flight YT 421 from Kathmandu to Nepalgunj


You have to pass a, well, pointless security before entering the domestic terminal. You send your bag through an x-ray machine and a guy path you down. He looked at my e-cig and, well, I was soon in line to check-in. I don't think they spoke any English, but I managed to get an aisle seat. I continued to yet another security, send my back pack through the x-ray. It was kind of refreshing, no one asked me to take out the lap top. The bag was the only thing going through the x-ray. No metal detector so they pathed me down again

2 entrances at the security, 2 openings in the wall covered with drapes, one marked LADIES and one GENTLEMEN. By now it was 7 or just a few minutes after 7 and departure time 7 thirty. But the Tiger Tops representative told me that they were always delayed. Anyway, I walked through the drape and I came out in a departure hall, well, it was a very old terminal.


Check-in hall
Check-in hall
Another security check to be passed before the departure hall
Another security check to be passed before the departure hall
Another security check to be passed before the departure hall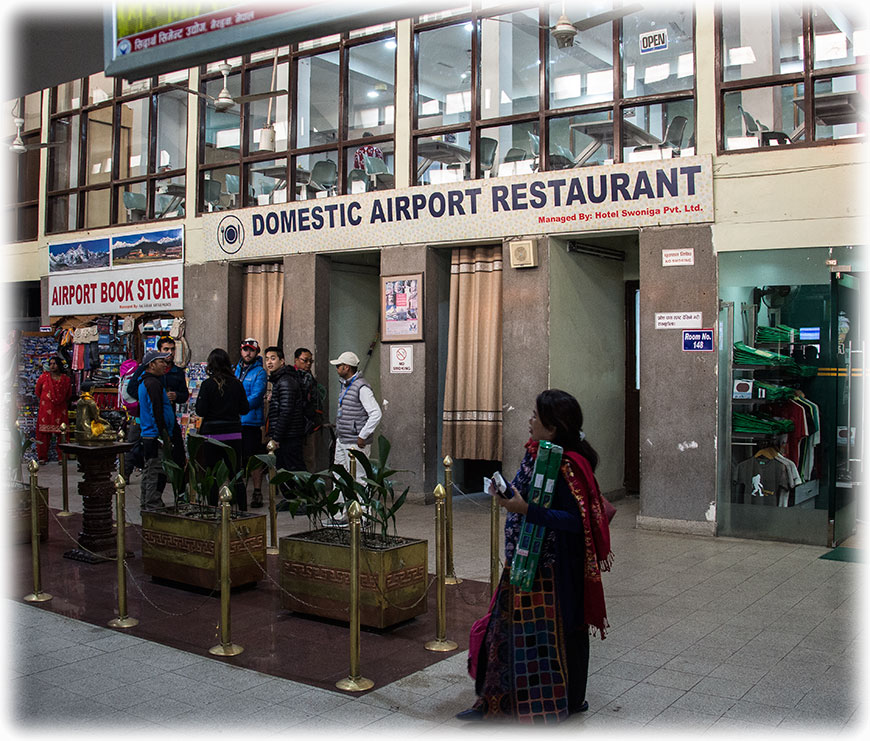 Coming out in to the departure hall from the security behind the drapes
Coming out in to the departure hall from the security behind the drapes
In the departure hall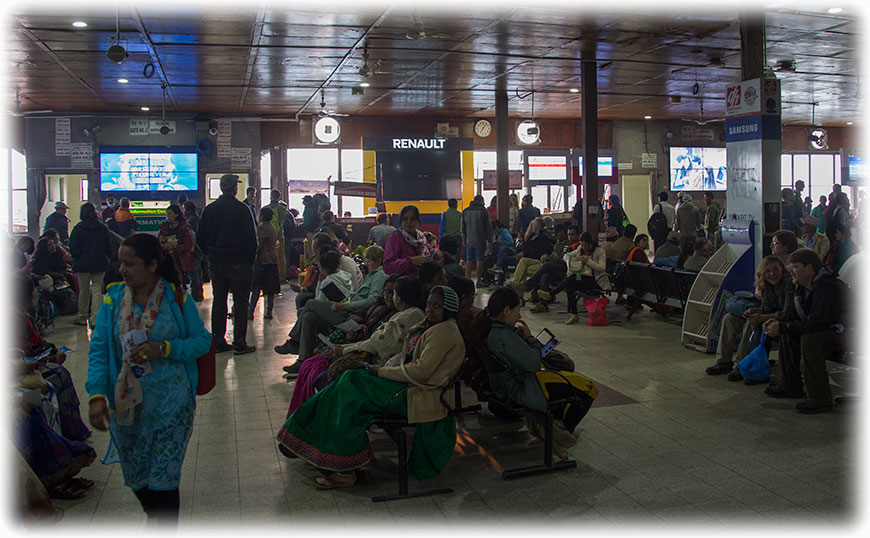 In the departure hall


2 gates and I'm obviously going through gate #2 And Yeti Airlines have two flights departing at 7 thirty, my flight to Nepalgunj and flight YT 303, the Everest Experience flight that I will take when I'm back from the tiger safaris. And they called for boarding of our flight. I was number 5 in the line, became #7 as I let a lady and her child go ahead of me. Yes, that's how I operate.

4 People boarded and went out to the bus, then they stopped boarding, sent back the 4 passengers that had boarded all ready.

Then they started to board the YT 303, EVEREST EXPERIENCE flight instead. I was kind of happy to see that most of the passengers at gate 2 disappeared on the "Everest Experience" flight. I could follow the progress of our flight on the monitor. Boarding to delay to 08:00 and then the airport was closed. 30 minutes delay was OK, but Tiger Tops representative told me that sometimes they were delayed by hours before he left this morning.


Changing the status of the flight
YT 421 delayed and YT 303 is boarding now
I hope we can leave at 8 o'clock


I walked around the domestic departure hall and even though it was exciting there wasn't enough "excitements" to keep me excited for very long. So when we started to board quarter to 8 something I was very happy, and this time I was first through the boarding and out on the parking lot in front of the airport building.

There were many busses but they directed me to one bus and I stepped on board. Some 10 to 15 minutes later we left for the airplane parked on the tarmac together with many other small aircrafts. I recognised the plane type, enter in the back, yes the same as I had been on flying to Tonga and Borneo. So I knew that I would fit in the seat, but it would not be very comfy. But it is 50 minutes only so I will survive.


Busses
Waiting for the buss to be full
I recognise the aircraft
One more buss with passengers arrive
Working my way towards my seat
Safety introduction
Safety introduction

Boarding completed and I noticed that many seats were empty up front so I moved up front after the safety instructions. I also noticed that many of the passengers were also actually studied the safety card in the seat pocket in front of them.

I got a window seat and I enjoyed my new seat and the empty seat next to me, it was a very misty morning so there was not much of a view to enjoy. But as soon as we cleared the haze, same yesterday coming here, we were flying above a grey haze. Anyway, there wasn't any clear view below us and we were flying over a beautiful landscape. Mountains and villages and walk paths between the villages. And I guess transportation was done the same way as when I was trekking here 25 years ago, by donkeys.

But above the haze, maybe the most spectacular view you can have from an airplane, the Himalayas.


Spectacular views
Mountains under us, road on the crest of the mountain
Spectacular views
Spectacular views
Mountains under us, road on the mountain side
Flying over a dry river
Approaching Nepalgunj
Time to get off the plane


We were offered some candy and cotton to put in our ears before take-off. After take of the Stewardesses brought a bag of peanuts, appreciated as I was getting a wee bit hungry. The landscape below us became flat. We flew over dry rivers and forests and it was soon changing to an agricultural landscape, still hazy.

The flight had been a nice, thanks to me changing seat and I could enjoy the views through the window. But honestly, I don't know what I appreciated the most, the view or the empty seat next to me. Anyway, time passed quickly and we were soon descending to Nepalgunj Airport. Spectacular views, empty seats and peanuts, never mind, it was nice to get off the plane.

Walking from the plane to the luggage claim and I was reminded about both Tonga and Borneo again. The rolled up the cart with our luggage and the handed out the luggage over the counter. I met the Tiger Tops representative.


Another flight have arrived just before us
Nepalgunj Airport terminal
Coming off the plane
We get our luggage


Two hours from the Airport to Tiger Tops Karnali Lodge and just after a few minutes in the run down van I knew that it would not be a pleasant ride. But two hours is OK, click HERE to find out if we make it to the Tiger Tops Karnali Lodge


OK, it has come to my knowledge that we have senior citizens visiting my web page. How hard can it
be? So it's not very easy for them to see the blue coloured links to the next page.

Jiffy (also jiff)


noun [in SING.] informal a moment: we'll be back in a jiffy.

ORIGIN late 18th cent.: of unknown origin.

So as you understand, in a jiff pretty much depends on your internet.

So I put a "Next" button here and I hope that there isn't any problem to understand how to use that one. So just CLICK the "Next" button on your left hand side and you will be on the next page in a jiff!
Marunong ka mag-tagalog? Walang problema! Magpunta sa kabilang pahina pindutin ang "NEXT" button sa itaas


Faites vous parlez le français? Pas de problème! Pour arriver à la page suivante faites s'il vous plaît un déclic le bouton "Next" ci-dessus!


Haga usted dice el español? No hay problema! Ver la siguiente página sólo hacer clic el botón "Next" encima!


Farla parla l'italiano? Non problemi! Per vedere la prossima pagina lo scatto per favore giusto Il bottone "Next" sopra


Sprechen sie Deutsch! Kein problem! Wenn Sie die folgende Seite sehen wollen gerade klicken der Knopf "Next" oben!


คุณพูดภาษาไทยได้ไหม ไม่มีปัญหา ถ้าคุณต้องการไปหน้าถัดไป ให้กดปุ่ม "Next" ข้างบนนี้


Вы говорите по-русски? Просто нажмите синюю кнопку "Next" с левой стороны и Вы моментально переместитесь на следующую страницу!


E ni Svenskar och inte förstår Engelska så ska ni skämmas. J och Björn, med det menar jag inte att alla mina stavfel ska ältas varje gång vi träffas.


Well, the flag of Skåne, just a BONUS flag.
You are visitor no.
To www.aladdin.st since December 2005
Visitors from different countries since 26th of September 2011