Introduction


The company will send me for a firefighting course. I chose to take the course end of May
hoping to get some nice spring/ summer weather.

They wanted to send me to another course as well, and I could choose a course in Gothenburg in the beginning of May as I wanted to see the Crane Dance and end of April is too late for the Crane action.

I sent an e-mail to Naturum Hornborgasjön and I got a statistic over the Cranes at the Lake Hornborga/ Hornborgasjön. And in mid April there are still chances to see the Crane Dance. And as I will be there in the middle of the April I was thinking about the Black Grouse Lek.

I searched the internet for information about the Black Grouse Lek and I found two companies. Nordic Safari and Wild Nordic. I found out that the Black Grouse Lek are starting in March and I can see it until end of April.

Actually it goes on in to the month of May but as the soil has thawed after the winter and the swamp turns in to a, well, yes, a swamp and we cannot stay in the swamp. I also found out about Capercaillie Lek, something I really wanted to experience as well. I had now booked both Capercaillie Lek and Black Grouse Lek and it would be 5 nights in a tent on a frozen swamp.

I was soon running in to a set-back, Wild Nordic could not to the Black Grouse Lek trip as the road was closed to the swamp. I had to find another tour company in Tiveden, Natur Guide Tiveden. I found that they were doing both the Capercaillie Lek and the Black Grouse Lek. So now I was set up for 3 nights with the Capercaillie and 2 nights with the Black Grouse and I will go to look for beavers, owls and moose as well.




My Guide


I have a Guide at the below places:
• Tiveden - Natur Guide Tiveden
• Bergslagen - Nordic Safari

Tiveden and Nordic Safari, well, I booked different trips on top of the Capercaillie Lek and the Black Grouse Lek and I will have a Guide.



Natur Guide Tiveden


Natur Guide Tiveden, we were told to be quiet all the time, like we were children. And we were 4 people with extensive experience in the nature. I was scared to move in the tents and I could not look out for Capercaillie at the Capercaillie Lekking Area. If I spend all this money coming here, of course I will be as quiet as possible.

First night and I asked how the Capercaillie hide was. As I could not use my tripod in the Black Grouse hide. It was the same, but no platform, just the wood pallets on the ground. Should have had shoes as well in the tent as it was standing on the brushwood without any floor.

Of course, we understood that some noise is to be expected and there are plenty noises form the forest. So this was a disappointment, otherwise it was OK



Nordic Safari


Proper tend hides with tripod styled stool. The owner, 35 years of experience told me that it was not so important to be quiet, of course, no bangs and booms. But the noise, they are used to it as there are a lot of animals on the moves in the forest and winds in the trees. And I had a Capercaillie sitting 20 meters from my tent in the morning.

I will use them next time going for Capercaillie and Black Grouse Lek.




Flights



Thai Airways flight TG 950
Bangkok Suvarnabhumi Intl - Copenhagen Kastrup
Terminal: 3
15Apr2019 01:20 15Apr2019 07:40
Thai Airways flight TG 951
Copenhagen Kastrup - Bangkok Suvarnabhumi Intl
Terminal: 3
02Jun2019 14:25 03Jun2019 06:00





Land transportation


• Rented car
I rented a Volvo from HERZ. It will not work using public transportation to travel between the different birding spots located in the wilderness



Accommodations


I will spend the nights in the hides.
My day rest will be at Hamgården Nature Resort Tiveden for my day rest: 22 April to 23 April 2019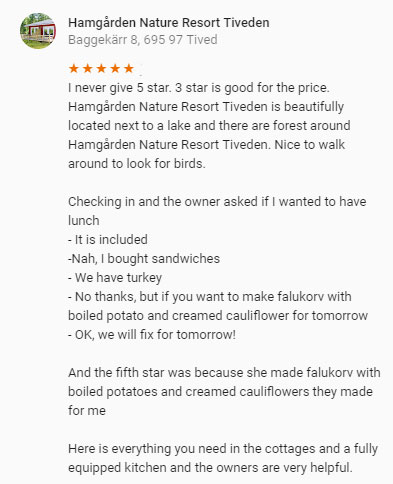 I will stay in tent with Nordic Safari: 24 April to 26 April 2019
My day rest will be at Ramnäs Hotell & Kenferens in Ramnäs for my day rest: 24 April to 27 April 2019







Weather / climate


Sweden in April and May, could be summer and it can be winter, or anything in between.In the South I hope to have sunshine and the summer in good progress. I will be in the middle of Sweden to watch the Crane Dance and the Capercaillie Lek and the Black Grouse Lek.

The lek is going on until May but they usually give up watching when the the soil has thawed after the winter and the swamp turns from hard to water and it is not possible to be there any more. So yes, I have ordered thermo underwear for my nights in the tent.

And coming to Skåne and Öland I might be lucky and I can walk around in shorts and shirt. But it can as well be winter and I need to pack a lot of clothes this time.



Weather in the spring


Visiting in the spring time and you really need to pack a huge bag. In the morning it is below zero so I have packed full winter equipment, parka jacket, warm hat and gloves. And of course warm socks. In the late morning you will have to change the winter clothing to "spring" clothing, a wind breaker.

If it is sunshine the temperature is easily reaching 20°C at lunch time and that can easily be almost 30°C. If you have a car it is no problem, just keep everything in the car and change as the day proceeds and you ae ready for any weather changes you will run in to.




Middle of Sweden - Climate & Temperature
Middle of Sweden - Climate & Temperature - Click picture for full size picture





Equipment


Canon 5D Mk. III and Canon 5D Mk. IV
Canon EF 28-300/3,5-5,6 L IS USM
Canon EF 70-200/2,8L IS II USM
Canon EF 100-400mm f/4.5-5.6L IS II USM lens
Canon Speedlite 600EXII-RT flash
Canon PowerShot G7X Mark II
Panasonic HC-W585 video camera

Sound recorder
ZOOM H5 Handy Recorder




References/Resources


www.natursidan.se Excellent page, but in Swedish only

Visit the Swedish Environmental Protection Agency and choose between Swedish and English

Naturum - visitor centres in nature - A naturum is a visitor centre with activities and exhibitions, located at several of
Sweden's national parks and nature reserves. Here, you will be welcomed by friendly, knowledgeable staff who will answer your questions and guide you through the area's sights of interest.

List of Swedish National Parks (With information about every park in English) from the Swedish Environmental Protection Agency, click HERE.

Nordic Safari

Natur Guide Tiveden

ebird - Find birding hotspots with bird checklists from all over the world

Avibase - is an extensive database information system about all birds of the world, containing over 25 million records about 10,000 species and 22,000 subspecies of birds, including distribution information for 12,000 regions, taxonomy, synonyms in several languages

Cloudbirders - Read birding trip reports from all over the world

Fatbirder - Linking birders worldwide... Wildlife Travellers see their sister site: WAND



Fatbirder is a fantastic web page with information from, I think every country in the world. My first stop when I plan for my bird watching trips. There is information about locations and guides, well, pretty much everything you need to know. Sometimes this is the only place I need to visit to plan my trip.

BirdingPal - find a birding Guide around the world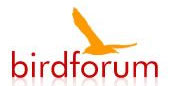 And the web page you cannot live without. I have been around the world looking for birds. I usually have a Guide, but sometimes it is not possible to find a Guide. So, well, I have lost count onhow many times I have had help to ID birds at BirdForum. Joining this forum have been very very good for my bird watching experience.

www.birdforum.net

ClimaTemps.com is the place to learn about the worlds climates with more than 4000 locations documented. Each aspect of the climate is represented using colour enhanced tables and professional graphs so that data can easily be compared by switching between locations in different tabs in your browser.



Collins Bird Guide


The Collins Bird Guide is a field guide to the birds of the Western Palearctic.

Its authors are Lars Svensson, Killian Mullarney, Dan Zetterström and Peter J. Grant, and it is illustrated by Killian Mullarney and Dan Zetterström (with two plates of North American passerines contributed by Larry McQueen). It has been described as "undoubtedly the finest field guide that has ever been produced", and "the last great bird book of the 20th century".

It was originally published in Swedish and Danish in 1999, and in English in hardback in the same year, and later in paperback. A large-format English edition has also been produced, as has a German and Dutch edition. The first edition was translated to 14 European languages, including Spanish, Portuguese, French, Dutch and German.

A second edition, revised and enlarged, was published in January 2010. A series of updates and corrections were made in 2015, with no change to the edition number.

The cover of the first edition, in all formats, depicts a barn owl. On the second edition, this was replaced by an arctic tern.


Cover of the first edition

Fair use, https://en.wikipedia.org/w/index.php?curid=15538546



Eleven pages of introductory material are followed by the book's main content: 366 pages of text and colour paintings. The text for each species gives brief status notes, followed by a section detailing identification, and concludes with a section on voice. Accompanying most species accounts is a small colour map showing breeding, wintering and migrant range.

The guide is also available as a paid-for app, for iPhone and Android devices. The app includes all of the text and images from the print edition, as well as audio recordings. Additional data can be bought separately; the first such package being a set of distribution maps for 271 species, from the British Trust for Ornithology's Bird Atlas 2007–11.

All versions cover Europe, North Atlantic islands, much of North Africa and the Middle East.

Most of the species covered in the main part of the guide are regular breeding, wintering or migrant species in its area of coverage, although some vagrants are also included. There are additional sections giving brief accounts of (a) vagrants and (b) introduced breeding species and species recorded only as escapes.

From Wikipedia, the free encyclopedia

Many bird watchers around the world know this book simply as "The Svensson"


Naturum - visitor centres in nature
Map over Sweden with all the naturum marked. Illustrator: Hans Sjögren.
Click HERE for bigger map


A naturum is a visitor centre with activities and exhibitions, located at several of Sweden's national parks and nature reserves. Here, you will be welcomed by friendly, knowledgeable staff who will answer your questions and guide you through the area's sights of interest.

All naturum visitor centres offer guided walks and demonstrations, slide-shows and theme nights. You will also find literature and multimedia here to immerse yourself in. In addition, there are brochures and information boards offering tips on beautiful nature trails and footpaths.

The nature experience starts at naturum
At naturum, you can learn almost everything there is to know about the region's plants, birds, insects and animals. You can also learn about the cultural history and geology of the area as well as people's relationship with nature and their impact on it. Information about the area's national parks and nature reserves and why we need to protect and take care of our nature can also be found here. Join us on an activity in nature!

Opening hours and programmes
All naturum are open during the summer and many are open most of the year. Special demonstrations for school classes and other groups can be booked throughout the year.



Discover Sweden's national parks




The map shows the locations of Sweden´s 30 national parks
Click HERE for bigger map


There are 29 national parks in Sweden. Find more information about each national park in the alphabetical list on Swedish Environmental Protection Agency´s web page, click HERE.




Places to visit




Tiveden


Tiveden, Sweden´s Southernmost wilderness. Moose safaris, beaver safaris, owls calling, wolf safaris, birding experiences such as the Capercaillies and Black Grouse lek



Tiveden


Tiveden is a forest in Sweden, throughout history notorious for its wilderness and dangers; historically a hiding place for outlaws.

Within it, the Tiveden National Park has a designated area of 20.3 km, a comparatively small and arguably the most inaccessible part of the forest. It was established in 1983, and administratively belongs to the municipalities of Karlsborg and Laxå.

History
The name is very old and disputed. -Ved is cognate to English Wood and the first part of its name, Ti-, either means "god" or refers to the god Týr. Tiveden separates Närke from Västergötland, and was formerly a frontier between the Geats and the Swedes.

The national park area has never been inhabited, but there are several ancient remains of human activities such as worshipping grounds and sacrificial sites.


The old forest border between Swedes (Suiones) and Geats.
Blue = Tiveden
Green = Tylöskog
Red = Kolmården
By Wiglaf at English Wikipedia - Transferred from en.wikipedia to Commons., Public Domain,
https://commons.wikimedia.org/w/index.php?curid=1816345
Details of Tiveden locatio
between lakes Vänern and Vättern

Demis map server



Geography
The forest has small lakes with red waterlilies. When they were discovered they provided the European varieties of red waterlilies that are in cultivation. The folklore tale of how this became goes as follows:

At the lake of Fagertärn, there was once a poor fisherman who had a beautiful daughter. The small lake gave little fish and the fisherman had difficulties providing for his little family. One day, as the fisherman was fishing in his little dugout of oak, he met the Nix, who offered him great catches of fish on the condition that the fisherman gave him his beautiful daughter the day she was eighteen years old.

The desperate fisherman agreed and promised the Nix his daughter. The day the girl was eighteen she went down to the shore to meet the Nix. The Nix gladly asked her to walk down to his watery abode, but the girl took forth a knife and said that he would never have her alive, then stuck the knife into her heart and fell down into the lake, dead.

Then, her blood coloured the waterlilies red, and from that day the waterlilies of some of the lake's forests are red.

— Karlsson 1970, 86

The animal life is scarce, but the forest houses a substantial population of western capercaillie.

From Wikipedia, the free encyclopedia





Bergslagen

• Nordic safari
• Brandområdet, Hälleskogsbrännan

I will be looking for the Capercaillies and Black Grouse lek with Nordic safari. Then I will drive to Fagersta and I will explore Brandområdet for a couple of days before driving south again



Hälleskogsbrännan nature reserve


Hälleskogsbrännan nature reserve, Västmanland, Sweden. The reserve was established in 2015 to observe the development of the ecosystem in the area following the large 2014 Västmanland wildfire.



2014 Västmanland Wildfire


The 2014 Västmanland wildfire (Swedish: Skogsbranden i Västmanland 2014) was a wildfire that broke out on the afternoon of 31 July 2014 on the border between Sala Municipality and Surahammar Municipality in Västmanland, Sweden. It is Sweden's largest wildfire in 40 years. After an EU appeal, Italy and France provided firefighting aircraft.

On 4 August 2014, the evacuation of residents began in Gammelby alongside Route 668 east of Lake Virsbo, Västervåla and Ängelsberg. As of 5 August 2014, over one thousand people were forced to evacuate their homes, and the town of Norberg, with about 4500 residents, was being considered for evacuation.


Forest fire in Västmanland, Sweden. Approximate area of fire at 10:00 hours, August 5 2014 - Click HERE for full size map

By Edaen, © OpenStreetMaps bidragsgivare, © Lantmäteriet (OTRS ticket 2013101610008901)
Valmyndigheten, Länstyrelsen Västmanland, CC BY 2.0, https://commons.wikimedia.org/w/index.php?curid=34545435



One person was confirmed killed by the fire, a man in his 30s who was reported missing. His badly burned body was found near Stabäck, Västmanland. The fire was declared a national emergency. It encompassed over 15,000 hectares and was located northwest of Sala. The Swedish Armed Forces were mobilized, with about 100 personnel providing support to the firefighters as of 7 August.

It was reported that nine volunteers were surrounded by fire and had to be rescued by professional firefighters on 5 August. Because of this, volunteer firefighting help from the public was no longer accepted. Firefighters found a 42-year-old man in the forest who was badly burned but still alive. The police reported that he was taken directly to a hospital for treatment.


NASA Earth Observatory photo. August 4, 2014
Click HERE for full size map

By NASA Earth Observatory (Landsat 8 - OLI) - http://earthobservatory.nasa.gov/IOTD/view.php?id=84155,
Public Domain, https://commons.wikimedia.org/w/index.php?curid=34683665



The wildfire threatened the UNESCO World Heritage Site Engelsberg Ironworks. The owners of the Ironworks, Nordstjernan, rented two helicopters of their own to water the area close to the site.

The Swedish police started a preliminary investigation of the cause of the fire, to see if it was caused by criminal negligence. According to local media, a driver of a ground-preparation vehicle stated that the fire started in his vehicle and that no fire watch was posted despite a very high risk of fire.

Although the 2014 Swedish heat wave did not cause the fire, the exceptionally hot and dry conditions of the summer of 2014 enabled the fire to spread and intensify.

Map over Hälleskogsbrännan, click HERE

From Wikipedia, the free encyclopedia





Bird checklist


I never use any bird lists, but since I try to make it in to Cloudbirders. A very helpful site when planning your birding trips. But they ask for a bird checklist, and if I use their service, of course I want to contribute as well. My two first bird watching trip reports was rejected by Cloudbirders.

So I started to take ideas from the reports I found on Cloudbirders. So I have started to use bird lists, eBird generate one for me and I can post it on Cloudbirders. I will post my birds on eBird and on my different "BIRDS THAT I HAVE OBSERVED" pages.

Check lists can come in handy to find out the local name of the bird etc. And Avibase have a list with pictures and sounds, excellent!

So I will post bird checklists here and if my Guides provide me with checklists I will also post them here.



Västergötland bird checklist from Avibase, click HERE This covers Tiveden

Västermanland bird checklist from Avibase, click HERE This covers Nordic Safari and Brandområdet

Avibase is providing you with bird checklists from all over the world. And I´m impressed by their web page. Select country and area and you get the bird checklist. Like the PDF files I got from Avibase on the links above. You also get the checklist with pictures and sounds.

The best part is that you get the local names of the birds and the online checklist gives the names in English plus the language you have selected. But it seems like the PDF cannot handle some alphabet.

For example the Japanese language so it is blank in the PDF checklist. But it worked excellent with Swedish. But you get them in the local language on the online version.




Bird list


And you can visit my list of "Birds I have seen in Sweden"

My eBird checklists can be found HERE




Itinerary


Click on the links below for daily bird watching results:


21 April 2019: Driving to Tiveden
22 April 2019: Black Grouse's Lek in Tiveden
23 April 2019: Capercaillie's Lek in Tiveden
24 April 2019: Capercaillie's Lek in Tiveden - Drive to Nordic Safari in Surahamar
25 April 2019: Capercaillie's Lek with Nordic Safari - 1st try
26 April 2019: Capercaillie's Lek with Nordic Safari - 2nd try
Next adventure: Bird Watching Trip Report - Bergslagen



You are visitor no.
To www.aladdin.st since December 2005
Visitors from different countries since 26th of September 2011